Another big score for Coeur54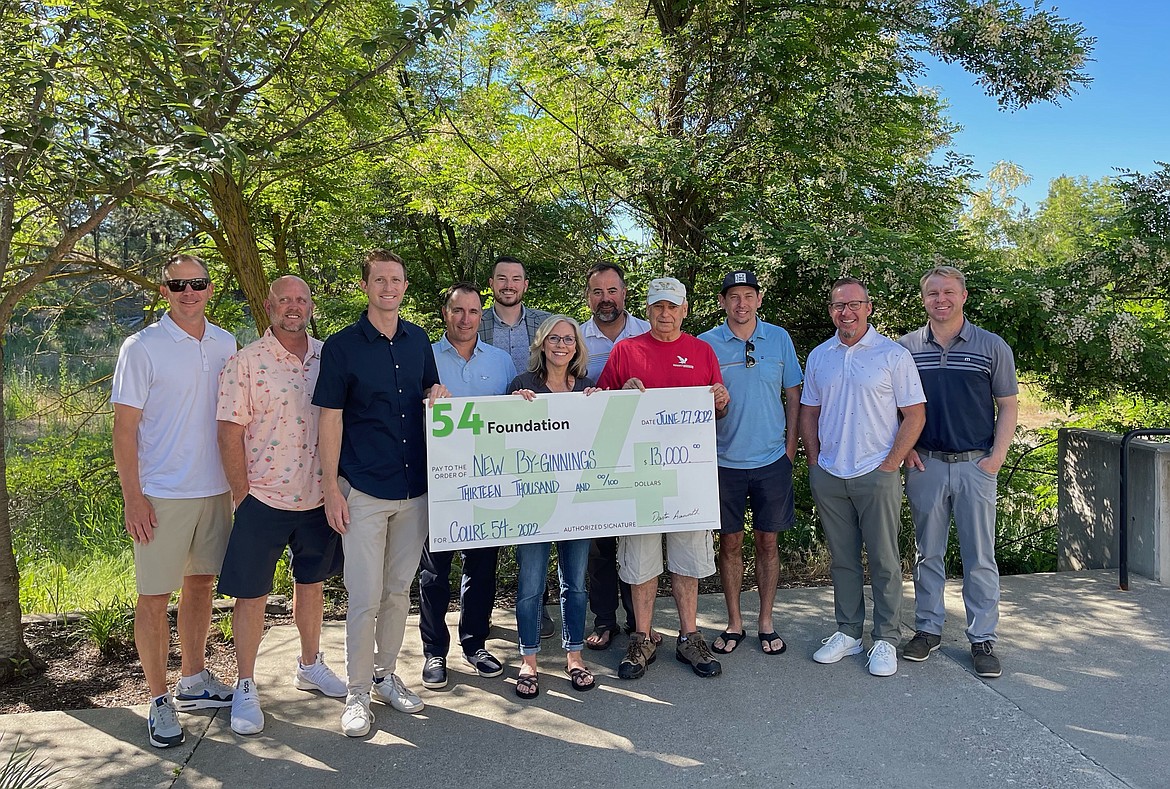 Coeur54 golfers and the 54Foundation raised $13,000 for Newby-ginnings of North Idaho. From left: Chris Vincent, John McMurray, John Nichols, Jason Kelly, Zack Dimattio, Newby-ginnings founder Theresa Hart, Dustin Ainsworth, Newby-ginnings board member Jack Drapeau, Conor Hammons, Ryan Deschryver and Danny Beutler.
Courtesy photo
by
Press Staff
|
July 4, 2022 1:06 AM
The golf guys have done it again.
The 54Foundation, a new nonprofit that sprung from the Coeur54 golf event, donated $13,000 to Newby-ginnings of North Idaho, a nonprofit that provides basic necessities, essential household items and support to veterans and military families at no cost.
The funds were raised through the 2022 Coeur54, which was held June 7.
The Coeur54 brings friends and golf enthusiasts to gather on the greens and play for pledges to support local charities.
"I would like to thank, on behalf of the 54Foundation, the following supporters of our event, which we couldn't pull off without their support: Cd'A Public Golf Club, Avondale Golf Course, Hayden Lake Country Club, The Coeur d'Alene Resort Golf Course and Andy Mackimmie," Coeur54 spokesman Dustin Ainsworth said.
The 2020 inaugural event was played by eight golfers who played for pledges for 10 hours. They raised $15,000 for CDAIDE, a nonprofit that serves workers in the service and hospitality industries.
In 2021, participation expanded and $30,000 was collected for Village of Hope and First Tee of the Inland Northwest.
For info, visit: coeur54.com
Recent Headlines
---