Randall (Randy) William Rockwell Beach, 44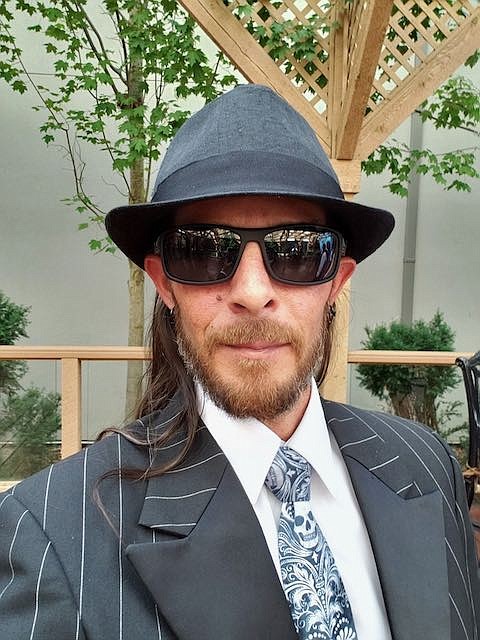 The world lost an incredible human on June 26, 2022, when Randy left us while making International Sawdust in the Bahamas.
Randy was born June 28, 1977, in Missoula, Mont., to Deborah Ann Withrow and Oliver Rockwell "Rocky" Beach. He graduated from Cusick High School and had a passion for softball which he played for 6 years. After moving to Spokane Randy earned a living being a stagehand, doing various construction and landscaping at The Coeur d'Alene Resort, before perfecting his craft as a finish carpenter. In 2007 Randy became a father to his beloved daughter Brooklyn Beach.
He is survived by his mother Deborah Withrow, wife Michelle Beach, and daughter Brooklyn Beach. He also leaves behind his grandmother Gloria Westwood, brothers Mike and Russell Beach, sister Helen Beach, and aunts Andrea Hunt, Cheryl Wenrick, and Paula Mann. There are countless friends and extended family that will undoubtedly treasure the times that they shared with him.
Randy is proceeded in death by his brothers Kenny and Nick Beach, sister Susanna Beach, and his father Rocky Beach.
Many people knew Randy from his 25 years of playing bass guitar in the Spokane Music Scene. He joined his first band as a drummer before finding his gift with the bass guitar in Herban Disturbance, then moving on to Stomping Grounds, Idiom, White Knuckle, Burnt Offerings, Invasive, Routes, and was currently in Sword to Sunrise. Music was one of Randy's passions that feed his soul and loved playing whether on stage or just for practice. Through his music, Randy made friends at a moment's notice and it was as if you knew him your whole life.
Randy's other passion for music was his carpentry work. He loved to craft things with his hands and loved making custom pieces small or large. He had an eye for detail and the ability to take random objects (wood or not) and turn them into amazing creations. He had an artistic flair that came naturally.
Randy unknowingly met his soulmate at a festival in 2015, this encounter led to a friendship before a whirlwind romance, and they wed in 2019. They embraced life together and traveled to California to watch his beloved San Francisco Giants, experienced their first football game together (49ers and Raiders, a divided house) attended many concerts like Tenacious D and his beloved Iron Maiden in Seattle, they loved to explore new cities by traveling to different places and Cruising on Shiprocked. Together they transformed Razzle's Bar & Grill and started Randy's business Rockwell Carpentry.
His untimely passing left many goals, hopes, and dreams behind and left an empty space in our hearts. Randy often said buy the ticket and enjoy the ride. Embrace life and take the plunge, love and live while you're here.
A celebration of life will be held at English Funeral Chapel, 1700 North Spokane St., Post Fall, Idaho Saturday, July 9, at 2 p.m.
There is a gofundme website set up to help with the costs of bringing Randy home and help family attend his services. https://gofund.me/7f5aa408
Visit Randall's online memorial at www.englishfuneralchapel.com
Recent Headlines
---