Prairie professionals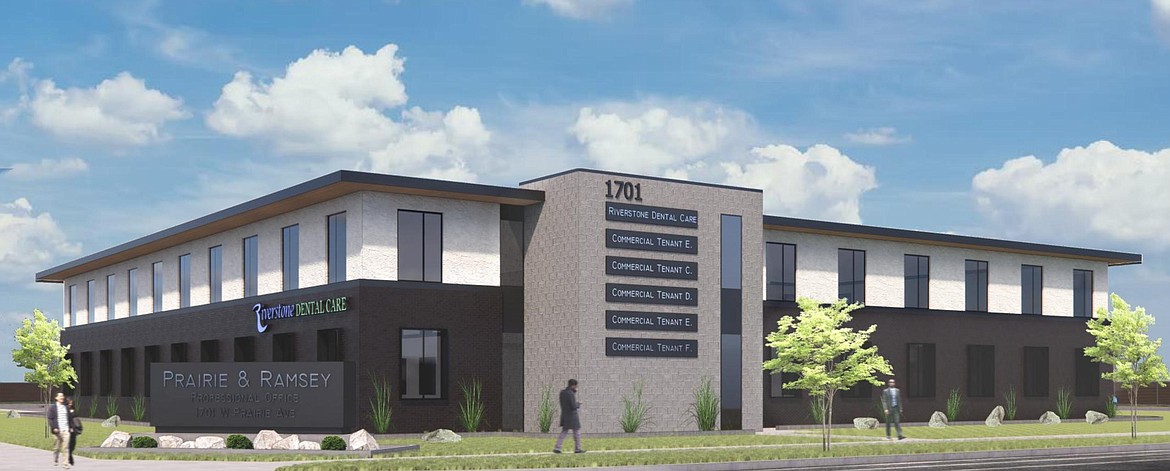 An architect's rendering of the office buildings under construction at Ramsey and Prairie.
by
NILS ROSDAHL/Special To The Press
|
July 3, 2022 1:07 AM
Construction should start soon on a Class A professional office building in the northwest corner of the intersection of Prairie Avenue and Ramsey Road in Hayden.
The 20,000-square-foot building will have an 8,000-square-foot anchor tenant, to be announced soon, and 12,000 square feet available for lease next year with suite sizes of 2,200 to 10,000 square feet.
The shared basement will have a banquet room-conference center with a kitchenette and additional restrooms. It will have 133 parking spaces. Silvey Construction is the builder.
For information contact Rob Kannapien of Coldwell Banker Commercial Schneidmiller Realty at 208-704-3832.
Metro Express Car Wash growing
A new Metro Express Car Wash will be built where the "Coming Soon" sign is at the intersection of Lancaster Road and U.S. 95 in Hayden.
The Idaho-based, family-owned business started in 1969 and has locations in eight states. With locations in Coeur d'Alene and Post Falls, the new place will be complete next year.
Key people are Bill Martin, CEO and founder, and Derek Martin. Check www.metroexpresscarwash.com.
Four-court gym coming to Prairie
A four-court recreational center is under construction near the intersection of Prairie Avenue and Greensferry north of Post Falls.
Details of the River City Properties place are coming soon. Evidently it will include four basketball courts. ETCO Services is in charge.
Now the Tidbits
The Japan House Motel at East Sherman has a "closed permanently" sign on it.
Bottle Joy taphouse will be at 1208 E. Sherman.
CDA Idaho Clothing Co. is expanding from its current location at the northeast entry of the Plaza Shops building into the former Grace & Joy space.
The Thomas George building planned for the corner of Third Street and Front Avenue will be 18 stories mixed with commercial places on the first floor and 60 condominiums above.
Watch for details on new buildings under construction for corporate offices for Rogers Burgers on Government Way and Caliber Collision by Metro Car Wash in Post Falls.
St. Joseph's Ear, Nose, Throat & Allergy Clinic will have a new building at 849 N. Syringa, Post Falls.
Watch for commercial construction west of Highway 41 between 16th and Horsehaven in Post Falls.
Rooted Chiropractic Club will be at 9420 Government Way.
Many of 16 commercial lots are available in the planned Prairie Crossing Shopping Center in the northeast corner of Highway 41 and Prairie Avenue.
A Burger Dock and Beauty at the Lake will be in the new building at Fourth and Lakeside.
A new building for Etco Services is under construction off Huetter north of Seltice and I-90
The PACR office building is under construction at 1857 W. Hayden Ave.
Breaking Bread Bistro will be where Davis Donuts was at Fourth and Best.
Literary Souls Used Books is moving to Ste. F at 205 E. Seltice Way.
A sign on Wayne Drive in Hayden says "Future home of Blue Chip Chiropractic."
A new Pizza Hut will be in Hayden.
The Mill will be a four-story mixed-use building at Government Way and Mill Avenue with businesses on the ground level and 43 apartments above.
Consign Furniture has a "coming soon" sign southwest of the U.S. 95-Lancaster Road intersection.
An Express Exterior Carwash is being built in the 3400 block of Seltice in Post Falls.
Club Pilates will be in Hayden Design Center at 9235 Government Way.
Cornerstone, a four-story commercial and residential building, is under construction in Riverstone.
Bruchi's quick service restaurant is planned for a new building north of the corner of Highway 41 and Mullan Avenue.
Watch for construction of Vantage Point Brewery across from Michael D's Eatery off Coeur d'Alene Lake Drive.
Gentlemen Sausages will soon be in the former Abi's Ice Cream location at 112 Fourth St.
TownePlace Suites by Marriott Hotel is being built where the Outback Steakhouse was in the southeast corner of I-90 and Northwest Boulevard.
Watch for an antique and collectibles mall coming to Post Falls.
A new commercial and residential building, Midtown Centre, is being built at 821 N. Fourth St.
Watch for major changes with the Burger Bunker and Bunker Bar off Spokane Street in Post Falls.
The Den will be a new tavern at 761 N. Idaho St. in Post Falls.
Coeur d'Alene Nissan will have a major addition to its building off U.S. 95.
Volunteers are needed for the July 5 Tubbs Hill cleanup 9 a.m. to noon. Starting at the Third Street entry, trash bags will be provided and a truck to haul them away. Thanks for helping keep Tubbs Hill clean!
Contact Nils Rosdahl at nrosdahl@cdapress.com
Recent Headlines
---