Lake City's Buchanan commits to Virginia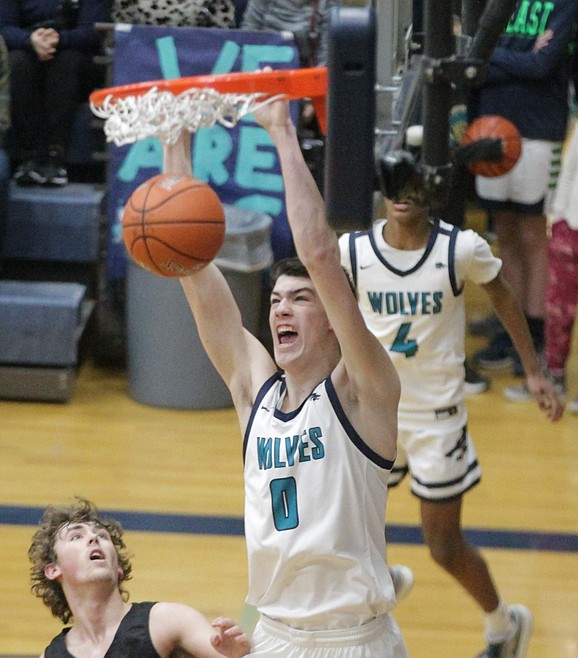 MARK NELKE/Press Blake Buchanan of Lake City dunks against Moscow during a game in February.
By MARK NELKE
Sports editor
The nearby school, a national power, was appealing.
But in the end, the opportunity to play in the Atlantic Coast Conference, perhaps the most storied basketball league in the country, the chance to get away from home and grow, as well as a few other things, led Lake City High basketball star and rising senior Blake Buchanan to verbally commit to play at Virginia and for coach Tony Bennett, the former Washington State coach.
"It really started off with the staff," Buchanan told The Press. "I like the way they were talking to me, recruiting me, they've been on me for awhile. They've always been super honest with me. The facilities were very good. I think playing in the ACC is going to be big for me. And then I think the opportunities off the court and on the court are going to be huge for me, because I don't know how far basketball is going to take me, so with how good of a school they are academically, that's going to be big. And just a change of culture, a new place is going to be good for me."
A couple of weeks ago, the 6-foot-10, 210-pound Buchanan narrowed his choices to Virginia and Gonzaga. He had offers from nine schools total, including Idaho, Pepperdine, San Jose State, Utah Valley, San Francisco, Washington State and Iowa.
Virginia, which won the NCAA championship in 2019, first began recruiting Buchanan on June 15, 2021, the first day coaches could reach out to players in the 2023 graduating class. The Cavaliers offered a scholarship in April. Gonzaga offered in late June, after Buchanan and Lake City played in the Section 7 tournament in Glendale, Ariz.
"It was just being on the campus, and getting the feel, when I was at Virginia," Buchanan said. "Gonzaga's a great school, it would have been amazing to play there. But I just think I want to get away from here. And playing in the WCC was kind of a big one; I want to play in a more competitive conference that pushes me."
Buchanan, who transferred from Moscow High after his freshman season, averaged 13.7 points and 8.5 rebounds this past season as a junior for the T-Wolves, who finished 23-3.
Buchanan was a first-team All-Idaho selection by the state's coaches for the second straight year.
Buchanan actually committed to Virginia on June 24 — via FaceTime with Bennett, wearing a Virginia shirt — but waited to announce it so he could tell family and friends first.
After Bennett offered, an official visit was set up, and Buchanan visited the Charlottesville, Va., campus April 30-May 2.
"When you go there, it's just seeing the campus, getting a feel for it, seeing the students around … it was a beautiful campus," Buchanan said. "It was just the facilities, and how they treated me, and there was no B.S. with them; they were super open. They were honest with me.
"Just when you get on campus and see the facilities, their basketball gyms, their practice gyms, that's kind of what jumped to me, their resources. the things that can make you better.
"I think it will help mature me, being away from home."
He said he didn't want to commit without seeing the campus, then wanted to commit right after the visit, but decided to wait and see what other offers came in.
He said Kyle Getter, a Virginia assistant coach, watched him play at the Section 7 tournament, where Buchanan led Lake City to a championship in its bracket. He said Bennett, Getter and another Virginia assistant were there when he played at the NBPA Top 100 Camp in Orlando, Fla., June 29-July 1, an event where the top 100 players in the country were invited, where he averaged 8.8 points and 6.2 rebounds in five games.
Buchanan took unofficial visits to Gonzaga, WSU and Oregon State.
When Gonzaga offered after the Section 7 team camp, "It did sway me, just because it's Gonzaga basketball," Buchanan said. "It's a great program, the staff has been great for me. But I just think it was just some of the little stuff with me … playing in the WCC … I just think with Bennett, I liked his views better; they're more of a build-your-program up, but with Gonzaga, they get those big-time recruits … "
He said the chance to play in the Gonzaga atmosphere, at a place where family and friends could come watch, made the decision that much tougher.
Buchanan said Virginia envisions him as a combination of forward and center, "a 4-5 that can play on the perimeter, but then I can also post up with my back to the basket."
Buchanan said the chance for college athletes to now make money through name, image and likeness (NIL) did not play a role in his decision.
"I think if I would have went to Gonzaga I would have gotten more NIL, just because I was local," he said. "But it didn't play a factor at all; I didn't pick the school because of NIL."
Verbal commits are non-binding. Buchanan can sign a letter of intent in four months, as the early signing period for NCAA Division I basketball is from Nov. 9-16.
Buchanan's mom, the former Debbie Martin, starred in volleyball at St. Maries High, and earned a scholarship to USC before a knee injury ended her volleyball career. She recently retired after a 22-year run as volleyball coach at the University of Idaho. His dad, Gayle "Buck" Buchanan, played tight end at Idaho. His older brother, Austin, plays volleyball at NCAA champion Hawaii.
Buchanan and his AAU team, Hooptown Elite, which also includes Lake City teammates Kolton Mitchell and Nathan Hocking, has two more tournaments left during the "live" recruiting period — this coming weekend in Atlanta, and in Chicago July 20-24.
Having verbally committed takes any pressure off him.
"It is a relief," he said.
Recent Headlines
---