Huckleberries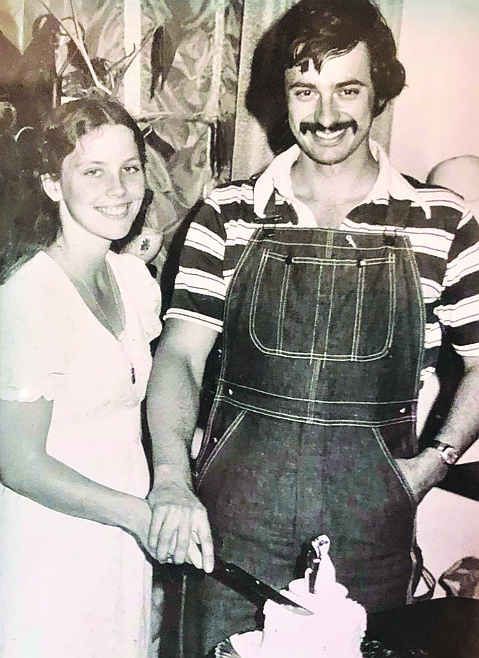 Dave and Brenda Oliveria on their first wedding anniversary in June 1976. A year later, they would be in Kalispell, Mont.
It was an offhand comment from a good friend.
If you ever get a chance to live in Kalispell, Mont., or Coeur d'Alene, Idaho, he said, jump at it. They're both beautiful places.
That was spring 1977. I was 27 and covering county government in Stockton, Calif.
By that Fourth of July, my wife, Brenda, and I had been flyfishing and huckleberry picking with publisher C. Patrick "Pat" King behind the Hungry Horse Dam in northwestern Montana.
We spent the holiday watching fireworks at Pat's place. On July 5, 45 years ago, I started work as Pat's news editor at the Kalispell Daily Inter Lake, owned by Duane Hagadone.
One of the first lessons I learned about Montana occurred the moment I met Pat. I was an hour late for my job interview. I was no longer operating on Pacific Time.
At Kalispell:
· I had a chance to work as a managing editor of a daily newspaper.
· I met a 45-ish Duane Hagadone at the old Outlaw Inn, where he told me over dinner he intended to establish "the best, damn, little newspaper chain in the country."
· I yelled "Stop the Presses" for one of only two times in my 50-plus-year newspaper career – on March 30, 1981, to change the front page after learning President Reagan had been shot.
· I learned that an ex-Californian can win the hearts of Montanans – and eventually Idahoans -- if he works hard, respects the culture, and fits in.
· I discovered the true meaning of WINTER! And you can't make a snowman out of dry snow.
I spent five years polishing my newspaper skills in the shadow of the Rockies before moving on to Lewiston for two years, and then, in September 1984, to Coeur d'Alene. Our son was born in Kalispell. We lost our first daughter at childbirth in Lewiston. We welcomed a second daughter in Coeur d'Alene.
I've been blessed to work full-time for the three prominent newspaper families in the Inland Northwest: Hagadone (Daily Inter Lake, 1977-82), Alford (Lewiston Tribune, 1982-84) and Cowles (Spokesman-Review, 1984-2017). I worked as a reporter, editor, editorial writer, columnist and blogger in my adopted homes. And, of course, in retirement, I still write Huckleberries, which began in January 1985.
I'm 72 now. I have lived in two of the most beautiful places in this country – Kalispell and Coeur d'Alene. I wonder how life would have turned out if I hadn't answered the siren call to "Go Northwest, young man." But I have no regrets.
Duane's geraniums
Geranium Day is a big deal at the Coeur d'Alene resort.
On May 17, the equivalent of 15 staffers spent 10 hours planting 21,000 Tango Red geraniums on resort grounds, supervised by landscaping manager Scott Murphy.
Scott told Huckleberries that Hagadone Hospitality takes the same care in handling the crimson flowers as it did when Duane Hagadone was alive. Said Scott: "We still live up to his guidelines."
Duane picked the striking red geraniums to grace the resort grounds because they were his mother's favorite flower. Originally, he contacted geranium expert Bob Olgevee of Pennsylvania to provide the geraniums. The "Kim" variety, just created by Olgevee, met Duane's high standard.
In early July 1987, Olgevee, known as "Mr. Geranium," traveled to Coeur d'Alene to attend a floricultural convention and to inspect the recently planted 15,000 "Kim" geraniums.
Olgevee told the Press, 35 years ago, "It's a good color – a good scarlet red. It's got good outdoor performance, and it's a good bloomer." Olgevee said he'd never seen a geranium sell like the "Kim" variety had. And that the resort had bought about 5 percent of the total his firm had sold to that date.
Olgevee had a simple explanation when asked why his new product was called "Kim." Said he: "We couldn't think of anything new, so it's named for our receptionist."
Kiss me, you fool
An old newspaper clipping took Ronda Smithson of Hayden back to 1983-84 when she worked in new-car sales for the late Dave Smith of Dave Smith Motors. One particular day, Ronda noticed her co-workers were exceptionally happy and wore huge smiles. Said she: "People just seemed full of joy all day long." Later, she discovered there was a note stuck to her back, and it read, "Kiss Me." Did anyone try? asked Huckleberries. Says Ronda: "Unfortunately, no."
Huckleberries
· Poet's Corner: Toes in the sand/cares put aside/no schedules observed/except by the tide – The Bard of Sherman Avenue ("Cannon Beach Vacation").
· After his 2022 property assessment jumped 63 percent, year over year, former city finance director John Austin said: "If the assessor wants to pay me what he says it's worth, it's his!"
· Look up the definition of "cute" in the dictionary, and you'll see a photo of Charley Wagner, 3, watching mother, Cara, of Osburn, prepare Italian tortellini salad for dinner. Earlier this week, Charley was fixated on the miniature pepperonis added to the mix. And she received some of them to sample. A few bites in, she said, "Mmm, love baby meat."
· Sign of the Times: Most gardeners will agree with Vanhoff's Garden Center readerboard message: "Gardening is cheaper than therapy."
· Bruce Twitchell works longer hours for less pay now that he operates Golden City Loan and Pawn, 4025 Government Way. But he's also less stressed than he was teaching at local public schools. The toughest part of his new job is rejecting items that desperate people want to pawn, often for gas money. "I don't like to turn people away," he says, "but I can't help everyone."
· For Those Keeping Score at Home … the Sand Creek Byway at Sandpoint was dedicated 10 years ago this week (June 29, 2012). The 2.1-mile byway cost $100 million and took 65 years to build from the time it was first discussed to completion. So there may be hope yet for a bypass that'll relieve traffic on Coeur d'Alene's busy Highway 95.
Parting Shot
It wasn't that long ago that Louise Shadduck, the influential Idaho Republican from Coeur d'Alene, gave a pep talk to local Democrats. The D's were stuck in the beginning of a losing streak that continues today. On June 29, 2002, in a speech to the Kootenai County Democratic Club, Shadduck recalled the words of Republican Henry Dworshak, the long-ago U.S. senator from Idaho. Dworshak had noted that Democrats had dominated politics for 21 years before he began his political career in the mid-1930s. Dworshak likened the country to the pendulum of a grandfather clock that moves slowly to the right, then to the left, and back again. The good times for the country happen in the middle, he said. He preferred when lawmakers stayed in the middle, working for the good of the state, not just the party. Some pegged Dworshak as a fence-sitter or a compromiser, Shadduck said. Today, of course, Dworshak and Shadduck, who served us well, would both be denounced by the finicky local GOP as "RINOs."
You can contact D.F. "Dave" Oliveria at dfo@cdapress.com.
Recent Headlines
---