'Mamma Mia!' premieres tonight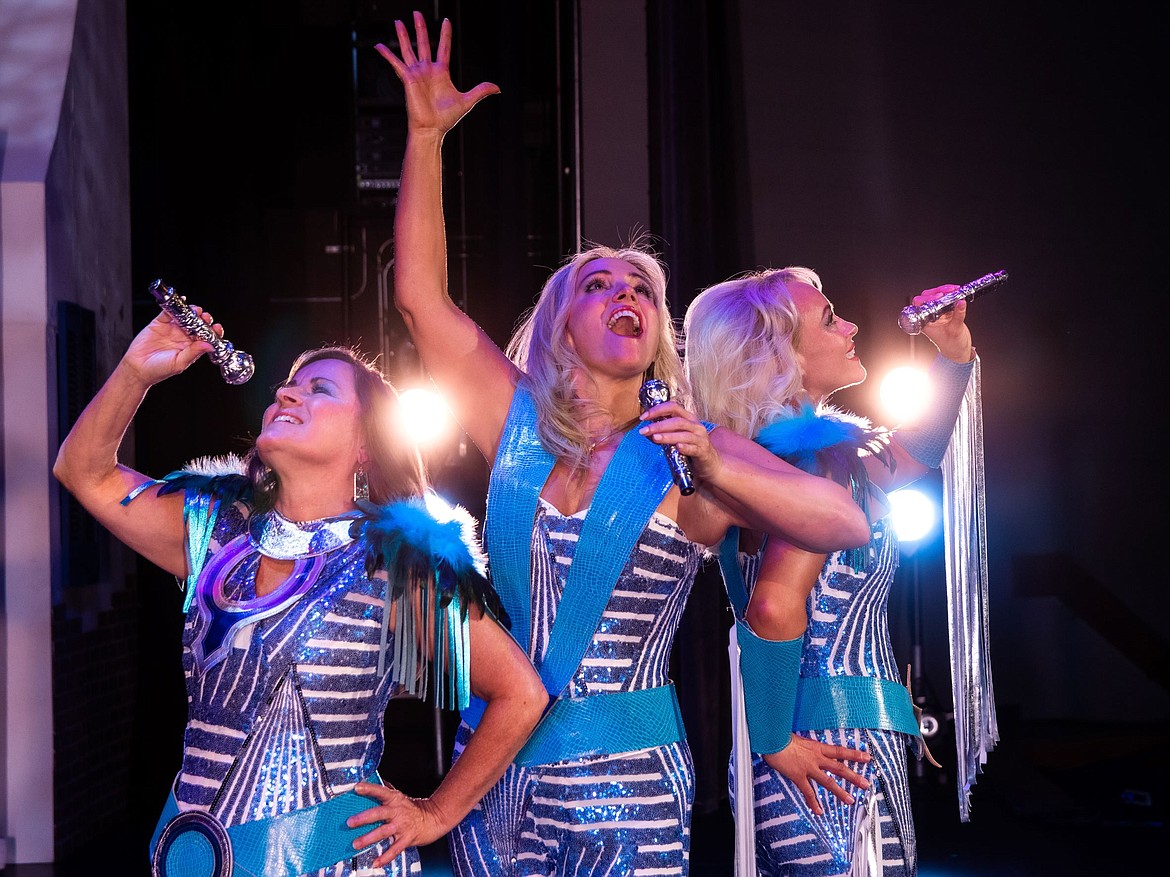 From left, Callie McKinney Cabe (Rosie), Heidi Santiago (Donna) and Amy D'Orazi (Tanya) star in Coeur d'Alene Summer Theatre's production of "Mamma Mia!" The show opens tonight and runs through July 10.
Photo courtesy of Coeur d'Alene Summer Theatre
by
Press Staff
|
July 1, 2022 1:05 AM
The Coeur d'Alene Summer Theatre production of the popular Broadway musical "Mamma Mia!" opens tonight and runs through July 10 on the Schuler Performing Arts Center stage at North Idaho College.
With closing night already sold out, Coeur d'Alene Summer Theatre has added two more performances to meet community demand: 7:30 p.m. Wednesday and 2 p.m. Saturday, July 9.
"We could not be more pleased with the support we have received from our community coming out of this two-year hiatus," executive artistic director Chuck Ethridge said. "We had a record number of performing artists audition and tickets have sold at a record pace."
Antoinette DiPietropolo is making her directorial debut with Coeur d'Alene Summer Theatre, but the New Yorker's directing credits include the John W. Engeman Theatre's production of "Mamma Mia!"
"Have fun! That is always my thought when I think of what 'Mamma Mia!' audiences should experience when coming to the theater," DiPietropolo said. "The music and emotional familiarity of Abba songs resonate through generations."
Coeur d'Alene Summer Theatre's production of "Mamma Mia!" stars Heidi Santiago (Donna Sheridan), Dennie Thorpe (Sophie Sheridan), Callie McKinney Cabe (Rosie), Amy D'Orazi (Tanya), Casey Weeks (Sky), Daniel Bell (Sam Carmichael) and Spencer Normington (Harry Bright).
The theater's first post-COVID summer season also includes productions of "Little Women, the Broadway Musical," from July 22 to 31, and "Nunsense" from Aug. 12 through 21.
This is the first time in the theater's history all summer productions will be directed by women.
Those who purchase individual tickets for "Mamma Mia!" can apply the ticket cost toward a season ticket purchase through the end of the show's run.
Coeur d'Alene Summer Theatre has introduced new perks for season ticket holders, including permanent pricing at the 2022 rate for those who sign up for automatic annual renewal and maintain active season ticket status without missing a year. Season ticket holders are invited to exclusive events, have an early and private entrance for performances and are eligible for discounts on merchandise, concessions and additional tickets.
Established in 1967, Coeur d'Alene Summer Theatre is Idaho's oldest performing arts organization. The nonprofit, professional theater produces full-scale Broadway musicals during the months of June, July and August. All performances for the 2022 summer season will be held in Schuler Performing Arts Center, 880 W. Garden Ave., Coeur d'Alene.
Info and tickets: cdasummertheatre.com
Recent Headlines
---