NIC dental hygiene clinics open to patients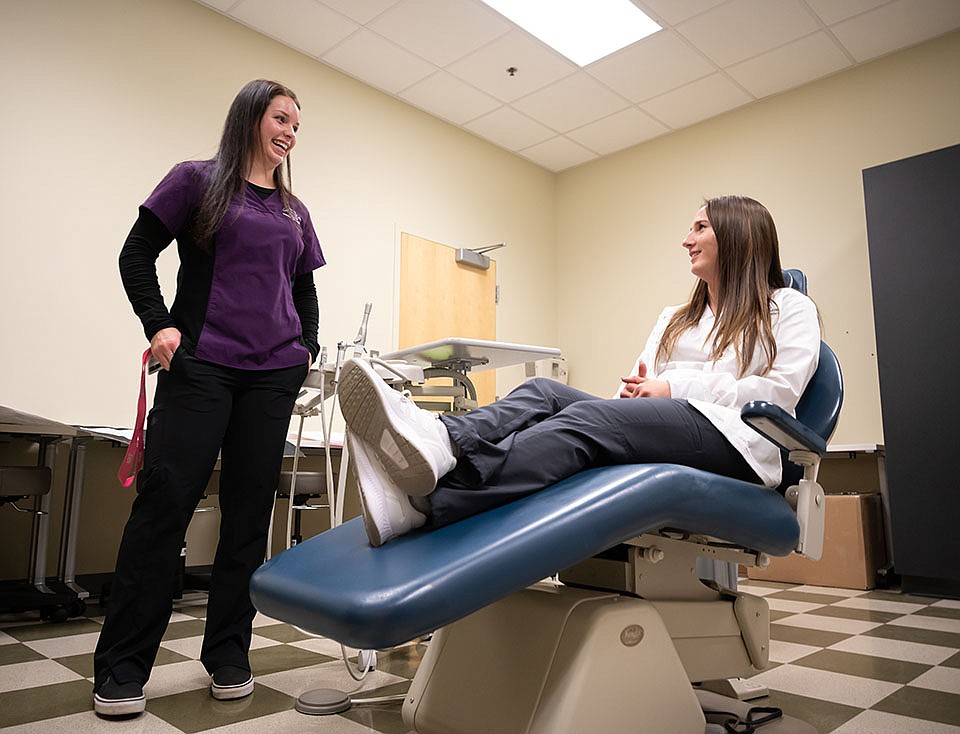 North Idaho College Dental Hygiene student Abbey Leon, left, shares a laugh with Megan Rauvola, an NIC nursing student who volunteered as a patient for NIC's Dental Hygiene Program last semester. The program is currently accepting patients for spring clinics in Coeur d'Alene and Lewiston. Photo courtesy of NIC
|
January 26, 2022 1:00 AM
North Idaho College's dental hygiene students are ready to provide services to community members.
"Our students are looking forward to working with many new patients," said Janis McClelland, director of the NIC Dental Hygiene Program. "They are eager to hone their skills while providing patients low-cost access to a needed health care service."
Patients are now being accepted for the NIC dental hygiene program's spring 2022 clinics in Coeur d'Alene, and also in Lewiston through the program's partnership with Lewis-Clark State College.
Open to adults and children, the clinics offer low-cost, quality dental hygiene care while helping trained students develop the hands-on skills needed to get registered.
The public clinics are held from 5:30-8:30 p.m. Tuesdays, Wednesdays and Thursdays at Heritage Health Dental Clinic at 1090 W. Park Place in Coeur d'Alene. Services are by appointment and will be available through the end of the college's spring semester in May.
"These community clinics are invaluable to our students' training. They gain the experience they need to be successful in their future careers, and patients receive the attention and quality of care that they expect from professionals," McClelland said.
During clinics, students are directly supervised by local dentists, hygienists and program instructors while they provide treatment to patients.
A prophylactic dental hygiene care appointment includes a complete exam, X-rays, complete oral and periodontal assessments and the appropriate type of cleaning.
The cost is $45 for an adult, $40 for seniors and veterans and $35 for children up to age 12 and students at LCSC and NIC. Periodontal maintenance costs $45, sealants are $15 and there is a $20 charge for nitrous.
McClelland said it's important to understand these appointments require a time commitment while students are in training. Appointments will likely take between two to three hours, and patients may need to make two or three appointments to complete their initial cleanings.
This is the first cohort of students participating in public clinics since the NIC dental hygiene program launched in January 2021, although they have had clinical experience already, with family and friends as patients.
Abbey Leon, a second-year dental hygiene student, recruited her friend and study buddy, second-year nursing student Megan Rauvola, as a patient during her first clinic in fall 2021.
"I told Abbey that I don't like the dentist, but I'm really excited about being able to be a part of her learning experience," Rauvola said.
Students in the dental hygiene program spent their first semester working with models and peer partners before clinics began in the second semester. Leon said the transition was a big change, but one that has prompted significant growth.
"If I compare my first patient in the fall clinic to my last patient, which would be Megan, I felt so much more confident and comfortable," Leon said.
McClelland said each student's confidence and comfort level will continue to grow as they work with patients from the community.
For more information about clinics and to make an appointment, call 208-929-4002 or email dhclinicnic@nic.edu in Coeur d'Alene or call 208-792-2930 or email dhcliniclcsc@nic.edu in Lewiston.
---