DHW director: Idaho going wrong way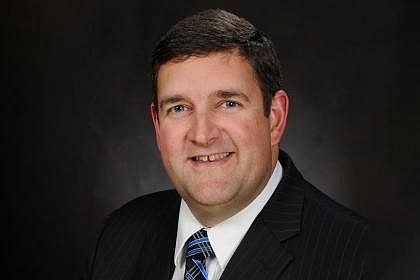 Idaho Department of Health and Welfare Director Dave Jeppesen
IDHW
by
BILL BULEY
Staff Writer
|
January 26, 2022 4:29 PM
Dave Jeppesen got right to the point to open the Idaho Department of Health and Welfare's media briefing on Tuesday.
"COVID-19 numbers across the state continue to go in the wrong direction," he said.
DHW's director cited rising positivity rates, new cases and hospitalizations in a grim outlook. He said the situation is likely worse, but home rapid test results are not reported to the state, and many probably have COVID but haven't gotten tested.
He said omicron is spreading so rapidly the state can't keep up. It has 39,700 outstanding positive lab results that have not been processed.
The state reported 3,518 new COVID-19 cases on Monday.
"This omicron surge is putting pressure on the entire Idaho health care system," Jeppesen said.
The DHW on Monday activated crisis standards of care for three local public health districts — Southwest District Health, Central District Health, and South Central District Health.
Jeppesen expects the rest of the state to follow suit if current trends continue. He said Panhandle Health District, and other districts, are in a "fragile" situation.
"Unfortunately, the pandemic is not done with us," he said.
However, many Idahoans continue to decline to get vaccinated or get booster shots.
In Kootenai County, nearly 70,000 people age 5 and older, 43% of the eligible population, are vaccinated. However, according to the state's website, the number of people with a booster dose in Kootenai County is less than 30,000.
In Idaho, 53% of the population is fully vaccinated, while the national rate is 67%.
Gov. Brad Little said Friday the state's low vaccination rate could be attributed to Idahoans' strong belief in freedom and suspicion of government.
DHW leaders said they're doing all they can to convince people to get a shot by emphasizing vaccines are safe and effective. Mobile units and increasing clinic hours have also helped.
Sarah Leeds, manager of the Idaho Immunization Program, said they want to "make vaccinations prolific."
But without mandates, there's little more the state can do other than encourage shots, mask wearing in public places, social distancing and washing hands often.
"We're going to keep pushing that message out there," said Elke Shaw-Tulloch, administrator for the Division of Public Health.
Dr. Steven Nemerson, chief clinical officer for Saint Alphonsus Health System, recounted a story of a patient who wasn't vaccinated, became infected with omicron and was hospitalized in the intensive care unit. His organs began to fail.
"He's at the end of life now," Nemerson said.
The patient was sent home with hospice care to spend time with family.
"The situation would be entirely different if he had only been vaccinated," Nemerson said.
He did not describe the patient's physical condition prior to getting COVID-19.
Hospitalizations are surging at a rate "never before seen in the pandemic," he said, and staffers are exhausted. On Friday, state hospitals had more than 300 patients with confirmed or suspected COVID-19 cases.
"It's bad," he said.
Kootenai Health reported Monday it had 80 COVID-19 inpatients, with 20 requiring critical care. It had zero pediatric patients due to COVID.
Some healthcare providers are reporting positivity rates as high as 60%, Jeppesen said.
The state's most recent positivity rate is 34.1%, PHD's is 37% and Kootenai County's is 39.5%.
A positivity rate of 5% or less is the goal.
Shaw-Tulloch said the omicron spread, the nationwide blood shortage and so many hospital staffers quarantined due to COVID-19 are affecting state hospitals.
It has created a "precarious situation" for Idahoans, Shaw-Tulloch said.
---