It takes a village
by
NILS ROSDAHL/Special To The Press
|
January 23, 2022 1:07 AM
Employing people with special needs, The Village Bakery has opened at 190 W. Hayden Ave. (in the Super 1 shopping center).
Owner Dana Bellefeuille emphasizes baking specialty creations and providing an accepting space where people with challenges can make their dreams come true. With inside seating for 16, the bakery offers delicious delicacies, light breakfast and lunch with specialty soups.
With help from Hannah Schaaf and Abbey Foster, hours are 8 a.m. to 4 p.m. Tuesday through Saturday and 10 a.m. to 2 p.m. Sundays. For special orders phone 208-446-4860. Check thevillagebakerycda.com.
CrossFit Cd'A is on Fourth Street
Tori Gray is the new owner of CrossFit Coeur d'Alene at 301 N. Fourth St. She is assisted by Chandra Young, general manager and head coach.
Derek Hutchison and Jonathan Burns started the CrossFit Coeur d'Alene in 2007 to offer group fitness classes, private training as well as kids and specialty classes. It is Idaho's first CrossFit gym and one of CrossFit's first 100 affiliates, with more than 15,000 now.
Scheduled classes are 6 a.m. to 6:30 p.m. Monday through Saturday. Phone 208-209-4234. Check crossfitcda.com.
Harris & Bruno will open in September
With plans to employ about 50, Harris & Bruno International plans a new facility in the southeast corner of McGuire and Okanogan in Post Falls.
Expanding from Roseville, Calif., the company manufactures equipment for various printing industries. It offers a multitude of machining, fabricating and electromechanical assembly functions.
Products are sold across the U.S., Europe and Asia. Information: harris-bruno.com.
Pizza Hut closing Silver Lake store
After owning it for 15 years, the Chris Cheeley family is closing its Pizza Hut store in the southwest corner of the Silver Lake Mall property on Monday.
The 3,300-square-foot building is available for lease or the property can be for a build-to-suit tenant. Realtor is Pat Eberlin of Keimle Hagood.
Pizza Hut delivery can be from the stores at 212 W. Appleway Ave., and in Rathdrum. A new store will be built in Hayden.
Now the Tidbits
Aunt Stephanie's Child Care is now at 901 Third St.
Post Falls RV Campground is under construction at 70 W. Cabelas Way between the Cabela's store and State Line Walmart in The Pointe at Post Falls.
Sargent's Steakhouse will have major changes at 9021 Government Way in Hayden.
Many of 16 lots are available in the planned Prairie Crossing Shopping Center in the northeast corner of Highway 41 and Prairie Avenue.
A burger place and cosmetic salon will be in the new building at Fourth and Lakeside.
A new building for Etco Services is under construction off Huetter north of Seltice and I-90
The PACR office building is under construction at 1857 W. Hayden Ave.
Breaking Bread Bistro will be where Davis Donuts was at Fourth and Best.
The former Shopko building will be a new location for Tri-State Outfitters inventory.
A sign on Wayne Drive in Hayden says "Future home of Blue Chip Chiropractic."
Northwest Specialty Hospital is expanding at 1551 E. Mullan Ave., in Post Falls.
Open Arms Real Choices Clinic will move from 1800 Lincoln Way to 8056 N. Wayne Drive in Hayden.
Metro Express Car Wash is building a large new place in the northwest corner of Highway 41 and I-90.
Lone Mountain Farms & Brewery will have a new place in the Lancaster Market development at U.S. 95 and Lancaster Road.
Consign Furniture has a "coming soon" sign southwest of the U.S. 95-Lancaster Road intersection..
An Express Exterior Carwash is being built in the 3400 block of Seltice in Post Falls.
Major changes are coming to the Greenbriar Inn & 315 Cuisine under new ownership at 315 Wallace Ave.
The Rebel Junk Shoppe at 2424 N. Fourth St. will expand to a street-side location.
Bruchi's quick service restaurant is planned for a new building north of the corner of Highway 41 and Mullan Avenue.
The former Ugly Fish restaurant building will be a Berkshire Hathaway Realty in Riverstone.
Watch for construction of Vantage Point Brewery across from Michael D's Eatery off Coeur d'Alene Lake Drive.
A Sweet Lou's restaurant, a Dollar General store and a Grease Monkey auto place will be at the Crossings in Athol.
Coeur d'Alene Kids Dental will be at 1341 N. Northwood Center Ct.
TownePlace Suites by Marriott Hotel is being built where the Outback Steakhouse was in the southeast corner of I-90 and Northwest Boulevard.
Several steel storage buildings will be built at 3758 W. Hanley Ave., off Atlas Road, for Hern Ironworks.
A Capriotti's Sandwich Shop will come into the former Chipotle Mexican Grill building at 305 W. Appleway Ave.
A Sarah Hamilton FACE place will be at 2120 Northwest Blvd.
A new commercial and residential building will be built at Government Way and Davidson Avenue.
Watch for major changes with the Burger Bunker and Bunker Bar off Spokane Street in Post Falls.
The Garnet breakfast place in midtown is moving to the former Broken Egg building on Government Way.
A new gas station-convenience store opens soon in the northeast corner of Atlas at Seltice.
A large storage complex and new corporate office for Steel Structures of America is being built off Highway 41.
The Den will be a new tavern at 761 N. Idaho St., in Post Falls.
My Nails & Spa will be off Canfield Ave.
The CDA Corner Store is adding a kitchen and tables downtown.
Schmidty's Burgers will be at 1524 E. Sherman Ave.
Coeur d'Alene Nissan will have a major addition to its building off U.S. 95.
Mountain Goat Lounge is under construction connected to the Moose Lounge downtown.
The Post Falls Pavillion food truck court will be near the Highway 41 and Horsehaven intersection.
A paraprosdokian is a figure of speech in which the latter part is surprising or unexpected and frequently humorous such as "If I agreed with you, we'd both be wrong."

Contact Nils Rosdahl at nrosdahl@cdapress.com.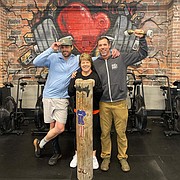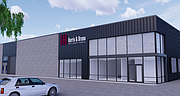 Recent Headlines
---