Justice for Reddington must wait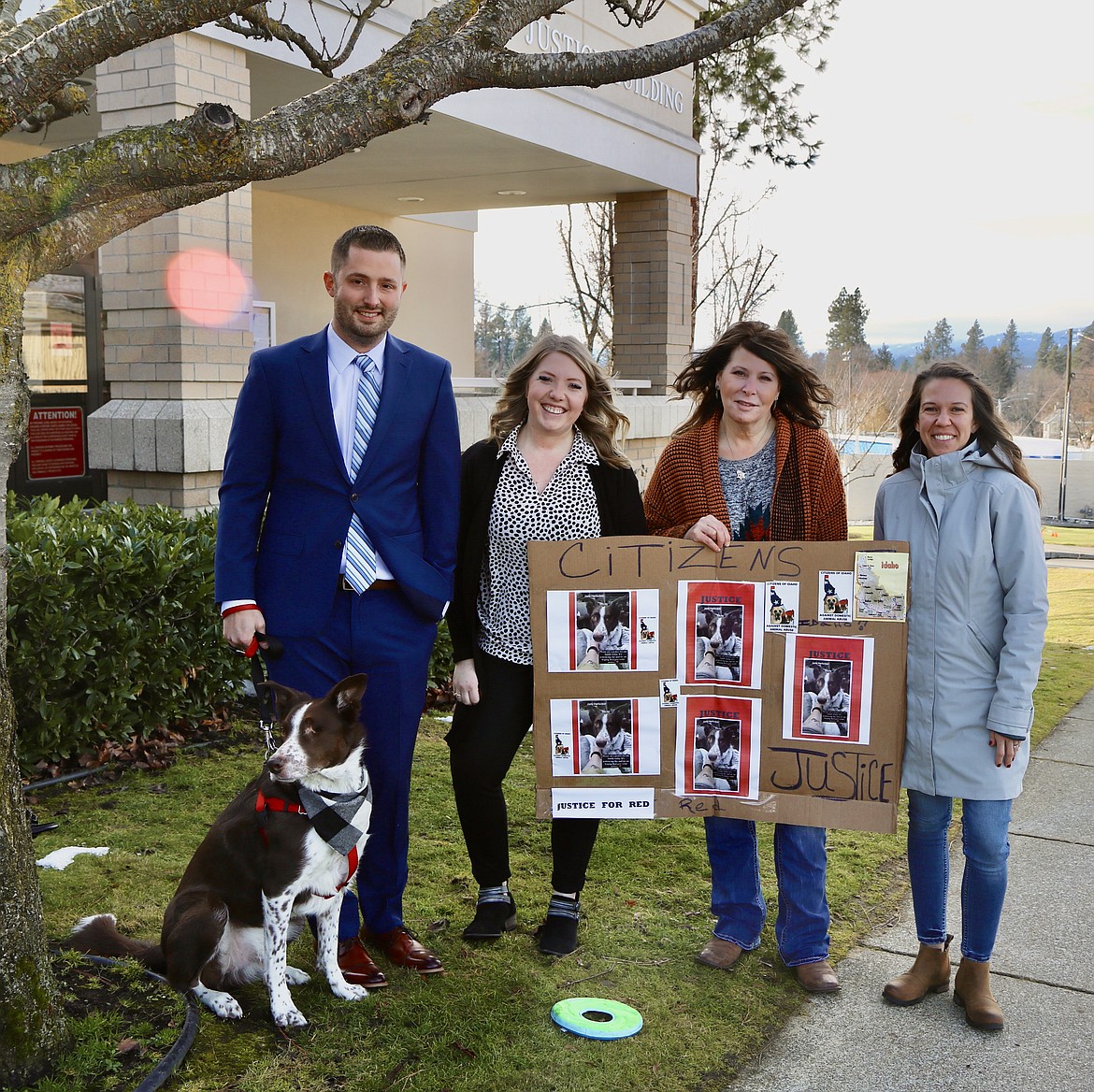 From left, Christian Harlocker, Jade Harlocker, Pennie Collinson and Ashley Craig stand outside the courthouse with border collie Reddington. The dog, owned by the Harlockers, had an eye removed after he was shot with a metal pellet gun at close range on June 19. Friday's sentencing for the neighbor who pleaded guilty in November has been postponed. HANNAH NEFF/Press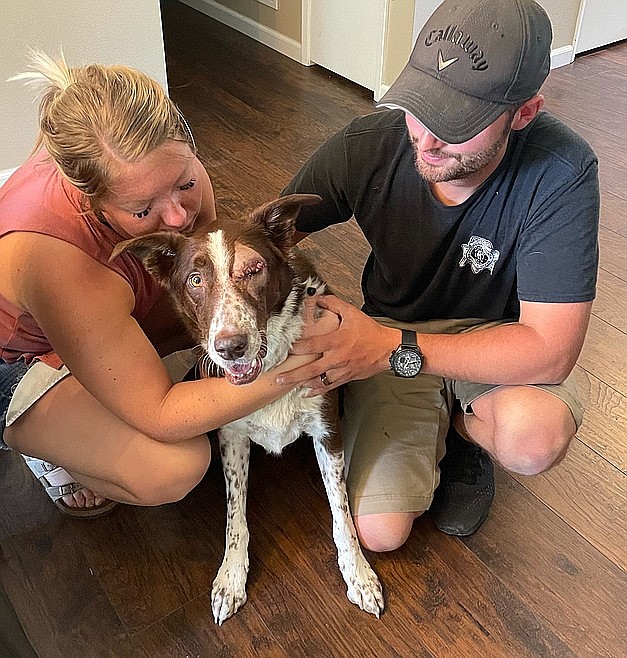 Reddington, a red border collie, was shot in the eye with a metal pellet in June. He's seen here with his owners, Jade and Christian Harlocker, after the damaged eye was removed.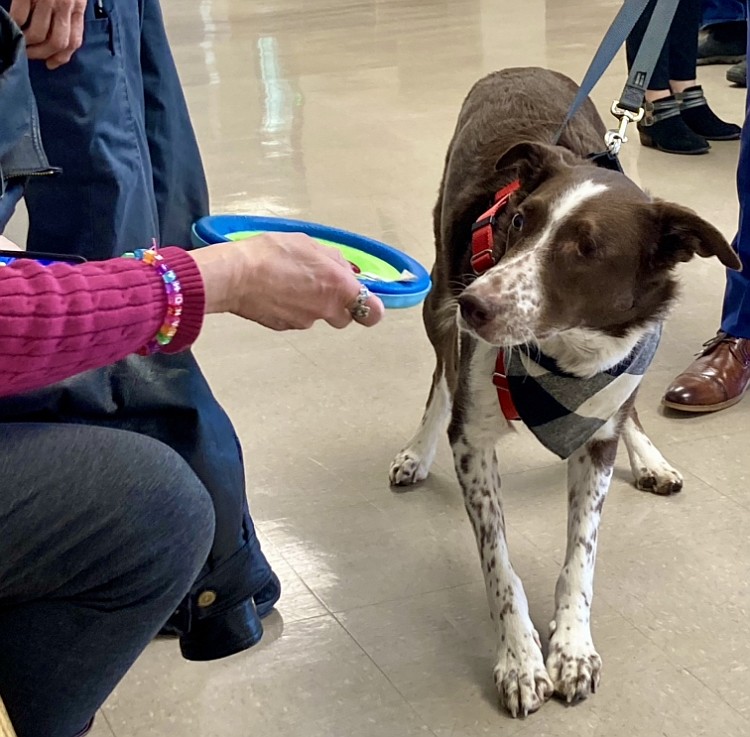 Reddington, an almost seven year old red border collie, plays at the courthouse on Friday. The sentencing for a neighbor who pleaded guilty to shooting the dog in June, causing the loss of an eye, was postponed. HANNAH NEFF/Press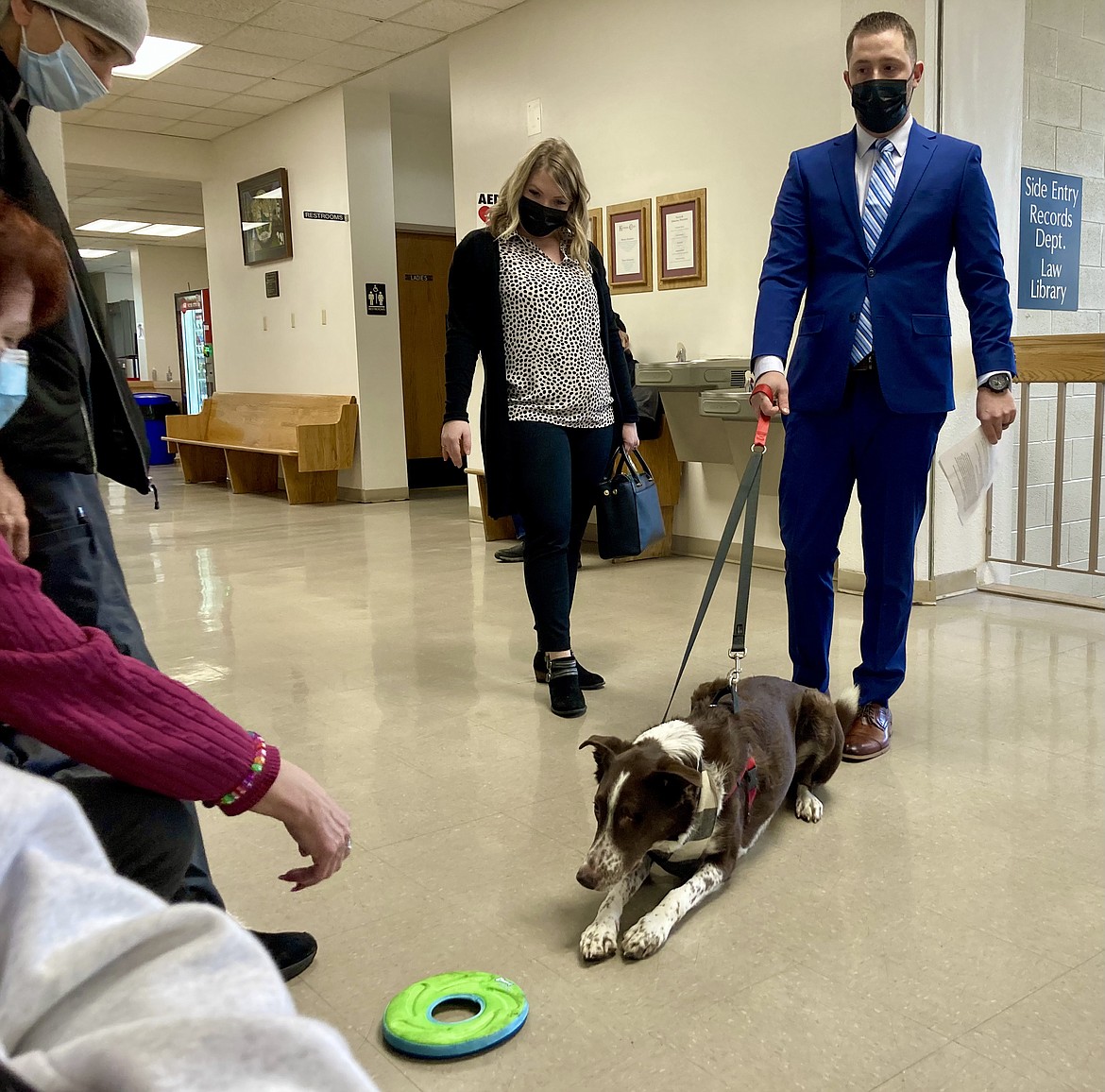 Reddington, an almost seven year old boarder collie, plays at the courthouse in Coeur d'Alene while owners Christian and Jade Harlocker watch. A sentencing set for Friday for a neighbor who pleaded guilty to shooting the dog in the eye with a pellet gun in June was postponed. HANNAH NEFF/Press
Previous
Next
by
HANNAH NEFF
Staff Writer
|
January 22, 2022 1:06 AM
COEUR d'ALENE — A sentencing for a man who shot a dog and caused the loss of an eye has been postponed.
Reddington, an almost 7-year-old red border collie, had an eye removed after he was shot with a metal pellet gun at close range June 19, 2021.
Owners Christian and Jade Harlocker said they received a sound alert from their outdoor security camera while about a mile from their Hayden home and noticed their neighbor was playing angry music loudly and yelling.
Christian and his then soon-to-be brother-in-law went home and found the border collie, along with Jade's sister's dog, cowering in the bushes. The dogs were in the backyard, which is bordered by a chain link fence.
Both of Reddington's eyes were swollen shut, and Christian said after a brief encounter with the neighbor he learned the neighbor was highly intoxicated.
Christian said the neighbor told him, "I told you I was going to shut your dogs up."
He said they believed the neighbor lured the dogs to the fence with treats before shooting the pellet gun.
Reddington was taken to an emergency clinic where his eye was removed the following day.
The neighbor was cited in June for misdemeanor animal cruelty and pleaded guilty in November. The sentencing set for Friday was postponed. Another date has not yet been set.
"We would like to have had a resolution, but we understand the judge's decision and look forward to the next year," Christian said. "We are certainly working to resolve this action."
Christian said Reddington has an amazing personality.
"(He) loves nothing more than his toy and his people," Christian said.
While Reddington's recovery process went well, Christian said it was definitely not something they had ever expected to go through.
"It took him a few weeks to adapt to a new world with half of his vision, but he's in really good spirits," Christian said.
At the courthouse Friday, Reddington greeted people and played with his Frisbee.
Pennie Collinson, a friend of the Harlockers, came to the courthouse to show support for Reddington and spread awareness of her Facebook group to strengthen Idaho's animal cruelty laws.
"I formed this group so the entire state of Idaho can participate in having a conversation," Collinson said. "It's a place where they can go and people can communicate."
Collinson's group, Citizens of Idaho Against Domestic Animal Abuse, has grown to almost 2,000 members since it was formed in 2019.
Their goal is to make animal cruelty a first-offense felony.
According to Idaho Statutes, animal cruelty is only punishable by felony after the third offense within 15 years of the first conviction.
A first violation is punishable by a fine of not less than $100 or more than $5,000 or by incarceration of not more than six months, or by both fine and imprisonment.
Each case is decided on a case-by-case basis, and arrests aren't always made.
Animal Welfare Institue's Animal Cruelty Reporting Scorecard ranked Idaho as the worst state in the nation for reporting animal abuse in a 2020 analysis. Idaho was also at the bottom of the list for its efforts to track animal cruelty crimes.
"We're like the worst animal state ever," Collinson said. "But yet we have a license plate that says 'pet friendly' that you can purchase through the DMV and we put them on our cars."
Idaho ranked 48th nationally in the 2020 U.S. State Animal Protection Laws Rankings by the Animal Legal Defense Fund.
Collinson said making animal cruelty a first-offense felony would allow a judge to not have his hands tied when something bad happens.
"That man shot (Jade's) dog's eye out and almost killed her dog," Collinson said. "There's not going to be a felony because it doesn't exist. He's never done it before."
Collinson said a stepping stone to changing Idaho state laws would be to strengthen animal cruelty laws in each county.
"We're trying to change it locally here in Kootenai County, but we need to be heard," Collinson said. "(The Facebook group) is where we go and we have that conversation and we get everybody to join so we can make that happen."
There is no money exchange in the group. If someone wants to offer support, they can donate to a local shelter or vet in the group's name.
The Harlockers are a part of Collinson's Facebook group and said they'll be working with it and any other organization they can find to get the word out.
"Truthfully, the laws in Idaho do need to change," Christian said. "They need to get with the times. They need to be more accommodating and more reflective of how people feel about their companion animals."
Visit Idahoforpets.com to join the Facebook group.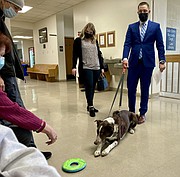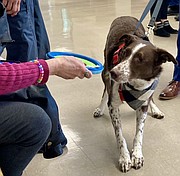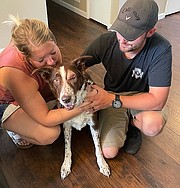 Recent Headlines
---