Souza, Giddings spar over H439
by
PRESS STAFF
|
January 20, 2022 1:00 AM
Idaho Rep. Priscilla Giddings claims in her newsletter for the week of Jan. 10-14 that House Bill 439 "would allow anyone to vote in the Republican Primary."
Not so, says Coeur d'Alene Sen. Mary Souza, a Republican candidate for secretary of state. Giddings, R-White Bird, is a candidate for lieutenant governor.
The text of the bill reads: "For a primary election, including a presidential primary election, an elector may change such elector's political party affiliation or unaffiliated designation by filing a signed form with the county clerk no later than the last day a candidate may file for partisan political office prior to such primary election ..."
The bill, introduced Jan. 13, amends existing law to revise provisions regarding the deadline to change political party affiliation or unaffiliated designation.
"Currently, Idaho has a closed primary system where voters can only vote to decide which of their party's candidates they want to see on the November ballot," Giddings' newsletter states. "The current law requires the individual to be registered with their party months before the primary to avoid democrats from voting in the republican primary and vice-versa. This bill would reverse that requirement and let anyone change their party affiliation on primary election day. We know that democrats are organizing to change their party affiliation to republican to impact the May 17 primary. This bill would make that effort even easier by allowing anyone to vote in the May primary regardless of their party affiliation."
Souza, the Senate sponsor of the bill, responded to Giddings: "That is completely untrue!"
"Under current law, any person in the Republican, Democrat, Libertarian or Constitution party may change their affiliation no later than the last day of the candidate filing period for partisan offices," Souza said. "But there is a special exception for unaffiliated voters, allowing them to affiliate with any party all the way up to and including on Primary Election Day. H439 changes that."
Souza said anyone who actually reads the bill would know it removes the exception for unaffiliated voters "and clearly requires all voters who wish to change to do so by the partisan candidate filing deadline."
"This year that deadline is March 11," Souza said.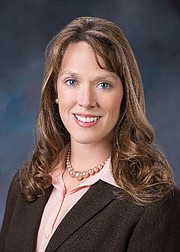 ---