Tax-Aide taking appointments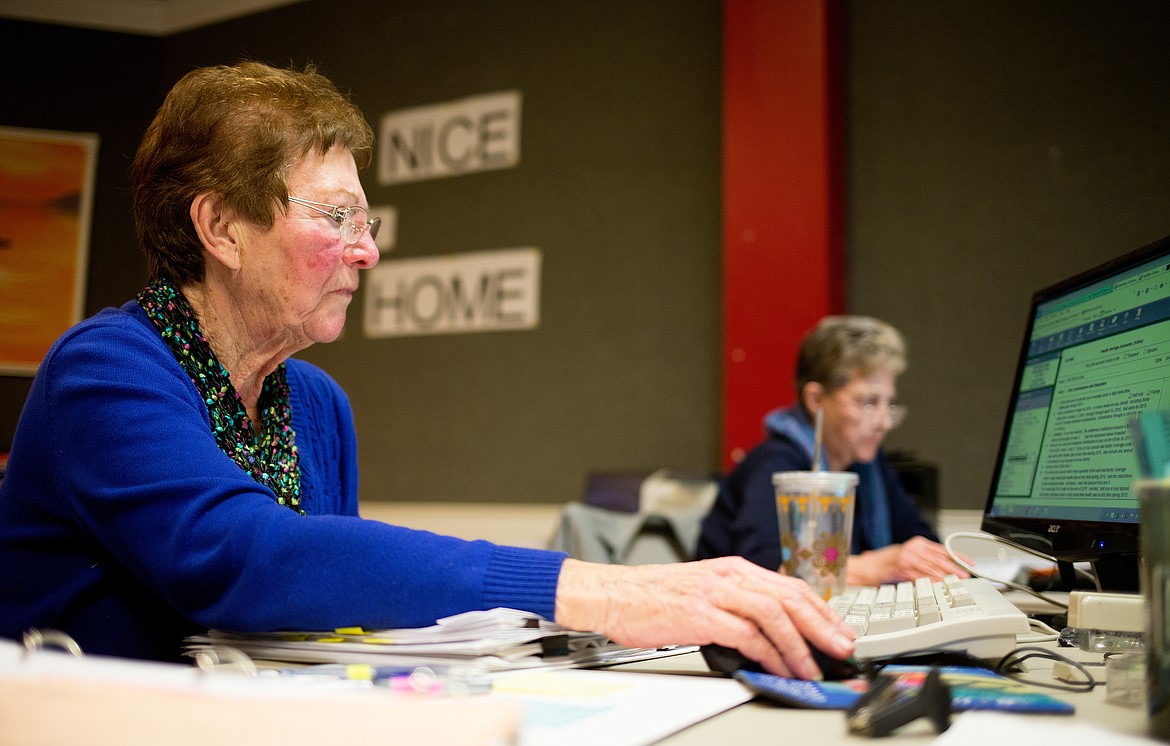 Barbara Harris, left, and Barbara Votava of Hayden take a test using software provided by the IRS to test their knowledge of filling out tax forms at the Silver Lake Mall during a previous Tax-Aide session. AARP's 2022 Tax-Aide program in North Idaho is now taking appointments. Free preparation services will be offered by appointment only starting Feb. 1.
JAKE PARRISH/Press File
by
DEVIN WEEKS
Staff Writer
|
January 17, 2022 1:06 AM
Appointments are now being taken by phone for free tax preparation services provided by AARP Tax-Aide volunteers.
The AARP Tax-Aide program helps people of all ages with low to moderate income. The services used to be provided in the Silver Lake Mall and Post Falls Senior Center, but have had to adapt in the past two years because of the COVID-19 pandemic and lack of available space.
The AARP Tax-Aide sites in Coeur d'Alene, Hayden, Rathdrum and Kellogg will provide these services by appointment only. No walk-ins are permitted.
Tax-Aide sessions begin Feb. 1.
Taxpayers will fill out forms and speak with trained tax counselors, drop off their tax documents, have the tax return prepared outside their presence and agree to be available by phone during tax return preparation. Upon completion, the taxpayer will review the tax return with a certified counselor and sign documents.
Clients will need to pick up tax packets starting Jan. 24 and have them completed ahead of their scheduled preparation times. Questions about taxes must be directed to the preparer. The hosting sites cannot give tax advice.
At Lake City Center, hours for tax help will be 9 a.m. to 3 p.m. Monday through Friday. Appointments are limited.
"This is a service we feel is very valuable to our community," Lake City Center administrative director Marlys Silva said.
Silva said this year, the drop-off/pickup at Lake City Center will be on the back side of the building where it says "EXIT." Follow the signs and park in the upper lot at the back of the center. This will help manage the limited parking for center members. Tax-Aide clients are asked not to use the main entrance.
Call 208-667-4628 to schedule an appointment with a tax preparer at Lake City Center.
About 50 trained and certified volunteers will be assisting the community this year, said Karen Cummings, Idaho state Tax-Aide coordinator and district coordinator for Kootenai and Shoshone counties.
Pre-COVID, Cummings said, North Idaho's Tax-Aide volunteers would help with up to 6,000 tax returns each tax season.
"Our tax codes are very confusing," Cummings said. "Most people need help with that service and we're here to help as many of those people as we can."
She said she expects Tax-Aide will help file at least 3,000 returns this tax season.
"We've lost sites and we've lost volunteers," Cummings said. "It's going to be tough, but we're going to try our best."
Rathdrum Senior Center hours will be Tuesdays and Thursdays, 9 a.m. to 4 p.m. Phone: 208-659-2464.
Hayden Senior Center will hold appointments Mondays, Fridays and Saturdays, 9 a.m. to 4 p.m. Phone: 208-255-0337.
The Kellogg Tax-Aide center will hold appointments Wednesdays from 9 a.m. to 1 p.m. Phone: 208-786-9010.
---