Uncover the history in your own home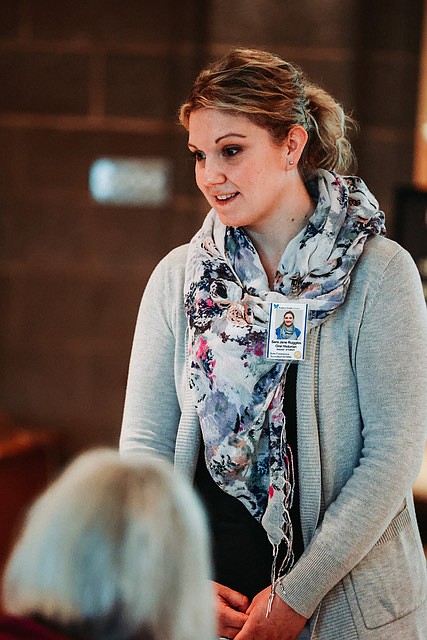 Public historian Sara Jane Ruggles is seen here at a recent library workshop. Ruggles is partnering with the Coeur d'Alene Library for a workshop Jan. 22 and the Museum of North Idaho for a presentation Feb. 5.
Photo by Creative Soup
by
DEVIN WEEKS
Staff Writer
|
January 15, 2022 1:00 AM
Have you ever noticed an object on the mantle that has been in your family for years?
How about the times you wished you'd written down or recorded the stories your grandfather told about adventures from his youth?
Two upcoming free workshops will give community members the tools to capture oral histories of loved ones and unlock the stories of heirlooms and the people who used them.
Auburn Crest Hospice's public historian Sara Jane Ruggles will present Storycatcher Workshop: Oral History 101 from 11 a.m. to 12:30 p.m. Jan. 22 at the Coeur d'Alene Public Library.
Ruggles will instruct participants on the basics of oral history practices, techniques and theory to equip them with the tools to record the stories of loved ones for years to come.
"I see it as a tool to empower people to collect stories and educate on that front," Ruggles said Tuesday. "It's a way for us to give back and to show what we're doing at Auburn Crest and this service we're doing for people. Let's teach you how to do it before you get to the hospice point."
Ruggles is also partnering with the Museum of North Idaho to present The History Hidden in Your Home, a workshop for teens and older to learn how to unlock the history of the objects in their homes and use it to tell their own stories.
"It was something I wrote during the pandemic," Ruggles said. "I was looking around my own house and thought, 'I could do something about this.'"
Museum of North Idaho executive director Britt Thurman said the community looks to the museum as "an authority on protecting the region's history and educating about what that history is and what those overarching narratives are."
"We're empowering the community to be stewards of history," Thurman said. "They can look at their heirlooms and learn to determine what their family history is."
The workshop will be held in the historic Fort Sherman Chapel from 1 to 3 p.m. Feb 5.
"The main thing I'm hoping people get from this is a different perspective when they look at objects, the lives they've lived and the uses they've seen based on the people who've owned them," Thurman said.
This will not be to determine the monetary value of the items, Thurman said, but to identify the items people may not realize are historical.
"You can learn a little more on things to look for to determine if something is older or not, if it's authentic, antique, artifact or a reproduction, clues to look for," she said. "It should be great."
Go to cdalibrary.org/library-events to sign up for Oral History 101.
Visit https://bit.ly/3nlqvBq to register for The History Hidden in Your Home.
Recent Headlines
---