Fisherman: Rescue training left hazard behind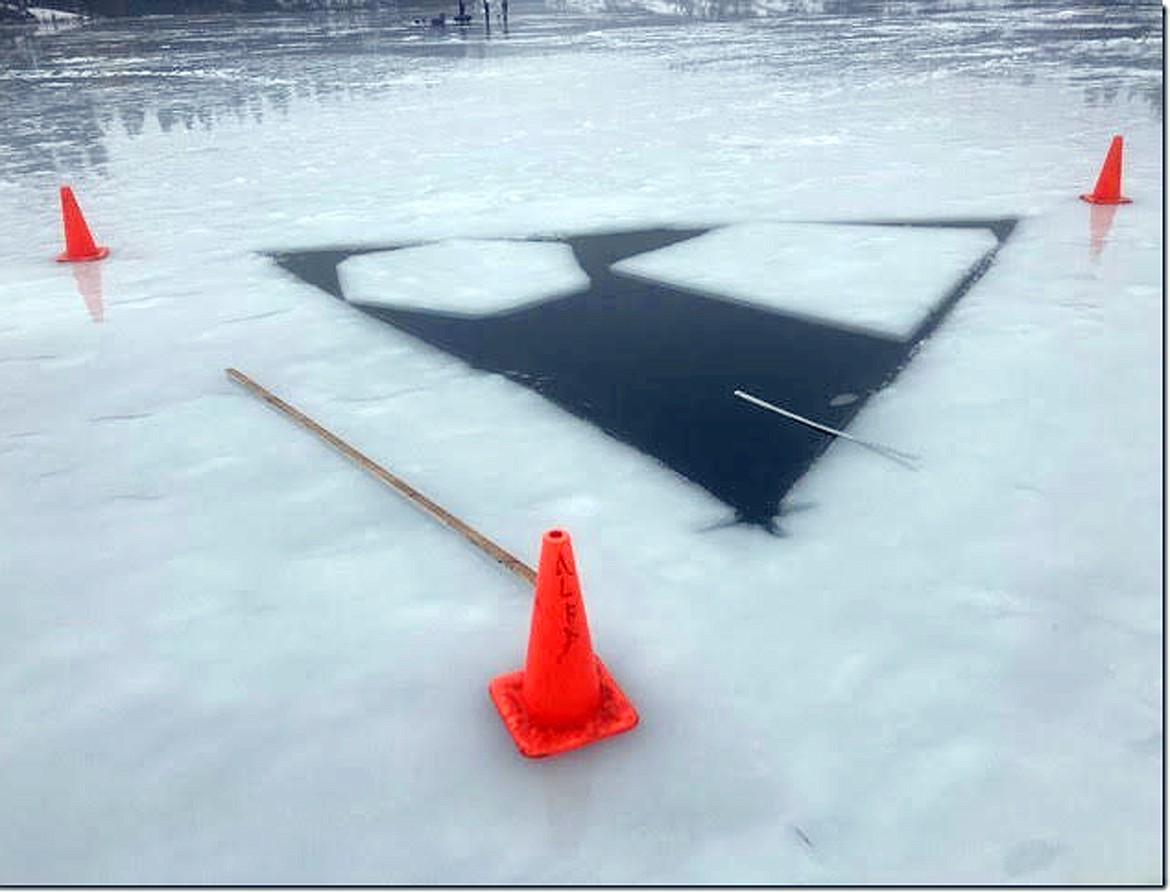 Photo courtesy Walt Maurer Three orange cones mark a hole in the ice of Avondale Lake following ice-rescue training there on Wednesday.
Photo courtesy Chris Larson The hole in the ice at Lake Avondale after the Northern Lakes Fire District took additional steps with poles, yellow caution tape, buoys and signs to alert the public to it.
Previous
Next
by
BILL BULEY
Staff Writer
|
January 15, 2022 1:00 AM
When Walt Maurer read The Press article on Thursday about ice-rescue training on Avondale Lake for about 25 local first responders, he thought that was good.
Later, when he mentioned it to a friend, he was told there was a problem. The large hole cut in the six-inch ice for the annual session, about 100 feet from shore, was near the only public access point on the lake. It was pretty much right in front of where folks head out for ice fishing and wildlife often cross.
Maurer, an experienced ice fisherman, checked it out that afternoon. The Coeur d'Alene man didn't like what he saw: three orange cones around the 112-square-foot triangular hole, with two large chunks of ice floating in it. As far as he was concerned, that wasn't near enough to be sure the public knew it was there.
Friday morning, he delivered a one-page formal complaint to Chris Larson, deputy fire marshal with the Northern Lakes Fire District.
"On 1/12/22, District personnel, while performing commendable ice rescue training exercises on Avondale Lake (Hayden, ID), inadvertently created a significant public safety hazard which could potentially result in human injury or death and consequential legal action against District," he wrote.
Maurer said the cones could easily be blown away or moved, and noted that a thin layer of ice could form over it and the unmarked cones could be misinterpreted as fishing hole markers or ice skating/hockey goal markers.
That could result in someone falling in the 33-degree water, which is, of course, exactly what the firefighters who took part in the training don't want to happen.
"Unfortunately, such thin ice will give the appearance of a perfect (although small) ice skating location particularly attractive to young skaters," he wrote.
Maurer didn't just have complaints. He had suggestions.
He said the district should immediately erect a barrier and warning signs around the hole no later than 5 p.m. Friday and select future training locations not near public access points.
Larson agreed with Maurer.
Within an hour, the hole was marked by orange cones now secured by poles, yellow caution tape was strung around the hole, and white buoys were on the surface.
Signs warning of "thin ice" were also posted on shore by the sportsman's access point and the lake's edges.
"Anybody should be able to see that," Larson said.
Maurer was pleased.
"I have nothing but appreciation for how quickly Chris responded to this," he said. "He's an ice fisherman and fully understood my concerns."
Larson said the large chunk of ice cut away for the hole is usually anchored down and when the training is over, floated back into place and ices over that night.
"It's like putting a lid back on," he said.
But he said the piece broke up due to rain and warmer temperatures, and didn't cover the entire hole.
Larson said they have used that location for such training in years past, but it's usually conducted later in the year when the ice is deteriorated to better mimic conditions responders would face in a rescue, and no one is ice fishing.
Larson said whether to use that site, and when the training is carried out, will be reviewed.
He thanked Maurer for his efforts.
"Making it safe for everyone is part of our mission," he said.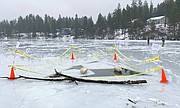 Recent Headlines
---