The pawn of a new era for teacher
by
D.F. "DAVE" OLIVERIA
|
January 14, 2022 1:00 AM
Bruce Twitchell has tapped out for now.
It may be a midlife crisis. Or too much stress from teaching in a state that doesn't prize education. Or time for the longtime Coeur d'Alene High teacher simply to clear his head.
Whatever the reason, he will take a leave of absence next semester to run a pawn shop.
The transition from the classroom to Golden City Loan and Pawn may seem strange. But Bruce has enjoyed wheeling and dealing since he was a kid.
"Clear back in grade school, I would buy candy and take it to school and sell it for a little extra to make some money," Bruce told Huckleberries. "I love going to auctions, thrift stores and yard sales to find things to resell. Now I'm going to try it as a career."
Bruce has taught at Coeur d'Alene High for 16½ years. He broke the news to pupils in his photography, yearbook and video production classes this week. He'll miss the kids, but not the headaches.
He has been worn down by Idaho legislators trying to micro-manage public education. By poor state funding of schools. And by a big decline in students who care about their schoolwork.
"It gets tough to get in front of students and give it your all when maybe half of them turn in their work," Bruce said.
It was a tough decision, Bruce admits, but he had to protect his mental and physical health.
Bruce doesn't know if he'll return to teaching. Meanwhile, he invites anyone looking for "tools, bang bangs, pew pews, all kinds of things" to stop by his pawn shop at 4025 N. Government Way, Suite 2, across from the fairgrounds.
And another quality Idaho educator bites the dust.
---
G-U-M-P-T-I-O-N
Look up "gumption" in the dictionary — and you'll find a photo of Jason Tweedy of Post Falls. Gumption prompted Jason to trade a safe job with benefits at Costco for a shot at something bigger. He worked for the corporate giant for 22 years, beginning at age 16. He met wife Nicole at Costco. Neither had a college education. And kids came along. "We both assumed we were stuck there," Nicole said. "Sort of slaves to the corporate world." Their perspective changed three years ago when Nicole opted for a career in real estate. Jason took a deep breath and enrolled at North Idaho College. Despite juggling work, school, family and kids' activities, Jason made the dean's list every semester — and earned an associate degree in business. On Monday, Jason became the newest appraiser for the Kootenai County assessor. What Jason did, Nicole says, was "very scary and very brave because most of us get stuck in our lives and are afraid to take chances." Is she talking to you?
Huckleberries
• Poet's Corner: The lake was icy New Year's Day/but they went swimming anyway./Reasons why are somewhat hazy/maybe they are just plain crazy – Tom Wobker, The Bard of Sherman Avenue ("Polar Bear Plunge").
• When we last heard from Craig Sumey, he was preaching a final sermon, on the Fourth of July 2021, after 10 years at First Presbyterian downtown. Now, he's featured in a West Orange Times & Observer story discussing his first five months at Oakland Presbyterian, near Orlando, Fla. He's enjoying the warmer weather although he lives in a place called Winter Garden. In Coeur d'Alene, by contrast, a "winter garden" masquerades as a blanket of snow.
• Yes, the Wilma Theater of Missoula, still going strong after 100 years, is related to the late, great Wilma Theater in Coeur d'Alene. They were both named after light-opera star Edna Wilma Simons. In 1921, Edna's husband, Billy, dedicated the eight-story Missoula complex to his wife. After his death, Edna ran Billy's string of 31 movie theaters in Idaho, Montana and Alaska. In 1940, she bought the Huff Theater in Coeur d'Alene and named it after herself.
• Cameron Fullmer, an uber-conservative Post Falls legislator from the early 1980s, would relish the partisan oddballs we send to Boise from North Idaho today. Forty years ago, he proposed to limit public education to grades 1-6. And then walked back the statement when he caught heck even from fellow Rs. Now, he might win unanimous support from the wacky local GOP.
• On this day in 1972, Coeur d'Alene Rotarians celebrated their Golden Anniversary by honoring their two surviving charter members: former mayors O.W. "Foxy" Edmonds and Henry "Heinie" Glindeman. Foxy, wife, Kitty, and their month-old daughter, Beverly, moved to Coeur d'Alene on May 20, 1912. Beverly would marry Burl Hagadone and have three kids, including son Duane, who named a fine-dining restaurant after his mother. And did OK for himself.
Parting Shot
Tom Greene of Coeur d'Alene, who was born in 1973, was a few months old when grandpa Tom "Pop" Greene Jr. died. But the NIC Work Force employee was still busting buttons Monday after Georgia vanquished nemesis Alabama to win the national college football title. You see, Pop lettered at Georgia from 1939-41, playing tackle on both sides of the ball. At 6-4, 240 pounds, Pop blocked for Frank Sinkwich, the 1942 Heisman Trophy winner. In Pop's senior year, the Bulldogs went 9-1-1 and beat Texas Christian in the Orange Bowl. The one loss? Alabama, of course. Also in 1942, Pop was drafted by the Cleveland Rams. But rejected a chance to play pro ball to enlist in the U.S. Marines and later fight at Iwo Jima. Pop's proud grandson offers this truism: "They made them different back then."
• • •
You can contact D.F. "Dave" Oliveria at dfo@cdapress.com.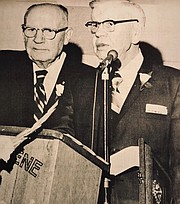 Recent Headlines
---