ZAGS TRACKER: A return to the top of the nation?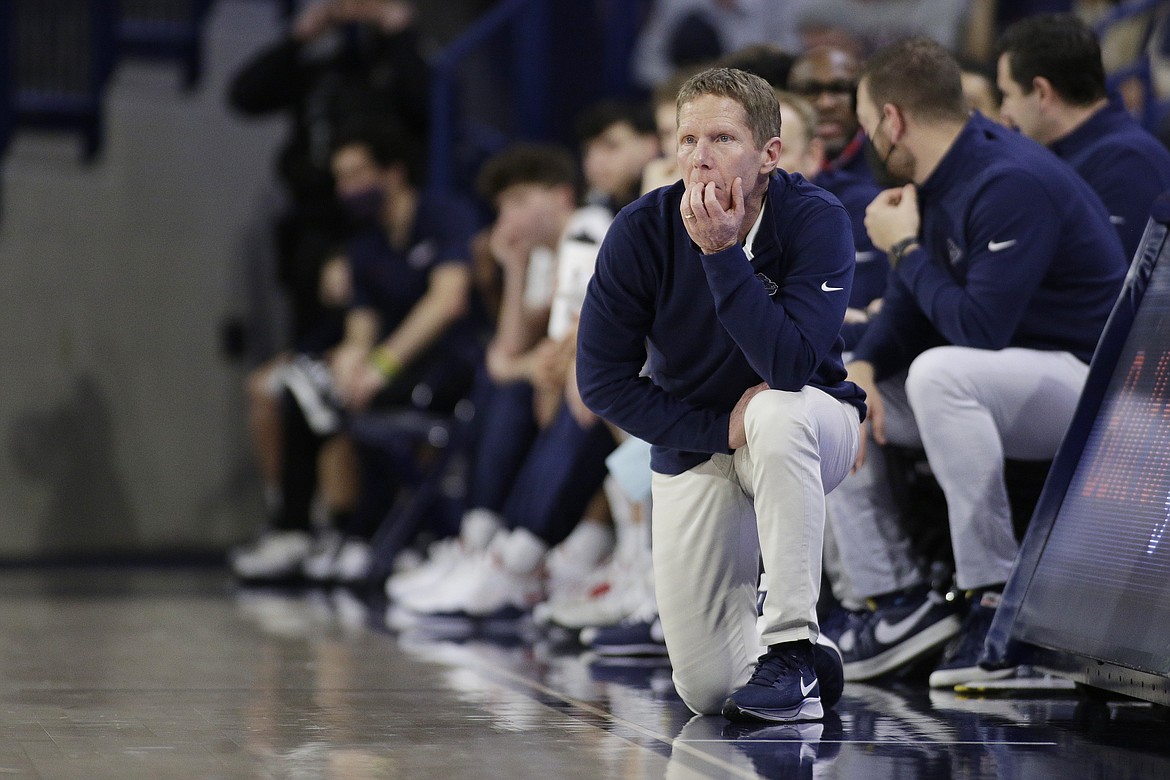 YOUNG KWAK/Associated Press Gonzaga coach Mark Few watches the first half of Saturday's game against Pepperdine in Spokane.
|
January 13, 2022 1:20 AM
Back to No. 1?
Maybe.
Coach Mark Few, predictably, doesn't want to hear about second-ranked Gonzaga's chances of rising back to the top of various polls.
That possibility came into focus on Tuesday night, when previously unbeaten Baylor was upset at home by Texas Tech — a team the Zags whipped 69-55 on a neutral floor in Phoenix.
"The top ranking only matters at the end of the year," Few said, "and we have some incredibly tough games between now and then."
Indeed, Gonzaga might ascend to that midseason No. 1 spot (where it began the season), but it will require victories over rugged BYU at The Kennel tonight, and then a win on the road against Santa Clara on Saturday evening.
"Everything is just tougher in the (West Coast Conference)," Few said. "Everyone seems to be better, and right now there are projections that we'll have four teams in the (NCAA) tournament.
"That means tough games every week, and that we can't take any games for granted."
BYU COMES to town with a 14-3 record (2-0 in the WCC), and fresh off a 52-43 win over typically brutal St. Mary's in a Provo rock fight.
"We won that game with our defense," said BYU senior guard Te'Jon Lucas, who led the Cougars with just 10 points.
BYU is noted as a deadly 3-point shooting team (guard Alex Barcello is hitting an insane 46.7 percent on 90 attempts), but against the Gaels, BYU converted just one of 13 tries from deep.
"We proved that whether the 3-pointers are falling or not, we can find other ways to win," Lucas said.
Cougars coach Mark Pope keeps finding useful big men, and this year he's leaning on a couple of freshmen — 6-6 Fousseyni Traore and 6-9 Akita Ally Akita — to handle rebounding and act as disrupters around the basket.
Ally Akita is only now getting regular minutes, but he was a major factor in the win over Saint Mary's.
"In our biggest game so far this season, we knew we had to throw (Ally Atiki) out there and play minutes against a young man in Matthias Tass, who's shooting 74 percent from the field the last five games and averaging 17 points per game," Pope said.
"Tass is an unstoppable force in the middle. We weren't bringing a double team, but (Ally Atiki) was terrific."
"He was flawless on the defensive end. You could feel his length out there. His length challenged Tass.
"Three blocked shots and probably three altered shots with his length. He was incredible. We had to have him, and he delivered."
SEVERAL RECENT Gonzaga-BYU games have been thrillers.
The Cougars won in Provo three years ago, but perhaps the most memorable of their seven wins over the Zags came in 2017, when they ruined Senior Night in The Kennel by defeating the Gonzaga team that would go on to reach the national championship game.
"BYU just plays crazy, crazy hard," Few said when asked about this latest matchup.
On the other side, Cougar forward Caleb Lohner announced at a press gathering that BYU was going all out to win in Spokane, because …
"Everybody hates Gonzaga."
By the way, simply surviving a battle with BYU doesn't guarantee the Zags a perfect week.
They'll face a tough night's work on Saturday at Santa Clara.
The Broncos have won 10 games and, among their other victories, they've blown out Stanford — the team that just knocked USC out of the unbeaten ranks this week.
GONZAGA HAS been gearing up for the WCC wars — and the NCAA tournament after that — by getting more and more players into the regular game rotation.
Anton Watson, in particular, has blossomed by getting more minutes.
Watson now often plays with either Drew Timme or Chet Holmgren up front, allowing Few to rest his big men alternately without much (if any) drop-off in play at either end of the court.
Freshmen guards Nolan Hickman and Hunter Sallis each have very different skill sets, but they're finding roles that allow the Zags more flexibility.
Hickman can spell Andrew Nembhard at point guard, or play alongside him as a shooting threat.
Sallis is still developing his outside shot, but he is the Zags' most dynamic athlete and can defend almost anyone except pure post players.
The two freshman guards, along with Holmgren, will get their first real taste of WCC wars this week — and there will be bodies flying everywhere.
"The conference has gotten a whole lot better," Timme said, "and everybody will be giving us their best shot.
"That's life with a target on your back."
Email: scameron@cdapress.com
Steve Cameron's "Cheap Seats" columns appear in The Press on Mondays, Wednesdays and Fridays. He also writes Zags Tracker, a commentary on Gonzaga basketball which is published weekly during the season.
Steve suggests you take his opinions in the spirit of a Jimmy Buffett song: "Breathe In, Breathe Out, Move On."
Recent Headlines
---