Right to Life March and Rally is Jan. 22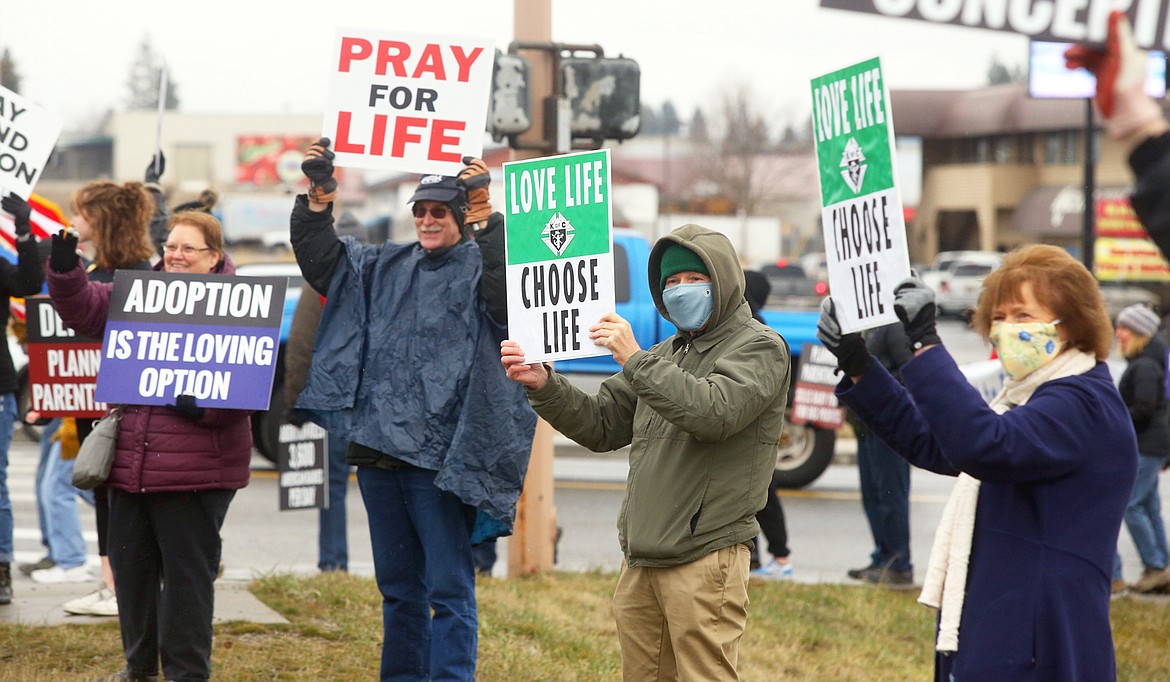 Barbara Thatcher, right, and Richard Moate, second from right, join the Coeur d'Alene Right to Life March and Rally in 2021. This year's event will be Jan. 22 in the Skate Plaza parking lot.
BILL BULEY/Press File
by
DEVIN WEEKS
Staff Writer
|
January 13, 2022 12:00 AM
COEUR d'ALENE — If an event's importance is measured by the people involved, Connie Frank feels the annual Right to Life March and Rally is a significant one.
"It is an amazing come-together to get the march and rally done," event coordinator Frank said Tuesday. "It all falls into place. It must be important, everybody comes together to do it."
Representatives of multiple denominations and community members will attend the 2022 Coeur d'Alene Right to Life March and Rally. The rally will be at 10 a.m. Jan. 22 in the Skate Plaza parking lot at the northwest corner of U.S. Highway 95 and Dalton Avenue.
Since 1979, the Coeur d'Alene Right to Life March and Rally has served as a venue for locals to demonstrate alongside National March for Life counterparts across the country. Every year, pro-lifers gather on the National Mall in Washington, D.C. and march on Capitol Hill on the anniversary of the 1973 Supreme Court's Roe v. Wade ruling, which legalized abortion in the U.S.
It's the largest annual human rights demonstration in the world, according to the March for Life website. This year's theme is "Equality Begins in the Womb."
Speakers will include retired neonatal intensive care registered nurse Joanne Wing and Open Arms Real Choices Clinic executive director Richard Hawk.
Rally signs will be provided by Coeur d'Alene Right to Life. Attendees will carry signs and walk along Highway 95 after the opening ceremony.
"It's a gathering of God's people," Frank said. "It is a gathering so that everyone knows life is special."
---