Jerald Wayne (Jerry) Wilhelm, 77 and Darlene Inez Wilhelm (Shofner), 75
|
January 12, 2022 1:00 AM
Jerald Wayne (Jerry) Wilhelm, born Nov. 20, 1944, and raised in Hauser Lake, Idaho, passed Dec. 22, 2021, and his beloved wife of over 56 years, Darlene Inez Wilhelm (Shofner), born June 30, 1946, and raised in Eagle Pass, Texas, passed Dec. 24, 2021. Jerry and Darlene were married on May 29, 1965, in Post Falls, Idaho.
Jerry served two tours in the Army in Vietnam as a pointman from 1965 to 1967. At the time of his discharge he was a sergeant and was awarded the Purple Heart, and Distinguished Service Cross. After his service, Jerry worked and retired from Ramey Truck and Equipment.
Darlene spent her time while Jerry was in Vietnam working in her family owned restaurant, The Pagoda, in Post Falls and giving birth to their first child. Later she owned her own ceramic shop and finally worked and retired from Fred Meyer.
Jerry and Darlene lived in the Spokane Valley until they moved to the Cave Bay Community of Worley, Idaho, over 30 years ago.
Jerry was well known for being able to fix anything, and always had some kind of project he was working on. Darlene loved to cook and entertain, and was dedicated to her church (St. Michael). They both loved spending time with their children, grandchildren, and great-grandchildren. They enjoyed fishing throughout the years and playing at the Coeur d'Alene Casino when their health required them to slow down.
Jerry had a big heart, a stubborn side, and a great sense of humor. Darlene was charismatic, loving and warm-hearted. Both of them always went out of their way for anyone they knew and will be greatly missed by all.
They are survived by three children: Bill (Lenaya), Tina Schuler (Gerry), Mike (Lexi), Jerry's four brothers: John (Carole), Jeff (Janet), Joe (Julie), Jay (Lori), three sisters: Joann Hildebrant (Allen), Jackie Livingston (Dennis), Julie Schmedding (Mike), sister-in-law: Jerrilou Shofner, nine grandchildren, four great-grandchildren and twenty-three nieces and nephews.
They were preceded in death by Jerry's parents: William and Alice Wilhelm, sister: Jane Torvik and husband Arild, brother-in-law: Larry Medley, and Darlene's mother Ruth Shofner (Brewer) and brother: LeeRoy Shofner.
Funeral service will be held on Jan. 22, 2022, at St. George's Parish Hall at 2010 N Bill St, Post Falls, ID at 11 a.m. with graveside service at Evergreen Cemetery at 2834 N Spokane St, at 12:15 p.m. and a reception to follow at 2 p.m. at the Coeur d'Alene Casino.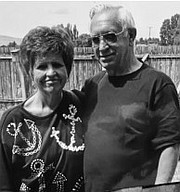 Recent Headlines
---