Doc Vic Symons, 64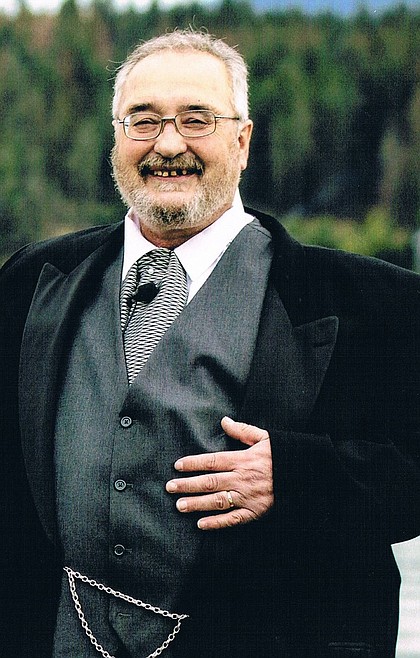 |
January 12, 2022 1:00 AM
Doc Vic Symons, 64 of Athol, Idaho, passed to the afterlife unexpectedly on Dec. 30, 2021, due to complications of illness. Doc was proud of being born and raised in North Idaho and believed that while there are places that should be visited, nowhere else could compare for a place to call home. In his younger days, he was an avid wrestler with an offer to train to be a member of the Olympic wrestling team, but he opted to spread his wings and join Rainier Shows/Amusements based in Portland, Ore., for the traveling carnival/state fair experience. He really enjoyed the experience and the high-energy atmosphere; it impacted the trajectory of his life.
During his employment with them, local kids ran through the park powering on the rides, which included one that he was underdoing routine daily maintenance on the truck carriage when they turned it on, catching him in the turret and damaging his leg. Needless to say, his carnival days were over. While he didn't get the opportunity to marry his high school sweetheart, Tana (Lee) Jenneskens who passed away at a young age, it gave him the opportunity to marry his first wife Lynda Sweitzer-Dolan and have their talented daughter Shawntae Symons-Mott, who was the light of his life.
After his recovery he held various jobs, predominantly Bunker Hill Mine in Kellogg Idaho, tapping the furnaces. And Idaho Forest Industries/Stimson Lumber in Coeur d' Alene, Idaho, where he worked the entire range from clean up to turning cants to boiler operations.
At the age of 40, he married his present wife, Hannah Symons, and in the following years among other things proceeded to earn his high school diploma and achieve his operating engineers degree in boiler operations.
While enjoying being a stepgrandfather to Marie and Rj Shoemake, in the fall of 2002 he was blessed with his third grandchild, Taelela Shoemake.
He retired from the lumber mill and during his retirement years, he participated in several hobbies and past times including officiating the ceremony for his daughter Shawntae's marriage to Adam Mott, whom he thought the world of, and in the process gained another grandchild, Elijah Mott.
He lived life to the fullest possible extent and touched so many lives. He was not afraid of being bold and taking risks, he led by example and rarely took no for an answer from himself or others, and he had a big enough heart and compassion to include everyone he met.
He was preceded in passing by multiple cherished friends and family, including his father Spencer R. Symons, mother Katherine F. Tappen, stepmother Alice L. McIntosh, half-sister Dawn L. Symons, half-brother Tommy L. Symons, granddaughter Taelela L. Shoemake.
Left to treasure his memory is his wife of 24 years, Hannah I. Symons of Athol, Idaho; his daughter Shawntae F. Mott, husband Adam and children of Athol, Idaho; his half-sister Blanche A Poff, husband Michael and children of Salem, Ore.; sister Frances A. Galloway and child of Cataldo, Idaho; brother Joseph S. Symons, wife Margaret and children of Ottumwa, Iowa; half-Sister Tina R. Hull and children of Coeur d'Alene, Idaho; stepsister Barbara Huggins-Wilson, husband Don of Kermit, Texas; stepbrother Robert Huggins and children of Plummer, Idaho, and the family of his heart a host of extended family, friends and coworkers.
Funeral services will be held on Friday, Jan. 14, 2022, at English Funeral Chapel, 1133 N Fourth street, Coeur d'Alene, Idaho. Viewing 11 a.m., Services at 12 p.m.
Final resting services, for those that would like to attend, will take place at Coeur d'Alene Memorial Gardens 7315 N Government Way, Coeur d'Alene, Idaho.
Following the burial, the Celebration of the life and legacy of Doc, with the opportunity to share memories or tall tales, will be held at The Coeur d'Alene Resort located 115 S Second Street, Coeur d'Alene, Idaho. Lunch will be provided, with potluck being optional. Parking is free for the first three hours. Please inform bell desk that you are with the Doc Symons party upon arrival.
Please visit Doc's online memorial at englishfuneralchapel.com.
Recent Headlines
---