Good eats, cold treats
by
NILS ROSDAHL/Special To The Press
|
January 9, 2022 1:07 AM
The new Dairy Queen will open soon at 513 W. Hayden Ave., just east of U.S. 95.
With inside seating for 72, a drive-thru and take-out services, it will be open 10 a.m. to 9 p.m. daily with ice cream items, blizzards and burgers. Outside seating will be added.
Dairy Queen started in 1940 in Joliet, Ill. The company has more than 7,000 outlets in about 20 countries. Its headquarters are in Minneapolis. Check dairyqueen.com.
Renew Aesthetics moves to West Ironwood Drive
Adding a wider variety of services with the expansion, Renew Aesthetics & Hydration Bar has moved to 1101 W. Ironwood Drive from, 515 N. Fourth St.
The staff of 15 offers non-evasive aesthetic procedures and overall wellness services with a passion for client care. Treatment is for all injectables, PDO threads, vampire procedures, IV therapy, facial and laser services.
Angela Sattler is owner and registered nurse injector with Laura Goode as office manager. Phone 208-930-6823. Check renewcda.com.
Pedego Electric Bikes opens in Riverstone
With a variety of electric bikes and accessories, Pedego Electric Bikes has opened at 2500 Old Mill Loop (north of Regal Theater) in Riverstone.
Pedego started in 2008 and has 180 stores with its headquarters in Fountain Valley, Calif.
Hours are 10 a.m. to 6 p.m. Wednesday to Sunday. Phone 208-771-7296. Check pedegoelectricbikes.com.
Now the Tidbits
Sargent's Steakhouse will have major changes at 9021 Government Way in Hayden.
A burger place and cosmetic salon will be in the new building at Fourth and Lakeside.
A new building for Etco Services is under construction off Huetter north of Seltice and I-90
Golden Glo Coffee will open soon at Highway 41 and Nagel Lane.
Breaking Bread Bistro will be where Davis Donuts was at Fourth and Best.
The former Shopko building will be a new location for Tri-State Outfitters inventory.
A sign along I-90 near the Ironwood exit says "CdA Kids Dental Coming Soon."
A sign on Wayne Drive in Hayden says "Future home of Blue Chip Chiropractic."
Northwest Specialty Hospital is expanding at 1551 E. Mullan Ave. in Post Falls.
Open Arms Real Choices Clinic will move from 1800 Lincoln Way to 8056 N. Wayne in Hayden.
Metro Express Car Wash is building a large new place in the northwest corner of Highway 41 and I-90.
Lone Mountain Farms & Brewery will have a new place in the Lancaster Market development at U.S. 95 and Lancaster Road.
Consign Furniture has a "coming soon" sign southwest of the U.S. 95-Lancaster Road intersection.
An Express Exterior Carwash is being built in the 3400 block of Seltice in Post Falls.
Major changes are coming to the Greenbriar Inn & 315 Cuisine under new ownership at 315 Wallace Ave. Breakfast is now offered Friday to Sunday with dinner Tuesday to Sunday.
The Rebel Junk Shoppe at 2424 N. Fourth St. will expand to a street-side location.
Bruchi's quick service restaurant is planned for a new building north of the corner of Highway 41 and Mullan Avenue.
The former Ugly Fish restaurant building will be a Berkshire Hathaway Realty in Riverstone.
Watch for construction of Vantage Point Brewery across from Michael D's Eatery off Coeur d'Alene Lake Drive.
A Post Falls RV Campground is under construction between Cabela's and the State Line Walmart store.
A Sweet Lou's restaurant, a Dollar General store and a Grease Monkey auto place will be at the Crossings in Athol.
Gathered Restaurant is new with lunch added 10 a.m. to 3 p.m. at 830 N. Spokane St. in Post Falls.
TownePlace Suites by Marriott Hotel will be built where the Outback Steakhouse was in the southeast corner of I-90 and Northwest Boulevard.
Several steel storage buildings will be built at 3758 W. Hanley Ave. (off Atlas Road) for Hern Ironworks.
A Capriotti's Sandwich Shop will come into the former Chipotle Mexican Grill building at 305 W. Appleway Ave.
A Sarah Hamilton FACE place will be at 2120 Northwest Blvd.
A new commercial and residential building will be built at Government Way and Davidson Avenue.
Watch for major changes with the Burger Bunker and Bunker Bar off Spokane Street in Post Falls.
The Garnet Cafe in midtown will move to the former Broken Egg building on Government Way.
A new gas station-convenience store will be in the northeast corner of Atlas at Seltice.
A large storage complex and new corporate office for Steel Structures of America is being built off Highway 41.
The Den will be a new tavern at 761 N. Idaho St. in Post Falls.
My Nails & Spa will be off Canfield Avenue.
The CD'A Corner Store is adding a kitchen and tables downtown.
Schmidty's Burgers will be at 1524 E. Sherman Ave.
Napa Auto & Truck is building a new location in Rathdrum.
Coeur d'Alene Nissan will have a major addition to its building off U.S. 95.
Mountain Goat Lounge is under construction connected to the Moose Lounge downtown.
The Post Falls Pavilion food truck court will be near the Highway 41 and Horsehaven intersection.
Some word things to watch for: "Same exact" is redundant; the "...ward" words such as "toward" don't end in "s."

Contact Nils Rosdahl at nrosdahl@cdapress.com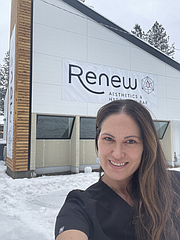 Recent Headlines
---