A treasured dining experience
by
NILS ROSDAHL/Special To The Press
|
January 2, 2022 1:07 AM
The Takara Japanese restaurant grand opening was New Year's Eve at 309 Lakeside Ave.
With "takara" meaning "treasure" in Japanese, owner Kenta Nishimori and managers Shiree Nishimori and Joshua Williams offer lunch from 11 a.m. to 2 p.m. and dinner from 4-9 p.m. Included are sushi, beer, wine and sake.
Seating is for 110 customers at high and low tables with a Tatami room for traditional Japanese seating and the large sushi bar and sports TV. A VIP room with four TVs will seat about 50 for reservations only in the spring. Phone 208-771-7233.
Kaffee Meister opens Monday in Hayden
With many drinks and pastries, Kaffee Meister opens Monday at 9212 N. Government Way in Hayden.
Owners Mike and Leslie Emmons offer coffees, teas, hot and cold espresso drinks, hot chocolate, chai and bagels. They'll soon add breakfast and lunch items such as paninis, soup, sourdough and salads and retail coffees and K-cups.
With mid-century decor, the spacious place has a large fireplace and a variety of seating areas. Hours are 7 a.m. to 2 p.m. Check kaffeemeister.com.
Say Yes Bridal Boutique opens off U.S. 95
With bridal, prom and pageant wear, Say Yes Bridal Boutique has opened at 247 W. Sunset Ave., east of U.S. 95.
Offering "an unforgetable dress shopping experience," the private fittings include signature bubbles and savory snacks. Miranda Hamilton is operations manager. Owner-visionary is Sherry McKay and lead stylist is Kristi Gray.
Hours are 10 a.m. to 6 p.m. Wednesday through Sunday with fittings by appointment. Phone 208-551-2687. Check www.sayyescda.com.
Thunder Games offers fun gaming, retail
With a fun gaming and retail atmosphere, Thunder Games is open at 245 W. Sunset Ave., east of U.S. 95.
Melissa and Jeff Grannis save customers money on hobbies at 11 a.m. daily and closing at 9 p.m. Monday through Thursday, 11 p.m. Friday and Saturday and 7 p.m. Sundays.
Phone 208-930-4730 and check Facebook.
Now the Tidbits
Dairy Queen will open soon in Hayden.
A burger place and cosmetic salon will be in the new building at Fourth and Lakeside.
A new building for Etco Services is under construction off Huetter north of Seltice and I-90
Golden Glo Coffee will open soon at Highway 41 and Nagel Lane.
Breaking Bread Bistro will be where Davis Donuts was at Fourth and Best.
The former Shopko building will be a new location for Tri-State Outfitters inventory.
A sign along I-90 near the Ironwood exit says "CdA Kids Dental Coming Soon."
A sign on Wayne Drive in Hayden says "Future home of Blue Chip Chiropractic."
Northwest Specialty Hospital is expanding at 1551 E. Mullan Ave., in Post Falls.
Open Arms Real Choices Clinic will move from 1800 Lincoln Way to 8056 N. Wayne Drive in Hayden.
Metro Express Car Wash is building a large new place in the northwest corner of Highway 41 and I-90.
Lone Mountain Farms & Brewery will have a new place in the Lancaster Market development at U.S. 95 and Lancaster Road.
Consign Furniture has a "coming soon" sign southwest of the U.S. 95-Lancaster Road intersection.
Renew Aesthetics & IV Hydration Bar will move from 515 Fourth St. to 1101 W. Ironwood Drive soon.
An Express Exterior Carwash is being built in the 3400 block of Seltice in Post Falls.
We hear something new is coming beside Cabela's at State Line.
The Rebel Junk Shoppe at 2424 N. Fourth St. will expand to a street-side location.
Bruchi's quick service restaurant is planned for a new building north of the corner of Highway 41 and Mullan Avenue.
The former Ugly Fish restaurant building will be a Berkshire Hathaway Realty in Riverstone.
Watch for construction of Vantage Point Brewery across from Michael D's Eatery off Coeur d'Alene Lake Drive.
Pedego Electric Bikes is open in Riverstone. Details soon.
A Sweet Lou's restaurant, a Dollar General store and a Grease Monkey auto place will be at the Crossings in Athol.
Gathered Restaurant is new on Spokane Street in Post Falls.
TownePlace Suites by Marriott Hotel will be built where the Outback Steakhouse was in the southeast corner of I-90 and Northwest Boulevard.
Several steel storage buildings will be built at 3758 W. Hanley Ave., off Atlas Road, for Hern Ironworks.
New places coming to Silver Lake Mall include Customs Laser Engraving, All Fired Up, Crime Scene Entertainment and American Heritage.
A Sarah Hamilton Face place will be at 2120 Northwest Blvd.
A new commercial and residential building will be built at Government Way and Davidson Avenue.
Watch for major changes with the Burger Bunker and Bunker Bar off Spokane Street in Post Falls.
The Garnet breakfast place in Midtown will move to the former Broken Egg building on Government Way.
A new gas station-convenience store will be in the northeast corner of Atlas at Seltice.
A large storage complex and new corporate office for Steel Structures of America is being built off Highway 41.
The Den will be a new tavern at 761 N. Idaho St. in Post Falls.
My Nails & Spa will be off Canfield Ave.
The CD'A Corner Store is adding a kitchen and tables downtown.
Schmidty's Burgers will be at 1524 E. Sherman Ave.
Napa Auto & Truck is building a new location in Rathdrum.
Coeur d'Alene Nissan will have a major addition to its building off U.S. 95.
Mountain Goat Lounge is under construction connected to the Moose Lounge downtown.
The Post Falls Pavillion food truck court will be near the Highway 41 and Horsehaven intersection.
The biggest store in the U.S. is Walmart with more than 11,000 locations in 27 countries and headquartered in Bentonville, Ark. The biggest store headquartered in Idaho is Albertsons with over 2,200 locations in the U.S.
The correct phone for the new Lake Coeur d'Alene Inn is 208-660-0660.
Contact Nils Rosdahl at nrosdahl@cdapress.com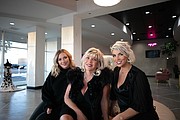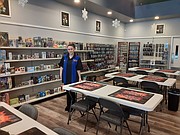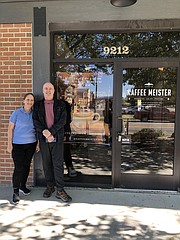 This article has been edited to correct information regarding Takara Japanese restaurant's ownership and managers.
Recent Headlines
---