Care Affair brings in $80K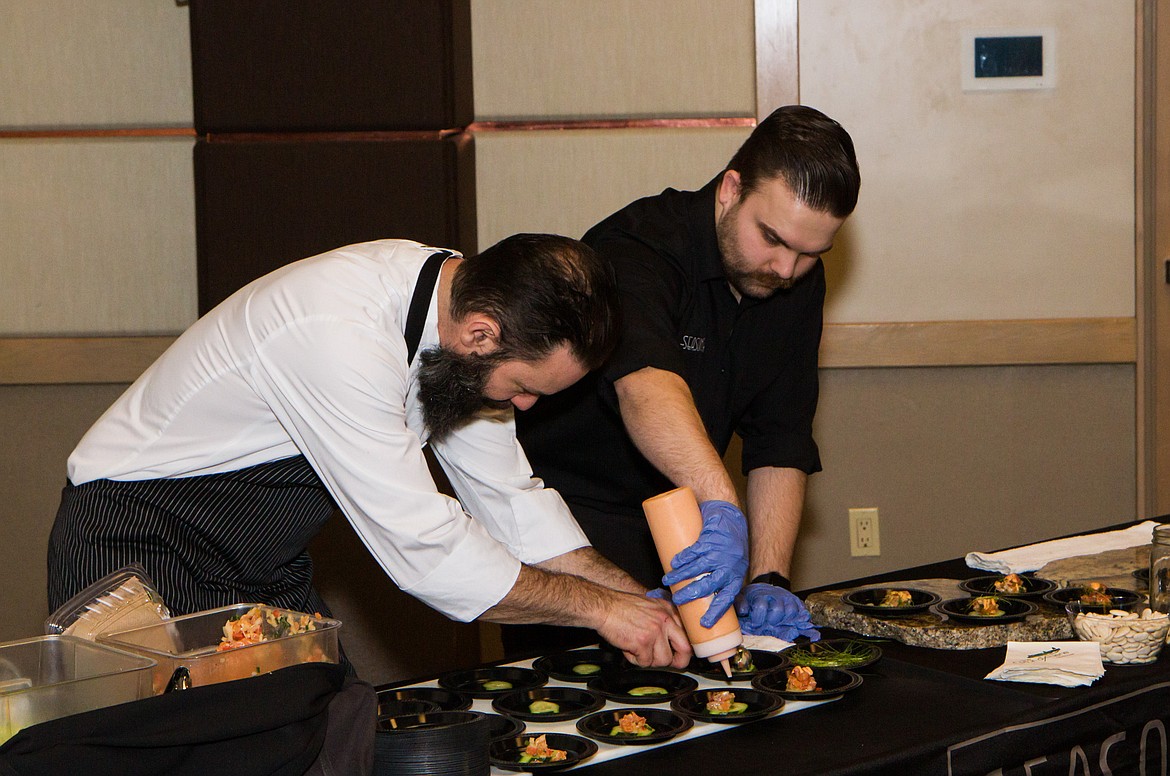 Seasons of Coeur d'Alene chef Jesse Waldman, left, and general manager Daniel Bentley prepare appetizers at the 2022 Care Affair in The Coeur d'Alene Resort. The event broke its fundraising record of more than $45,000 set in 2020 with a walloping $80,000.
Courtesy photo
by
DEVIN WEEKS
Staff Writer
|
February 18, 2022 1:06 AM
COEUR d'ALENE — It's true — the people of Coeur d'Alene care about restaurant and hospitality workers.
They care so much, they broke a record by raising $80,000 at CDAIDE's Care Affair.
"Which is almost double what we made in 2020, which is pretty amazing," event chair Bev Moss said Wednesday. "Our supporters came out and it was a really lovely evening. The people were in good moods, people were happy to be there, the food was incredible. It's hospitality, it always flows, because they know what to do."
The Care Affair has been an annual event since 2018, except for 2021 when it was not held because of the COVID-19 pandemic. This year's event, held Feb. 10 at The Coeur d'Alene Resort, featured culinary talent and special offerings from Seasons of Coeur d'Alene, 315 Cuisine, Candle in the Woods and Bardenay.
Organizers hoped to raise $75,000 to support workers in the restaurant and hospitality industry throughout the year with expenses that often catch uninsured workers off guard.
CDAIDE Executive Director Rebecca Smith said once again, the generosity of the community shined through.
"These funds will do so much good for our neighbors working in our local restaurants, coffee shops, bars and hotels," Smith said. "We will be able to assist with folks struggling with a major car repair or who fall behind on rent because of a medical issue. One new avenue we will be exploring is a scholarship program for current hospitality workers to get more training in the culinary arts and other areas to advance in their careers, so that they can afford to continue working in this industry in our community."
Recent Headlines
---