3A District 1 girls basketball championship: Kellogg downs seven-time district champ Timberlake, on to state for first time since 2010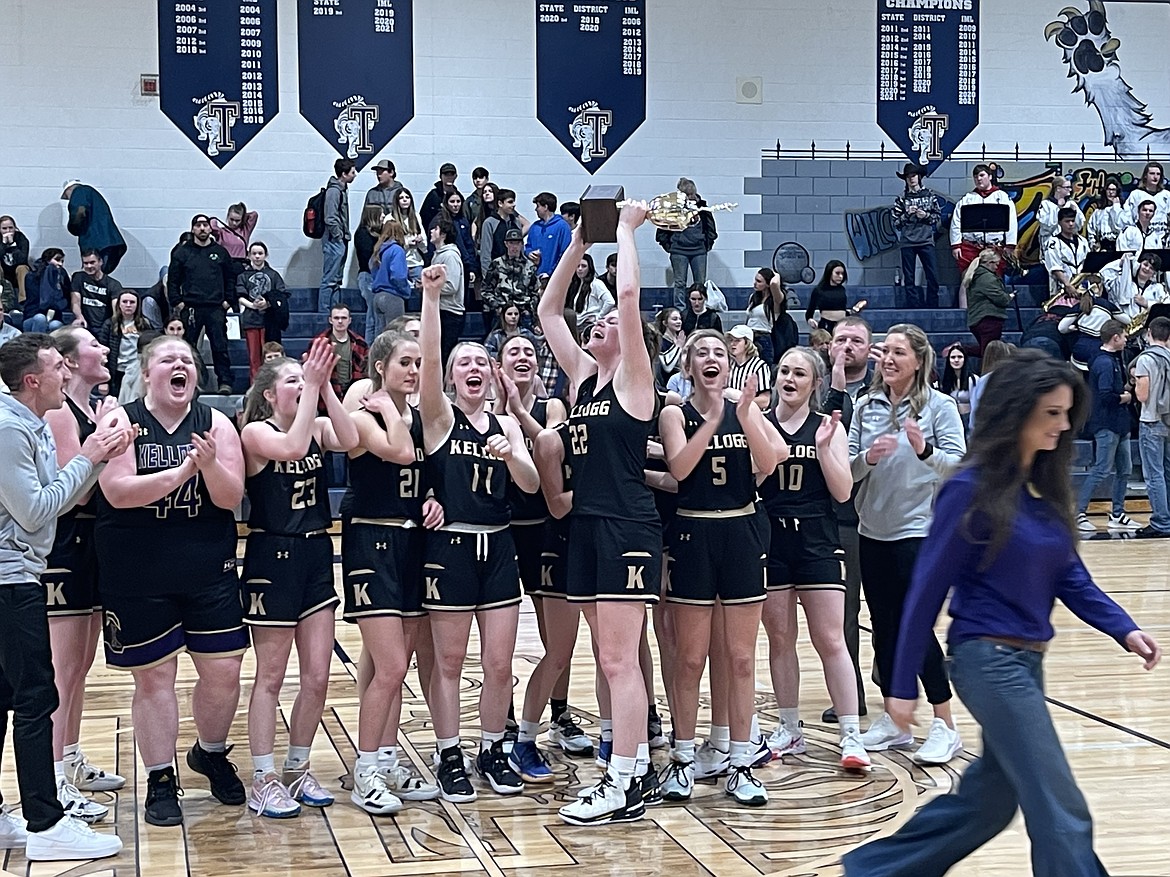 MARK NELKE/Press Senior Hailey Cheney (22) holds the trophy aloft after the Kellogg Wildcats beat the Timberlake Tigers on Tuesday night in Spirit Lake in the 3A District 1 girls basketball championship game.
|
February 9, 2022 1:25 AM
By MARK NELKE
Sports editor
SPIRIT LAKE — Coming into the high school girls basketball season, the Kellogg Wildcats knew it would be a tall task to dethrone the Timberlake Tigers, who have ruled the Intermountain League for much of the last decade.
But Kellogg had the "tall" part.
A victory over the Timberlake during the regular season gave the Wildcats some confidence.
And on Tuesday night, Kellogg finished the job, beating Timberlake 50-39 on its home court in the 3A District 1 championship game to qualify for state for the first time since 2010, and capture their first district title since 2008.
"It means a ton," said Hailey Cheney, a 6-foot-1 senior post, who totaled 20 points and 22 rebounds for the Wildcats (13-5), who advance to state Feb. 17-19 at Eagle High. "We've said from the beginning that this is our season, and we've worked really hard working up to this. It just seemed like the perfect moment."
Timberlake (15-6), which had won seven straight district titles, will play host to Bonners Ferry (10-11) tonight at 7 in the loser-out second-place game, with the winner advancing to a state play-in game Saturday in Grangeville. Bonners eliminated Priest River (3-14) 54-27 on Tuesday.
Led by Cheney, Kellogg enjoyed a size advantage (and a rebounding advantage) over the scrappy Tigers, whose tallest player is 5-8.
Sophomore Macy Jerome added 10 points for Kellogg, and Maddie Cheney, a 5-10 sophomore, had four points and nine boards. Grace Nearing had five assists to go with her six points, and sophomore Emily Coe had six points and seven rebounds.
"It's just a wonderful feeling, to do it on a championship win," fifth-year Kellogg coach Jana Nearing said. "They brought it today; every single one of them worked really hard to make sure we could get this win. I'm just proud of their grit … this is a big deal."
Timberlake countered Kellogg's size with man-to-man defense and a dribble-drive offense. But the Tigers shot just 13 of 51 from the field — including perhaps a dozen layup attempts that rolled off the rim — including 3 of 20 from 3-point range.
"We didn't make shots," Timberlake coach Matt Miller said. "I don't know how many layins we missed. We had a few perimeter shots that were halfway down and out. … I thought we played a little scared; on our heels a little more than usual, but it's easy to lose some confidence when you miss that many easy shots."
"They have an amazing dribble-drive offense," Jana Nearing said. "We knew we had the advantage inside, and if we could just stop their dribble-drive, or slow it down to prevent some of those 3s, that we could take advantage of our inside game, and we did it. I thought we executed beautifully. The win (over Timberlake) earlier this season was exactly what we needed in order to make this happen."
Senior McKennah Kronenberg led Timberlake with eight points, but was saddled with foul trouble most of the physical game. Sophomore Jenna Chase had six points and eight rebounds off the bench, and Ciara Soumas had four steals.
"They're a big team, and we're not," Miller said. "I thought we did the best we could with it. We fouled too much, drove the tempo of the game down too much. Hopefully they are able to turn around and put this one behind them. If they want to pout about it for more than a couple hours, we can't let it lead into tomorrow."
Kellogg jumped out to an 11-4 lead after four minutes. Parker Wall scored on the drive to put Timberlake up 20-19 with 6:38 left in the half, but Kellogg went on an 11-0 run, and Timberlake didn't score again until two free throws with .5 seconds left in the half.
Timberlake pulled to within 34-28 on a driving layin by Marissa Needs late in the third quarter, but 6-of-31 shooting in the second half stunted any hopes of a Tiger comeback.
"Effort," said Hailey Cheney, who had a double-double (13 points, 10 rebounds) by halftime. "We've always talked about effort; being aggressive and hustling. We didn't let anything in our heads, we just stayed focused, played for each other, didn't let anything bother us. It was definitely a confidence booster (to beat Timberlake earlier in the season), but we knew it wasn't going to be easy this game."
Kellogg 15 15 6 14 — 50
Timberlake 14 8 6 11 — 39
KELLOGG — S. Karst 0, Jerome 10, Vanhoose 4, Coe 6, Nearing 6, H. Cheney 20, M. Cheney 4, Potts 0.
TIMBERLAKE — Soumas 6, Dickinson 0, Webberley 0, Kronenberg 8, MacArthur 5, Wall 3, Needs 7, Patrick 4, Chase 6.
---