Farewell 2022 with The Queen and holiday travel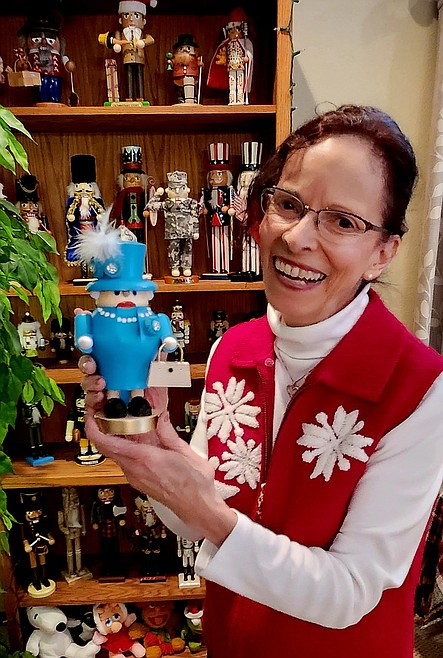 Gail McGaughey and the Queen.
Courtesy photo
|
December 28, 2022 1:00 AM
Pat and Gail McGaughey always have a houseful at the holidays. These "guests" don't eat much, make noise or overstay their welcome, though. Back in 2013, I wrote about Gail's incredible collection of nutcrackers, which then totaled 124. Gail notes that there are only two duplicates, which she refers to as the twins. Fast forward to 2022 and her most recent addition, Queen Elizabeth II, brings the number to 227!
The Queen is displayed with her palace guards, personal bagpipers, winemaker and chimney sweep.
I've enjoyed the pleasure of the McGaugheys' hospitality and seen the wondrous display of nutcrackers large and small. In January the collection is lovingly packed away until next year.
No word on whether Gail will continue adding to nutcracker family now that Queen Elizabeth has taken up residence, unless there's such a thing as a Corgi nutcracker.
•••
The big story of Christmas 2022 isn't the weather, it's air transportation. Anyone who travels at the holidays knows or should know that the lines are long, weather delays are possible and sometimes luggage goes somewhere unintended. But wow, thousands of canceled flights and many more thousands of stranded or disappointed travelers who couldn't get where they were going or get home after the holidays.
It was a Christmas miracle for my sister, Janna Scharf, and her husband, Rick, that all five of their children and three grandchildren were together for Christmas for the first time in over a decade. Leighton and Dallas live here but Wesley, Kristen and Derek were flying in from Denver, L.A. and Atlanta, respectively. They arrived a few days before Christmas and Christmas Eve on United, Southwest and Delta. The only delay was Kristen's SW flight out of L.A., just two hours.
I know Aunt Kerri and Uncle Bert were also grateful to see Leighton, Wesley, Trinity, Rileigh, Khloe, Bentley, Dallas, Kristen, Derek and Brooklyn all in one place at the same time!
Here's hoping they have similar luck returning home this week.
•••
A couple of local families who found their return flights canceled won the car rental lottery to hit the long road home. After visiting their son, John, in Burbank, Jeff and Jeannette Conroy experienced waits lasting hours only to find their Southwest flights were canceled, luggage was lost and then renting a car to drive from Burbank home.
Jame` and Ryan Davis and son Sam rendezvoused with their daughter, Emily, in Palm Springs for Christmas but then hit the Bermuda Triangle of canceled SW flights. So, lemonade out of lemons, they scored the very last rental car ... a red convertible, and began a 20-hour drive north to their Post Falls home Tuesday.
•••
Here's to all of the public safety first responders, retail clerks, hospitality workers, delivery people, medical care providers and everyone who will be on duty through New Years weekend and who have spent the last week dealing with shoppers, revelers and the public in general. Take a bow, you're the unsung heroes of the holidays.
•••
On New Year's Day, I will continue my tradition of not jumping in the lake. The temperature of Lake Coeur d'Alene is just a few degrees above the water turning to ice. The air temperature will be right at freezing. So while I won't be plunging, dipping, splashing or frolicking in the icy waters, I applaud the insanity of those of you who seem to enjoy it.
•••
Should auld acquaintance be forgot, and never brought to mind.
Should auld acquaintance be forgot, and auld lang syne
For auld lang syne, my dear, for auld lang syne,
we'll take a cup of kindness yet, for auld lang syne.
•••
Happy Main Street birthdays today to Sarah Kindler, Chris Holloway, Tim Heidecker, Sharon Cooper, Annie McCloskey, and Lynda Thurman. Tomorrow Jaime Johnson, Molly Shaw, Tammy Engen, Debbie Trimble, Kathy Carothers, Toni Capaul, Sheila Wayman, Connie Haggerty, John Martin, Rachel Pen and Jamie Rowen celebrate birthdays. Blowing out the candles on Friday are Paul Gorringe, Glenn Jacklin, Gayle Jacklin Stegmann, Marsha Dornquast, Nona Rambo, Bryce Raynor, Ilene Moss, Kalia Baltzell, Diane Ahlers and Dave Dutro. New Year's Eve birthdays belong to Cheryl Freeman, Shaun Leary, Sarah Chase, George Holcomb, Sandy Thompson and Crystal Dean. Happy New Year's Day birthdays to Ron Jacobson, Ron Mills, Theresa Wild, Billy Newman, Jan Leaf, Kathy Edinger Dingman, Linda Jordan, Kevin Johnson, Steve Schiller, Johanna Johnson, Jessica Hammond, David Attridge, Dianna Owens, Holly Childers, Katrina Boyer, Johanna Johnson, Declan Jones, Cheryl Shepherd, sisters Shaun Williams and Shana Crimp, all celebrating the first Main Street birthdays of 2023. Bob McIlvenna, Cindy Warren, Nicole Barnes, Jerry Roth and Dion Unruh blow out the candles on Monday. On Tuesday Harvey Dougall, Katie Soy, Jeff Block and Erika Umphenour celebrate.
•••
Kerri Rankin Thoreson is a member of the National Society of Newspaper Columnists and the former publisher of the Post Falls Tribune. Main Street appears every Wednesday in The Press and Kerri can be contacted on Facebook or via email mainstreet@cdapress.com. Follow her on Twitter @kerrithoreson.
Recent Headlines
---