Huckleberries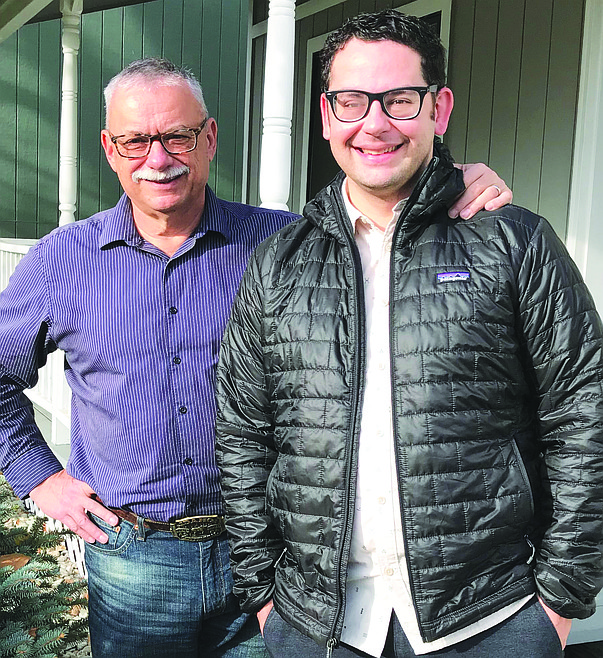 Dave and his son, Dr. Seth Oliveria.
|
December 25, 2022 1:00 AM
My son, Seth, is 43 now and a fine surgeon.
But during the Christmas holidays 1984, he was a 5-year-old boy suffering a crisis of faith.
Three months before, we'd moved from balmy Lewiston to a rental in Post Falls, off Poleline Road. A rough winter with frequent dumps of snow had set in. So much snow had fallen that city workers had ploughed a mountain of it in the middle of our culdesac.
Seems a friend of Seth's had blabbed that Santa wasn't real. The "fake news" made Seth question who had really put that Hot Wheels under the tree the year before. Or the Ewok Village the year before that.
"Was it you two?" Seth asked, half hoping we would deny the deception.
We hemmed and hawed and fibbed.
I was buying time because I knew something my kindergartener didn't – Santa and his reindeer were on their way. I knew this to be true because I'd read the schedule for the annual Tidyman's flyover.
In those days, the now defunct Tidyman's grocery chain thrilled the region with its annual Santa Sleigh ride. St. Nick, his sleigh, and two reindeer were mounted to a helicopter as it flew over Spokane, Post Falls and Coeur d'Alene. The attached 1,000 lights obscured the chopper from wondering eyes below.
I peeked out the window as Seth's mother consoled him.
Finally, the sleigh appeared in the distance from out of the west. As Santa and his reindeer grew nearer, I ushered Seth outside. When we'd rounded the garage to get a clear view of the sky, I asked:
"If Santa isn't real, who is that?"
My son looked up, amazed and delighted, disbelief swept away in the distant racket of chopper blades.
Tidyman's Santa had bought us one more Christmas of childlike faith in the Red Round One.
More Than Pickles
Many know Vic Eachon of Rathdrum as "The Pickle Man," a charming magician with a twinkle in his eye who transformed humble cucumbers into culinary delights. Some of his jars of dill pickles sold for as much as $600 at local fund-raisers.
But Vic was much more than just a pickle connoisseur.
Vic, for example, was a member of the old Gibbs Swimming Hole Gang, a large band of boys and young men who skinny dipped in the Spokane River at what is now Riverstone. In her local history book, "At the Edge of the Ice," historian Louise Shadduck described Coeur d'Alene's version of "The Little Rascals" as made "of slabwood, slivers and sawdust."
Vic and his childhood companions certainly were.
Also, Vic was a fine boxer some 75 years ago, fighting as a lightweight for the Coeur d'Alene Amateur Athletic Club. His mother wanted Vic and older brother, Bob, to learn to defend themselves because they were smallish. So, she urged them to box. Both fought in the service during WWII. Afterward, Bob turned professional, fighting under the ring name of Bobby Seabee.
When asked once who was tougher, Vic or him, Bob smiled, "He couldn't lay a glove on me."
In July 1957, Vic, Bob and their wives, Kathy and Merilyn, respectively, were instrumental in building the old Bethel Baptist Church on 7th Street (now Mountain Lakes Bible Church), across from Borah School.
Vic died Friday, Dec. 16, a man of faith and fun who embraced life.
Love at Cloud 9
You May Be A Coeur d'Alene Old-Timer, If … you remember Cloud 9 at the old North Shore Motor Hotel. In the Press 50 years ago (Dec. 21, 1972), restaurateur Bob Templin unveiled plans to heighten his Lake Tower from three to seven stories, with a penthouse restaurant: Cloud 9. Cyndie Hammond certainly recalls the fine-dining restaurant with a spectacular view of the lake. It was there, in 1982, in a booth facing west, that elementary school principal Jim Hammond proposed marriage. She was a long-term substitute at his school. Cyndie tells Huckleberries: "Stars aligned with the nudges from a few teachers. An after-school dinner date ended with him on one knee." Jim, of course, is now mayor of Coeur d'Alene. And Cloud 9? In 1983, Duane Hagadone renamed it Beverly's after he bought out Templin.
Huckleberries
· Poet's Corner -- When all the carols have been sung/and all the big, red stockings hung,/he'll think of Christmas long gone by,/"God bless us, everyone," he'll sigh – The Bard of Sherman Avenue ("Christmas Past").
· It may be hard to imagine now, but Hayden didn't welcome Walmart at first. In a poll 20 years ago, 71 percent of the town opposed a supercenter at H95 & Honeysuckle. Some 300 attended a P&Z rezone hearing, most to oppose it. The P&Z unanimously voted against a zone change. But Walmart persevered. And is now part of our commercial fabric.
· Last week, Huckleberries told you about the North Idaho Junior College student who spun around in a clothes dryer 645 times. Well, Susan Snyder-Lee of Hayden opted for quality over quantity as a 16-year-old waitress in Lake Tahoe. Her cousins would take her for a "10-cent spin" in large dryers after work. Simpler times. Better times.
· Cyndie Hammond wasn't the only one who found love at the North Shore. Nancy Callahan Kosonen of CdA was married there Dec. 4, 1976. Teresa Stickney Kato of CdA held her rehearsal dinner at Cloud 9 on Nov. 23, 1979. And former resident Linda Hjort Ehrenberg says her future husband proposed during an elevator ride to Cloud 9.
Parting Shot
Tom Richards, owner of the Enaville Resort, considers himself "a total Christmas junkie." Facebooks he: "I start playing Christmas music in my car in October and will keep playing it at least as long as there is snow and occasionally through the summer." Tom continues: "I have subjected my wife to endless date nights this month, re-watching movies and TV shows that we have both seen multiple times, and they all still make me cry." Yet, he considers Hallmark Christmas films "pretty dumb." He can't understand the appeal of "A Christmas Story." He believes the original story of "How the Grinch Stole Christmas" is perfect – and all the knockoffs, including Jim Carrey's version, not so much. And "Home Alone"? Sadistic. On the other hand, Tom enjoys singing Christmas carols and attending Christmas Eve service. Despite all the distractions, Tom remains focused on the reason for the season.
D.F. "Dave" Oliveria can be contacted at dfo@cdapress.com.
Recent Headlines
---