Wreaths across the county; ice ball weather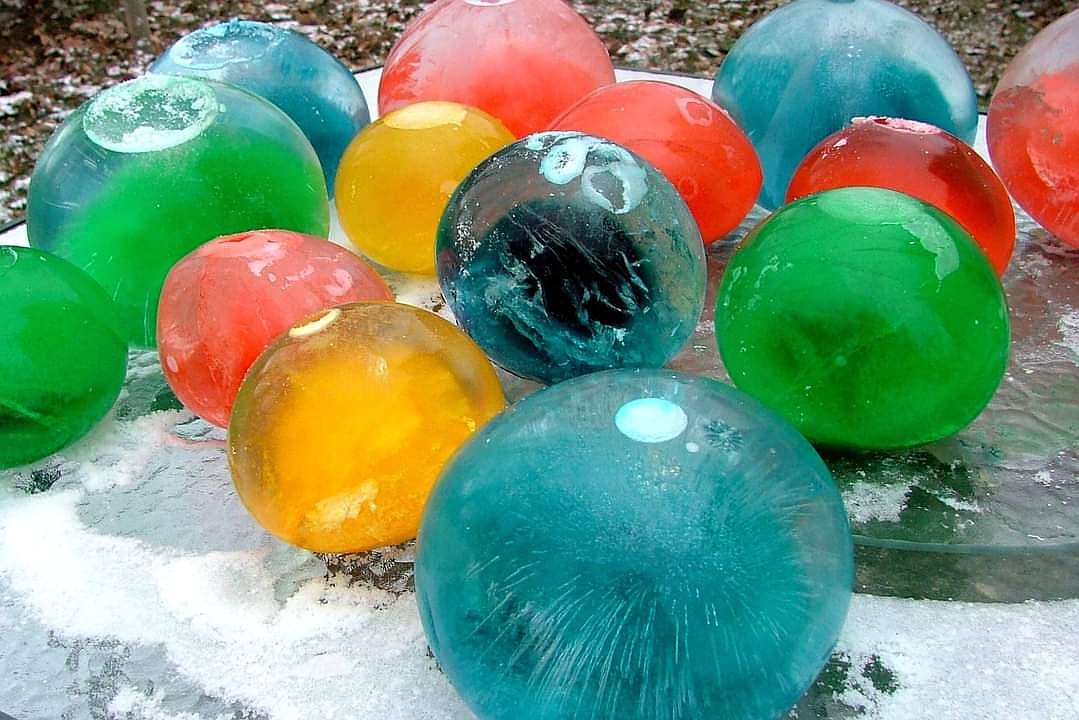 A colorful batch of ice balls created by Kerri Thoreson.
Photo courtesy of Kerri Thoreson
|
December 14, 2022 1:00 AM
On the third Saturday of December since 2007 in cemeteries throughout the country, organizations will lay thousands of fresh wreaths on the gravesites of veterans through the Wreaths Across America program.
In Coeur d'Alene, the Kiwanis Club has spearheaded the program for the past five years. According to Kiwanian Kathy Bush, the group will lay 800 wreaths at Coeur d'Alene Memorial Gardens on North Government Way at 9 a.m. Saturday, Dec. 17. She invites anyone who has a veteran hero buried at Coeur d'Alene Memorial Gardens to come place one of the wreaths on their loved one's grave.
A brief program will include the Idaho State Honor Guard and remarks by Coeur d'Alene Mayor Jim Hammond.
In Rathdrum American Legion Post 154 will hold their Wreaths Across America at Pinegrove Cemetery, inviting the public to assist in placing over 250 wreaths, beginning at 9 a.m.
Gather the family, bundle up and participate in either of these two special events Dec. 17 to honor those who've served our country. Remember. Honor. Teach.
•••
As a summer sunshine lover, I have to try hard to put a positive spin on arctic chills, like the one we're seeing in the next several days' forecast. About a decade ago, I discovered colored ice balls. It's a fun, kind of silly winter project that takes my mind off freezing my tootsies off.
All you need are single digit temperatures, regular balloons and food coloring. Here's the how-to:
This has the potential to be a messy process, so older kids or adults are needed for filling balloons in the kitchen sink! Put several drops of food coloring into each balloon before filling half to 2/3 with water from the kitchen faucet. Tie the end securely. Place outside on a flat surface, spaced out so the balloons aren't touching while they freeze.
Now be really patient and leave them out for at least 48 hours, but 72 hours is better. Cut the knot and peel off the balloon and enjoy decorating outdoors with these fun pops of color!
•••
Dec. 17, 2008, 24 inches of snow fell in 24 hours on top of the several inches already on the ground in town. It created a gorgeous winter wonderland, but things came to a halt. No school, very little traffic on the roads, since many even the city were impassable. Kids were out in the neighborhoods with snow shovels doing brisk business clearing sidewalks and driveways.
A dozen years before we'd ever heard of COVID, North Idahoans didn't need the governor to decree a stay-at-home order. Mother Nature's epic snow accumulation was enough of a reason.
Most memorable personally was using that inside time to join Facebook with the encouragement of my sister. I think many people in these parts joined Facebook at that winter. Little did we know that over a decade later that village on social media would be such an important connection during the pandemic.
•••
You gotta love any organization that holds an ice cream social when the weather's cold enough to keep ice cream frozen outside, and serving hot chocolate, too! Coeur d'Alene Post 889 Veterans of Foreign Wars is hosting an open house/ice cream social Saturday, Dec. 17 from 11 a.m. to 4 p.m. at 406 N. Fourth Street. Open to everyone, and if you're a younger veteran of a foreign war, this is a perfect opportunity to engage and learn about the organization.
•••
Postscript: "What if Christmas, he thought, doesn't come from a store ... what if Christmas perhaps means a little bit more." — Dr. Seuss's "The Grinch"
•••
Happy birthday today to Eve Knudtsen (60!), Kyle Siegert, Angie Hatch, Jeannette Conroy, Sybil McCormack, Sandy Clemons, Amber Briles, John Medlock, Vicki Peoples, Karen Kastning, Tammy VanBrunt and James Forster. Tomorrow Josef Dreps, Nellie Armstrong, Kerri Wilfong, Susan Schneidmiller, Cat Troy, Jann Kinnard, Brenda Young, Janelle Stimson, Anne Marie Toothaker, Travis Gardner and Austin Wuest celebrate frosty birthdays. On Friday Marci Clark, Pam Pereira, Mimi Eismann, Lori Dawson, Harmony Taylor, Dot Neirinckx and Tim Kastning take another trip around the sun. Celebrating on Saturday are Holly Kincaid, Lori Stanea and Cheyenne Peugh. Jingle bell birthday wishes to Randy Shaver, Tami Banker, Catherine Witham, Kris Wold, Krista Vandermark, Mike McDowell and our grandson Jared Gonzalez on Sunday. Mary Williams, Celeste Mitten, Terry Cooper, Carol Prosser, Rene Darby, Ray Potter, Judy Cronin and Rick Monroe blow out the candles on Monday. Will Kennedy, Jim Sharp, Jayson Frank, Dean Swanson, Holly Miller, Lisa Turpin and Rick Blaski will open their presents on Dec. 20.
---
Kerri Rankin Thoreson is a member of the National Society of Newspaper Columnists and the former publisher of the Post Falls Tribune. Main Street appears every Wednesday in The Press and Kerri can be contacted on Facebook or via email mainstreet@cdapress.com. Follow her on Twitter @kerrithoreson.
Recent Headlines
---