Huckleberries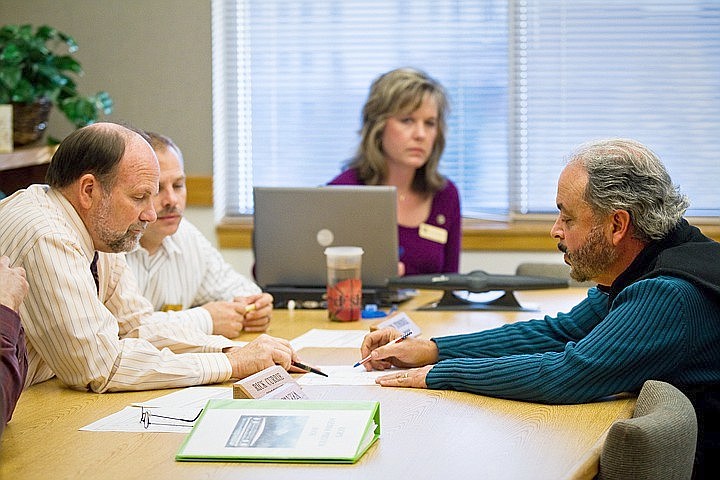 Alan Golob, right, lobbies commissioners Rick Currie, left, and Todd Tondee to rename a Hayden road after Vernon Baker.
|
December 11, 2022 1:00 AM
Alan Golub relishes the irony.
As a Jewish man, he and others donated land in rural Hayden to build a frontage road that was named after an African-American war hero from North Idaho.
Vernon J. Baker Boulevard runs roughly parallel to Rimrock Road, on the opposite side of Highway 95, the former address of the bankrupted Aryan Nations.
"Here's Hayden, Idaho, known at one time for being the home of the Aryans, and a Jewish family honoring an African-American," Alan told Huckleberries with satisfaction. "Hayden is wonderful for honoring its veterans. He was one of the finest."
Twelve years ago, on Dec. 28, 2010, Alan successfully lobbied county commissioners to name the new roadway, extending from Warren Road, north of Lancaster Road, after Baker. Originally, it would run through grass fields on the edge of the Rathdrum Prairie, a road to nowhere.
Today, however, Vernon J. Baker Boulevard is at the epicenter of Hayden's booming northward push. Hayden Canyon developers plan to build 1,500 residential units on 610 acres, across Highway 95, to the east. The intersection and lights at Highway 95 and Lancaster were erected to handle heavy traffic.
Vernon Baker, was one of seven African-Americans, who, as a result of bias and discrimination, belatedly were awarded the Medal of Honor for exceptional bravery during World War II. And the only one of the seven still alive more than 50 years later to accept the award. In January 1997, President Clinton bestowed the military's highest honor on him at a White House ceremony.
On April 5-6, 1945, 1st Lt. Baker, the only African-American officer in his company, led an assault on German forces dug into the mountains near Viareggio, Italy. Here's a description of his heroism:
"When his company was stopped by a concentration of enemy fire, Baker crawled forward, destroying six machine gun nests, two observer posts and four dugouts. On the following night, he voluntarily led a platoon through enemy mine fields and heavy fire." Only six of the 25 soldiers survived the attack.
At the time of the award ceremony in Washington, D.C., Baker was retired and living quietly with his wife, Heidi, in St. Maries. He died at age 90 in July 2010, six months before the Hayden frontage road was named for him. And he was buried at Arlington National Cemetery.
Alan and county commissioners had hoped to also rename Warren Road after the Medal of Honor winner but couldn't get a buy-in from affected residents and businesses.
"It's a small price to pay to honor this guy," disappointed Commissioner Rick Currie said at the time.
Renaming Warren is still a good idea.
Only A Dime
As December dawned 60 years ago, Harley Hudson had his hands full. He needed to demolish his two-story brick building on Sherman Avenue to make way for a new J.C. Penney's and to find a new home for his Missouri Lunch burger place. Since 1927, his eatery had been located at 210 Sherman Ave.
In a Press article, titled "10-Cent Burger Pays Off" (Dec. 7, 1962), the Press fleshed out this iconic Coeur d'Alene pioneer.
He worked long hours, sometimes from 4 o'clock one morning until 1 a.m. the next. He was called one of the "fastest men on earth" in the hamburger business. During World War II, he refused to raise his prices for burgers (10 cents), pie (5 cents) and coffee (5 cents). At those basement prices, he and a helper still did $225 in business one day during a Fourth of July Regatta.
He credited a policy of never short-weighing hamburgers and selling "the best hamburger sandwich," for the constant run on the café by customers. And he always insisted on the best hamburger meat.
In 1907, he opened the Missouri Kitchen in a small building east of Hotel Idaho (Desert Hotel). Later, he would change the name of his business to Missouri Lunch.
Today, of course, Harley Hudson's old burger shop remains mega popular as Hudson's Hamburgers.
Goodbye, Jim
Jim Lyons, 64, a gentle soul who loved music and once helped treat our maladies as an emergency room trauma nurse at Kootenai Health, left us Nov. 26.
In Jim's obituary, mutual friend Doug Clark writes: "He had an uncanny ability to assuage even the most hostile of patients. He was given his nickname 'Dr. Hippy Pants' by a particularly belligerent intoxicated person who had taken a liking to him."
In 2003, Doug and Jim met at the second Spokane Street Music Week, which Doug began to raise money for Second Harvest food bank. Later, Doug put Jim in charge of Coeur d'Alene Street Music Week when the event expanded here. Over the next 19 years, Doug said, Jim attended nearly every single day of Street Music Week, eventually becoming a co-organizer and "de-facto CEO" of the project. Jim helped Street Music raise over $300,000 to feed hungry people.
Doug's terrific tribute to Jim is posted on the Hennessey Funeral Home site (https://www.hennesseyfuneralhomes.com/listings).
Huckleberries
· Poet's Corner: Although it's reported the Eskimo/has two hundred words he can use to say snow,/she has just one, with no ifs, ands or buts:/when she sees it falling she simply says "nuts" – The Bard of Sherman Avenue ("The Linguistics of Snow").
· The reader-board at Breaking Bread Artisan Bistro (formerly Davis Donuts) offers an Albert Einstein saying that the frothing fringe on both sides of the political spectrum could endorse – and each be correct: "Blind belief in authority is the greatest enemy of truth."
· In December 1972, Rolly Williams was in his 12th of 35 years as an NIC basketball coach when he was tagged with his fourth technical foul as a Cardinal. In a game against Walla Walla, Rolly called Duffy Taylor over after the guard was whistled for a 10-second backcourt violation – after only 8 seconds. The official was within earshot when Rolly told Duffy to hurry up because, he said, "We've got a 5-second official out there." Rolly got the "T" and, minutes later, one of his 731 career wins at NIC.
· Ten years ago (Dec. 6, 2012), Frank Henderson was sworn in for another term as a legislator – on his 90th birthday. The former county commissioner, mayor, and newspaper publisher was the oldest person to serve in the Legislature. Second oldest? Hilde Kellogg, also from Post Falls who served until her 88th year. There must be something in River City's water.
Parting Shot
In case you wonder, his name is Victor Viking, short for Victory – the Coeur d'Alene High mascot, that is. No less an authority than veteran instructor Melody Melton tells Huckleberries that the name Victor has been around since at least the '80s. But she isn't sure about "Helmer the Viking." I found an old Coeur d'Alene Press clipping from Dec. 3, 1962, that shows the CHS Key Club, including president Pat Acuff, standing around a floor symbol of the hairy Vik mascot, which the cutline identifies as "Helmer." The Key Club had paid to have a portable fence erected around the image to keep it from being trampled. But the fence didn't stop "Helmer" from being lost to the passage of time.
You can contact D.F. "Dave" Oliveria at dfo@cdapress.com.
Recent Headlines
---