Credit unions donate $18K to Newby-ginnings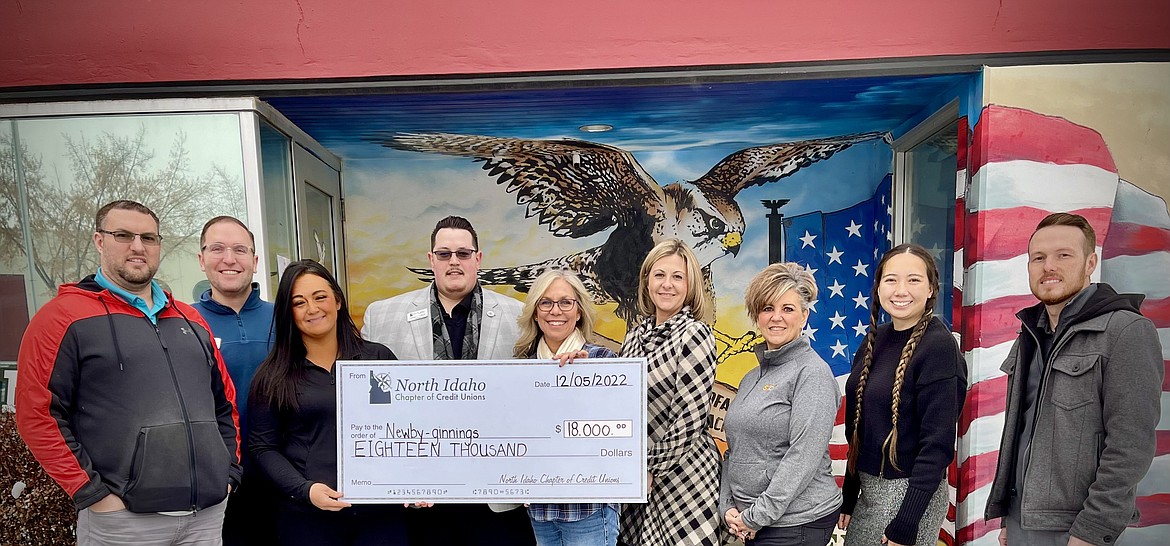 The North Idaho Chapter of Credit Unions on Monday donated $18,000 to Newby-ginnings of North Idaho. The chapter celebrated raising the all-time record amount at its annual charity dinner event, held Oct. 20 at the Hayden Lake Country Club. From left: Garrison Gammell, Horizon Credit Union; Jim Koester, P1FCU; Tessla Kissire, Numerica; North Idaho Chapter of Credit Unions President Josh Urbick; Newby-ginnings founder and Director Theresa Hart; Delena Hamrick, STCU; Nichole Smith, STCU; Kylee Mein, Global Credit Union; and Braiden Clayburn, Mountain America Credit Union.
Courtesy photo
The North Idaho Chapter of Credit Unions on Monday donated $18,000 to Newby-ginnings.
The chapter chose Newby-ginnings as its beneficiary for the 2022 International Credit Union Day, which was Oct. 20. It's a day in which credit unions worldwide celebrate the impact they can have in their communities and the global good they can accomplish through collaboration and joined efforts. Their motto has always been, "People helping people".
The North Idaho Chapter of Credit Unions celebrated Newby-ginnings during the chapter's annual charity dinner event, held at the Hayden Lake Country Club. Guest speakers that night were Nicole Sherman, COO of Numerica and Theresa Hart, founder and director of Newby-ginnings. Hart shared the story behind why she started Newby-ginnings and the tremendous impact her nonprofit has in the lives of local veterans and the community overall. Newby-ginnings provides basic necessities and household goods to veterans, active military and their families at no cost. Hart founded the nonprofit in 2013 in honor of her son, SPC Nicholas Newby, who was killed in action July 7, 2011, in Iraq.
Josh Urbick, North Idaho Chapter of Credit Unions president, said he had high hopes for the evening, since around 70 people representing eight different area credit unions were present for the dinner, but he was blown away by the generous and enthusiastic outpouring from the room, as hand after hand shot up, pledging donations ranging from $50 to $5,000.
By the end of the evening, $18,000 had been raised, an-all time record amount.
"While all of us credit unions are friendly competitors with each other, at the end of the day, we work together to make an impact in the lives of our members and communities," Urbick said. "After all, that's what it's all about — people helping people."
Recent Headlines
---