Fa'Avae, Floyd back for one final run as Vandals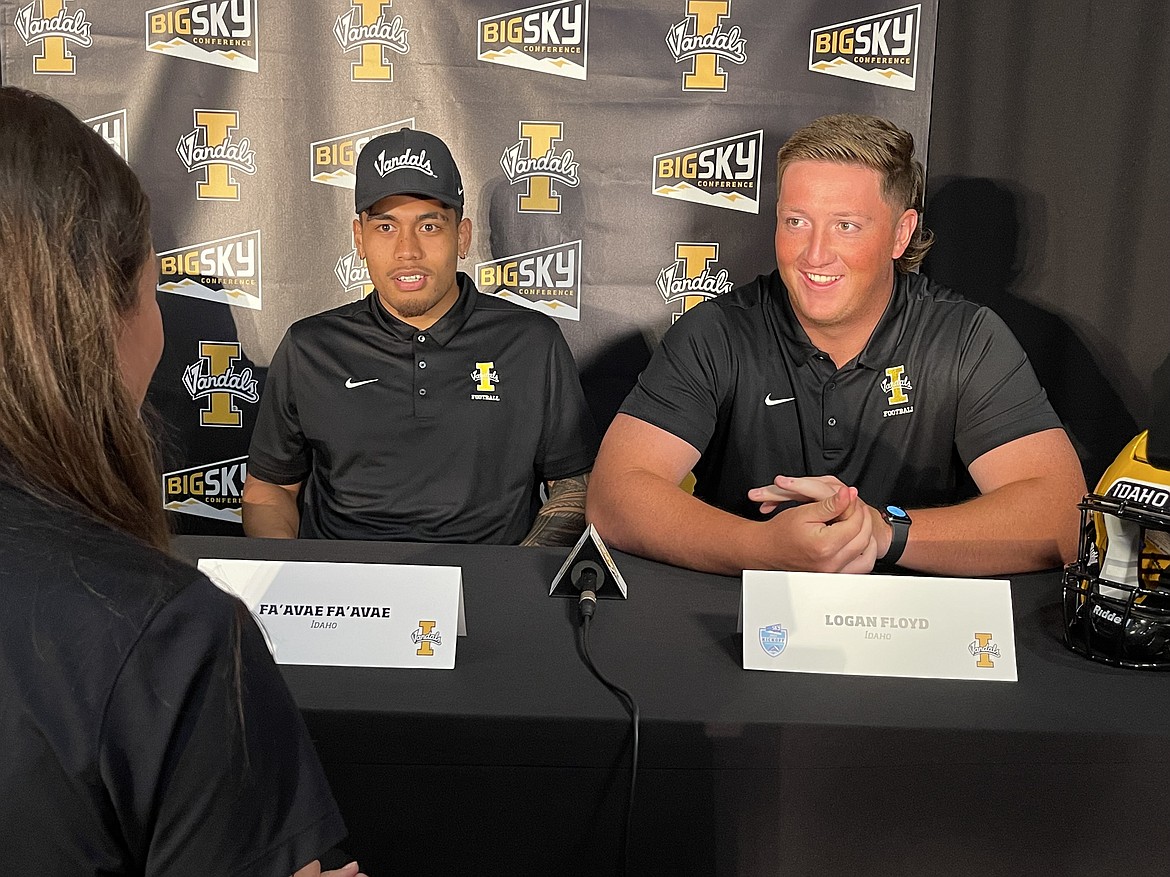 MARK NELKE/Press Fa'Avae Fa'Avae, left, and Logan Floyd of Idaho speak to a reporter at the Big Sky Football Kickoff in July in Spokane.
|
August 31, 2022 1:25 AM
By MARK NELKE
Sports editor
Two holdovers from the previous coaching staff at Idaho are still in Moscow for their last go-round as Idaho Vandals.
One, whose previous stop was just nine miles away.
The other somehow got out of football-rich Utah.
Linebacker Fa'Avae Fa'Avae (FUH-vie) played sparingly his first two seasons at Washington State — Idaho's season-opening opponent on Saturday night in Pullman.
He's played more the last two seasons at Idaho, making honorable mention all-Big Sky during the spring 2021 (COVID) season, and is being counted on for more of a leadership role on defense this year.
"I wanted more exposure and more playing time, and I had to make a business decision," Fa'Avae (5-11, 215 pounds) said of the 9-mile transfer to the other school on the palouse. "I'm forever grateful to (previous) coach (Paul) Petrino and the staff for throwing me an offer. It's been the biggest blessing."
Offensive lineman Logan Floyd had exactly one (1) scholarship offer from a Division I school out of Kearns (Utah) High, located just west of Salt Lake City.
That's how he became a Vandal.
"I felt like they saw the potential in me," Floyd (6-3, 300) said of the previous Idaho coaching staff, "and they took the chance, and why not trust them, and trust what they're doing up here. And then I came up here on a visit and fell in love with the place."
But no nibbles from colleges in Utah.
"There's a lot of good football in Utah. I feel like it's highly under-recruited," Floyd said.
At the spring game, first-year coach Jason Eck named Fa'Avae and Floyd team captains. Last week, four more Vandals were named captains, including former Post Falls Trojan Nate DeGraw, a defensive lineman.
"I love Fa'Vaie," Eck said. "He's got a great energy to him. He's a vocal, emotional leader of the team.
"Fa'Vaie has great movement, really plays well in zone coverage at linebacker, understands how to read a quarterback's eyes. … I think he's a good communicator with setting the fronts, and just has great energy."
After the coaching change, Fa'Avae decided to stay put in Moscow.
"The first day I met coach Eck and coach (defesive coordinator Rob) Aurich and the staff, they were great guys. They were the guys I wanted to play for, and I could tell they had leadership that I wanted to be a part of," Fa'Avae said.
Fa'Avae, from Mater Dei High in Carson, Calif., had 76 tackles in eight games last year. This year he's projected at middle linebacker, following in the footsteps of some pretty good Vandal 'backers who have moved on, like Christian Elliss, Trey Walker and Charles Akanno.
"Took some things from their toolbox – don't tell them that," Fa'Avae said with a laugh. "I would say I'm a versatile linebacker. I can pass rush, cover, and lay the boom when necessary."
Floyd started all 11 games as a true freshman at Idaho in 2018. He's pretty much started ever since.
"It was a surreal experience," Floyd said of his freshman season. "When I came on my visit, I knew there were a few spots open on the offensive line. They told me if I come in and work my butt off, I could possibly have that starting position. And so I was given the opportunity, and I just didn't let it go."
He started 10 of 11 games as a sophomore, and five of six during the spring 2021 season, earning honorable mention All-Big Sky. Last year, he was third-team All-Big Sky. Over the years, he's played center, right tackle and left tackle, and has even gotten some reps at guard in practice.
He's slated to play left tackle this season.
"Hopefully Logan will have a great year, and be in an NFL training camp next year," said Eck, who played center at Wisconsin. "He could certainly slide into an interior position, a guard or a center, at the next level. But he's our best O-lineman, and protecting that blind side — all our quarterbacks are righties …
"He has versatility; he could play anywhere on the offensive line," Eck added. "We don't have great depth on the O-line, so if we have injuries, we may have to shuffle things around. If he needs to flip to center, or flip to guard, I think he can do that as well."
Floyd also could have left after last season, after graduating in May with a marketing degree. But he also wanted to pursue a master's degree.
"I told them the only way I'll come back is if I get my schooling paid for, a scholarship for the full year," Floyd said. "They had no problem doing that, so I had no problem coming back. I love this town. They've had trust in me from the beginning, so I felt I owed them something. And I didn't want to leave … I'm glad I'm here."
So is Eck.
"Just so thankful that he stuck around," the coach said. "He was a guy that was thinking of potentially transferring, or hanging it up on football when we got here. So thankful he's sticking around. He's in the master's program this year, and I love that kid.
"And he's done a good job with some of the younger guys, taking them under his wing and showing them the way, and teaching the offense to them in the summertime when we can't be out there."
Both Floyd and Fa'Avae are hoping a different vibe with a different coaching staff leads to different results on the football field.
"I feel like all the players are really excited to get going," Floyd said. "It's the spark we needed, with a new coaching staff coming in. They're really lit the fire; they bring a lot of excitement to practices, the lifts, all that stuff."
"I feel a completely different vibe," Fa'Avae added. "The coaching change has been nothing but great. All the players have bought in; we're all pulling in the right direction. That's the main thing."
Recent Headlines
---