The arts inspire throughout our communities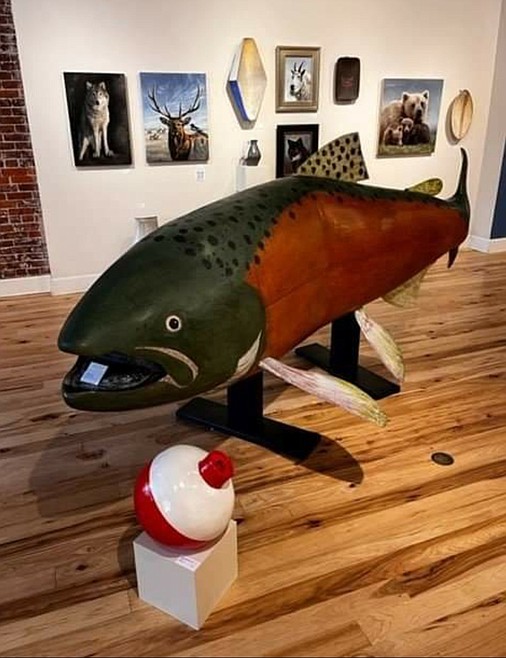 Artists Michael DeForest and Mary Frances Dondelinger display their pieces at Art Spirit gallery in Coeur d'Alene.
Courtesy photo
|
August 31, 2022 1:00 AM
On Saturday night, Janet Carlson and her sister, Linda Hall, attended a performance of Love Letters starring Mike Pearce and Anne Lunceford Capellen at the Bayview Community Center. When Janet was in the third grade, she read "The Miracle Worker" and was inspired to become a teacher of students who are blind. She achieved that goal, and for 32 years, she has been teaching cane travel to students throughout the area. Janet accompanies the student to their school, into stores and around town to familiarize them with places they will go.
Saturday evening, Mike, who's the husband of the late great Anna Pearce, aka Patty Duke, had the Oscar Anna received in 1963 for her role in "The Miracle Worker." It was a full circle moment for Janet, to hold the Oscar from the movie made from the book that impacted her life and the lives of so many others.
The ripples each person creates through their lives are infinite.
• • •
Art Spirit Gallery owner Blair Williams shared a fun story about inspiration. When artist Mary Frances Dondelinger visited the gallery to see the "Chinook Salmon Box" by artist Michael DeForest, she was inspired by the large piece. Days later she returned with an equally over-sized bobber made of ceramic to be displayed by the big fish!
"We are so lucky to live among great people who inspire one another," observed Blair.
• • •
Bert and I try every year to take a few days away that involves more meandering than following an itinerary. The Oregon coast fits that bill quite nicely. We spent five days on the road through the Columbia River Gorge and meandering from Pacific City to Astoria. A couple of days in our favorite little town of Rockaway Beach watching the sun set from the sand fills the soul and a ride on the Oregon Coast Scenic Railroad to Garibaldi was a treat.
On Saturday morning, we saw Jan and Craig Leaf as they were leaving a little cafe and we were heading in for breakfast. Seems they're regular visitors to Rockaway Beach with an ocean front condo!

• • •
Much gratitude for an August that felt like summer and 31 days of mostly blue skies without forest fire smoke or dust from the Palouse. It's been a few years since our August skies have been smoke-free!
• • •
September signals the return to routine after a summer of adventure and leisure, with a Labor Day last hurrah. September has long been one of my favorite months. We should have some still summer-like weather coming and more elbow room at boat launches, campgrounds and beaches.
The autumn equinox will be Sept. 22 this year, so we have 22 days to enjoy the best season of all.
• • •
Happy birthday today on the last day of August to Andrew Houser, Ron Nilson (70!), Jill Delavan, Patti Shea, Gen Twete, Craig Wilcox, Jamie Ostbert, Dan Poole, Donna Euler, Mike Gerber, Nicole Stark and Rondi Renaldo. On the first day of September Kathy McKahn (70!), Terry Lee, David Mills, Kim Routh, Sharon Latimer, Missy Hansen, Paul Ebert and Travis Best turn a page on the calendar. On Friday Doug Wheeler, Tammy Kelly, Bonnie Miller, John Parmann, Kelley Inman, Stephanie Foster, Kelley Taylor, Dale Borley and Debbie Pohlmeier celebrate. On September 3 Willi Buerge, Lesli Linde (70!), Emily Davis, Kris McIlvenna, Jim Hamby, Robin Merrifield, Patty Jacobs, Jeremy Moser, David Armstrong, Jeff Tyler and Taylor Valente blow out the candles. Sunday birthdays will be marked by Paulette Fabian, Maggie DeTar, Steve Yost and Rich Dickman. On Labor Day Jay Broderick, Ken Bookamer and Dave Pulis put on their party hats. Carl Riegert, Jack Evans, Amy Carlson, Evelyn Wegner, Dave Chamberlain and Della St. Clair blow out the birthday candles on Tuesday.
• • •
Kerri Rankin Thoreson is a member of the National Society of Newspaper Columnists and the former publisher of the Post Falls Tribune. Main Street appears every Wednesday in The Press and Kerri can be contacted on Facebook or via email mainstreet@cdapress.com. Follow her on Twitter @kerrithoreson.
Recent Headlines
---