Huckleberries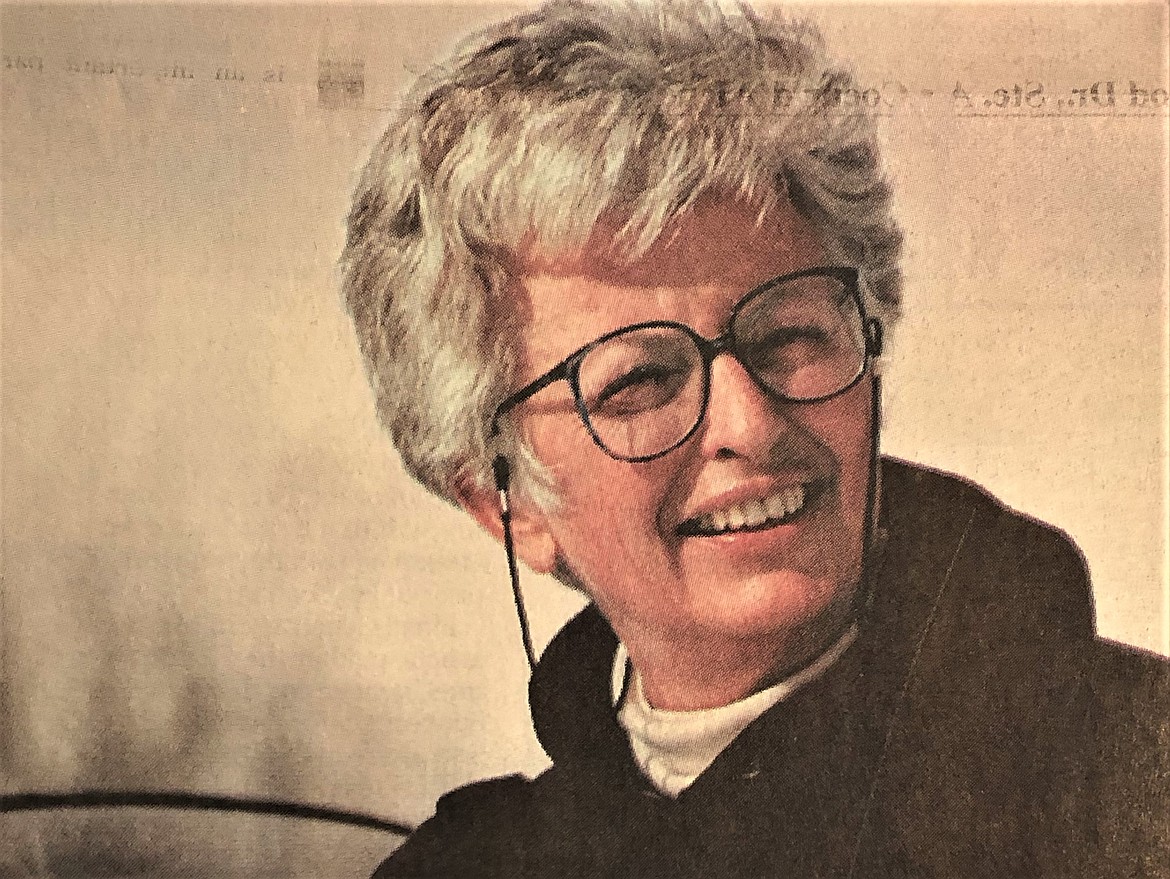 Shirley Parker
Courtesy photo
|
August 28, 2022 1:00 AM
Entertainers aren't the only stars who die in threes.
Twenty years ago, this community lost three of our best and brightest within four days:
·Aug. 25, 2002 -- Shirley Parker, 59, lost her year-long battle with cancer.
·Aug. 27, 2002 -- Bill Wassmuth, 61, the human rights leader, succumbed to Lou Gehrig's disease.
·Aug. 28, 2002 -- Dr. E.R.W. "Ted" Fox, 93, affectionately known as "The Family Doctor," left us.
Shirley was a beloved community volunteer who was active in the family business, Parker Toyota. Among many activities, she was a founder and a trustee for the Hayden Lake Library. And her family contributed significantly to the construction of Coeur d'Alene's state of the art library.
A memorial to Shirley graces the outside wall near the entrance to the CDA library.
"She was non-judgmental and compassionate," then mayor Sandi Bloem said at the time. "If you were lucky enough to share a piece of her heart, you truly were one of the more fortunate people."
Many of you know Bill Wassmuth's story.
"Father Bill" was leading the Kootenai County Task Force on Human Relations when his St. Pius X Catholic Church parsonage was bombed by racists on Sept. 15, 1986. By then, he had become a well-known opponent of Richard Butler's Aryan Nations near Hayden Lake.
Bill and many others fought Richard Butler's supremacists at every turn and ultimately played a major role in bankrupting them. Eventually, Bill left the priesthood, became leader of the five-state Northwest Coalition Against Malicious Harassment, and married.
In 1939, Ted Fox opened his medical practice in CDA and would deliver more than 4,000 babies in 57 years of serving his town, retiring in 1996 at age 87. He was an unflappable surgeon who wrote a regular column for the Press and two books, "Family Doctor" and "The Joy of Healing."
Ted meant as much to us locals as we did to him. On the cover of "The Joy of Healing," he referred to his patients as "beloved." And the first sentence of the book shows how much he enjoyed his profession: "The practice of medicine is truly a joy."
Shirley, Bill, and Ted modeled community service. Go, thou, and do likewise.
War? What war?
The, ahem, great "Twin Lakes Biker War' took place 35 years ago today. Or not. On Friday evening, Aug. 28, 1987, an upset woman reported she had seen 20, armed, camouflage-clad men near her home, east of Twin Lakes Village. Later, George William Lane, then 26 of Rathdrum, stumbled into a Highway 41 bar with a story that 75 bikers were shooting it out. He'd seen three people who looked dead, scores wounded – and had been shot at. Lane's claims sent cops, medics, and reporters scrambling. A newsman described the emergency response as "the nearest thing to war Coeur d'Alene has seen since the troops left Fort Sherman." Area media were also buffaloed by Lane's tale. The headline in the next day's Press read: "Gunfire rocks Twin Lakes." Only it was all fake. Later, Lane was charged with filing a false police report. And some of the 80 responding cops, paramedics, and ambulance crews would be seen months later wearing T-shirts that read: "I survived the Twin Lakes massacre."
A toast
Everett Jolley and Christy Woolum – then 67 and 42, respectively -- didn't expect to see their silver anniversary when they married at the Hitching Post in CDA Aug. 23, 1997. But they came close. "We almost made it," said Christy. "I sure wish he was here, but I am so grateful for those years we had together." Everett died Nov. 30, 2020. Last Tuesday would have been the couple's 25th anniversary. In her husband's memory, Christy drove to Yost's for a favorite wine of Everett's -- Sutter Home White Merlot. She found a bottle on a bottom corner shelf. "I didn't know they still made it," Christy told Huckleberries. She and her two siblings, Bill and Carol, toasted Everett's memory at their latest family dinner in Wallace. If they're still toasting you two years after your death, you made a difference.
Huckleberries
·Poet's Corner: There are few things that farmers hate/like arthropods that masticate,/and so to stem the insect tide/they fill the skies with pesticide – The Bard of Sherman Avenue ("Summer Travels: Crop Dusters Near Moses Lake").
·An answer on a recent rerun show of NPR's "Wait, Wait, Don't Tell Me!" gave improbable but true info about Idaho that newcomers need to know. Idaho isn't a Native American name meaning "Gem of the Mountains," as mining lobbyist George M. Willing deceptively insisted in the mid-1800s. It's made up. But most agree it sounds pretty enough to embrace as true.
·Something You Don't See Every Day – a coffin strapped to the roof of a car heading west on Seltice Way about 1 p.m. Wednesday, Aug. 17. Linda Dickinson of CDA couldn't believe her eyes. But she has a photo to prove it happened. Hauling a brown coffin, the black Dodge Journey, with Washington plates, jogged at Highway 41, merged onto I-90, and was still headed west when Linda finally turned off at Pleasant View Road. Now there's a sight dying for an explanation.
·To see more local tidbits and photos from our recent past, join "D.F. Oliveria" on Facebook.
·At a garage sale on North Friar Drive in Hayden, an old-timer was wading through men's clothing when he spotted a dozen ties. "Ties?" he said. "No one wears ties any more except politicians."
·David Townsend knows defensive driving when he sees it. Recently, he spotted a black SUV with California plates on Fourth Street. What's so defensive about that? Someone had written with a white marker on the back window: "We're not from CA. It's a rental."
·Commies worried us 60 years ago, as they do some today. CHS footballers and student leaders signed up for a Jay-C-Ettes' anti-Communism school after Coach Cotton Barlow endorsed it. Senior Pat Acuff was quoted in an Aug. 28, 1962, edition of the Press as saying: "I want to know for myself just exactly what Communism is so that I can do my job to keep America free."
Parting Shot
Mrs. O and I stopped at a recent fund-raising garage sale at the Hayden Lake Eagles Club with visions of sour grapes dancing in our heads. Minutes earlier, we had encountered toxic bumper stickers on two white pickups. One bumper supported the vigilante execution of human predators. The other screamed "(F-bomb) Californians: Go Away," with all the letters spelled out. I mulled the nastiness of those stickers while paying for a hummingbird feeder at the Eagles sale. I handed a buck to a nice woman near the door who said the funds would help veterans. Other volunteers were restacking mounds of donations and aiding browsers, including two who helped find my misplaced sunglasses. And then it hit me. This is what this community is all about – caring, giving neighbors helping one another -- not in-your-face drivers who wear their anger on their bumpers for the world to see, including children.
D.F. (Dave) Oliveria can be contacted at dfo@cdapress.com.
Recent Headlines
---