Come get a slice
|
August 28, 2022 1:07 AM
A major menu of pizza options is offered at Lucy & Sevens Pizzeria that opened this week at 2045 Tea Olive Lane, in the complex north of Maverik at Ramsey and Hanley.
Mike and Nicole Olender, and 7-year-old daughter Lucy, offer many pizzas, and by the slice, panuozzos (pizza sandwiches), small plates, salads, sweets and drinks.
Hours are 11 a.m. to 9 p.m. Tuesday through Sunday with seating for 50 at tables inside (with a TV) and 30 outside with takeout and delivery (later). Phone 208-930-1227. Check www.lucyandsevens.com.
CDA Primary Care moves on Ironwood
The family health practice of CDA Primary Care has moved to 920 W. Ironwood from 1025 W. Ironwood.
The goal is to provide personalized high quality care for the entire family with accepting new patients and same-day appointments with hours of 8 a.m. to 6 p.m. Monday through Thursday and 9 a.m. to 2 p.m. Fridays.
The staff includes Dr. Robert Lakko, Mark Martindale, Christy Sutton, Candice Stone, Brandon Rice, Jessica Woodgeard and Mikeyah Owens.
Phone 208-667-2600. Check www.cdaprimarycare.com and www.honestnutriciancda.com.
OneMain Financial moves to Hayden
The full-service OneMain Financial has moved to 97 W. Prairie Shopping Center from 101 Ironwood Drive.
Lending personal loans up to $15,000, hours are 8:30 a.m. to 5:30 p.m. Mondays, Wednesdays and Fridays and 9 a.m. to 5:30 p.m. Tuesdays and Thursdays. Sharon Julius is branch manager.
OneMain Financial has been in business more than 100 years with 1,400 locations and headquarters in Evansville, Ind. Locally phone 208-664-2101 and fax 208-765-3886. Check www.OMF.com.
Now the Tidbits:
Fish On is a new eatery in Rathdrum.
*Coeur d'Alene Foot & Ankle Clinic is expanding at 101 Ironwood Drive.
Uncorked With Friends will be at 9443 Government Way in Hayden.
Little Bear Tattoo will be at 403 N. Second St.
Cochinito Taqueria will be in Hayden.
Watch for Prime IV Hydration & Wellness to be in Ironwood Square.
A large building is under construction at 9046 W. Prairie Ave. (near Greensferry) for Mountain View Business Center. Contact Royce Johnston at 208-691-3054 for team rental information. The building should be complete at the end of August. For lease information contact Logan Rude at 208-651-8825.
Construction should start soon on a Class A professional office building in the northwest corner of the intersection of Prairie Avenue and Ramsey Road in Hayden.
A new Metro Express Car Wash will be built where the "Coming Soon" sign is at the intersection of Lancaster Road and U.S. 95 in Hayden.
Bottle Joy taphouse will be at 1208 E. Sherman.
Burke's Restoration is building a new place at 3801 W. Riverbend Ave., in Post Falls. Details soon.
The Thomas George building planned for the corner of Third Street and Front Ave. will be 18 stories mixed with commercial places on the first floor and 60 condominiums above.
Watch for details on new buildings under construction for corporate offices for Rogers Burgers on Government Way and Caliber Collision by Metro Car Wash in Post Falls.
St. Joseph's Ear, Nose, Throat & Allergy Clinic will have a new building at 849 N. Syringa, Post Falls.
Watch for commercial construction west of Highway 41 between 16th and Horsehaven in Post Falls.
Many of 16 commercial lots are available in the planned Prairie Crossing Shopping Center in the northeast corner of Highway 41 and Prairie Avenue.
A new building for Etco Services is under construction off Huetter north of Seltice and I-90
The PACR office building is under construction at 1857 W. Hayden Ave.
Breaking Bread Bistro will be where Davis Donuts was at Fourth and Best.
A new Pizza Hut will be in Hayden.
The Mill will be a four-story mixed-use building at Government Way and Mill Avenue with businesses on the ground level and 43 apartments above.
Orthopedic Physical Therapy Institute (OPTI) is constructing a new building in Hayden.
The Well-Ness Bar will be in the new building under construction on Appleway.
Cornerstone, a four-story commercial and residential building, is under construction in Riverstone.
Bruchi's quick service restaurant is planned for a new building north of the corner of Highway 41 and Mullan Avenue.
Watch for construction of Vantage Point Brewery across from Michael D's Eatery off Coeur d'Alene Lake Drive.
Gentlemen Sausages will soon be in the former Abi's Ice Cream location at 112 Fourth St.
TownePlace Suites by Marriott Hotel is being built where the Outback Steakhouse was in the southeast corner of I-90 and Northwest Boulevard.
Valvoline Instant Oil Change will be at 1830 N. Third St.
A new commercial and residential building, Midtown Centre, is being built at 821 N. Fourth St.
Watch for major changes with the Burger Bunker and Bunker Bar off Spokane Street in Post Falls.
The Den will be a new tavern at 761 N. Idaho St. in Post Falls.
The clues in the "Jeopardy" TV show are printed wrong with ", instead of ," and showing that to millions of viewers.

Contact Nils Rosdahl at nrosdahl@cdapress.com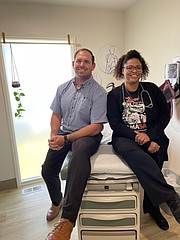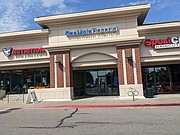 Recent Headlines
---