Neighborhood of the Week: (Almost) the end of the road
by
TYLER WILSON/Special to The Press
|
August 21, 2022 1:00 AM
The resident at this property is officially packing up and moving out of the neighborhood.
Since the fall of 2015, I've written Neighborhood of the Week for the Coeur d'Alene Press. Next week will be my final column in this Sunday space.
I'm not big on brief goodbyes, so this week's column is only the first half of a two-part finale. All the best TV sendoffs are supersized (speaking of which — did you catch that "Better Call Saul" finale? Perfection!).
I want to address two major points this week, the first being related to the money-making aspect of Neighborhood of the Week. While I'm not at all involved on the advertising side of the paper, I genuinely appreciate all the work that happens on that side of the production. A huge thanks also goes out to every business and real estate agent who advertised in the paper.
Most notably, thank you to the folks over at the Dover Bay Waterfront Community, who ran monthly sponsored content in Neighborhood of the Week for most of my time doing the column. They kept up with us until they quite literally ran out of available properties. Their partnership with The Press helped keep the rest of Neighborhood of the Week flexible to cover almost everything else.
Secondly, I want to reiterate something that's been repeated often in this column space: Make sure to hire a professional when you're looking to buy or sell and the real estate market.
Over the years I've talked to dozens and dozens of local Realtors and agents. I literally never had a bad experience talking to these sources. Everyone I've encountered in this industry has been kind, professional and extremely knowledgeable about the North Idaho market. Maybe I just got lucky. If so, I'm glad I did.
Navigating the housing market as a buyer or seller comes with unexpected twists and turns. The list of things to consider is immense: Dense contracts, financing and loan complications, inspections and repairs, floorplan variables, decisions on fixtures and cosmetic preferences, supernatural hauntings, etc. When you think about it all, it just makes sense to hire an expert to help you down the path.
Do your own due diligence, of course. Seek Realtor recommendations from people you trust, interview a few different ones before committing and choose to work with someone that best fits your personality and needs.
Next week, we'll go behind-the-scenes and show you how you can do your own Neighborhood of the Week without me. That's right, I'm spilling all the secrets!
• • •
Tyler Wilson can be reached at twilson@cdapress.com.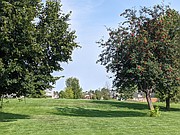 Recent Headlines
---