Huckleberries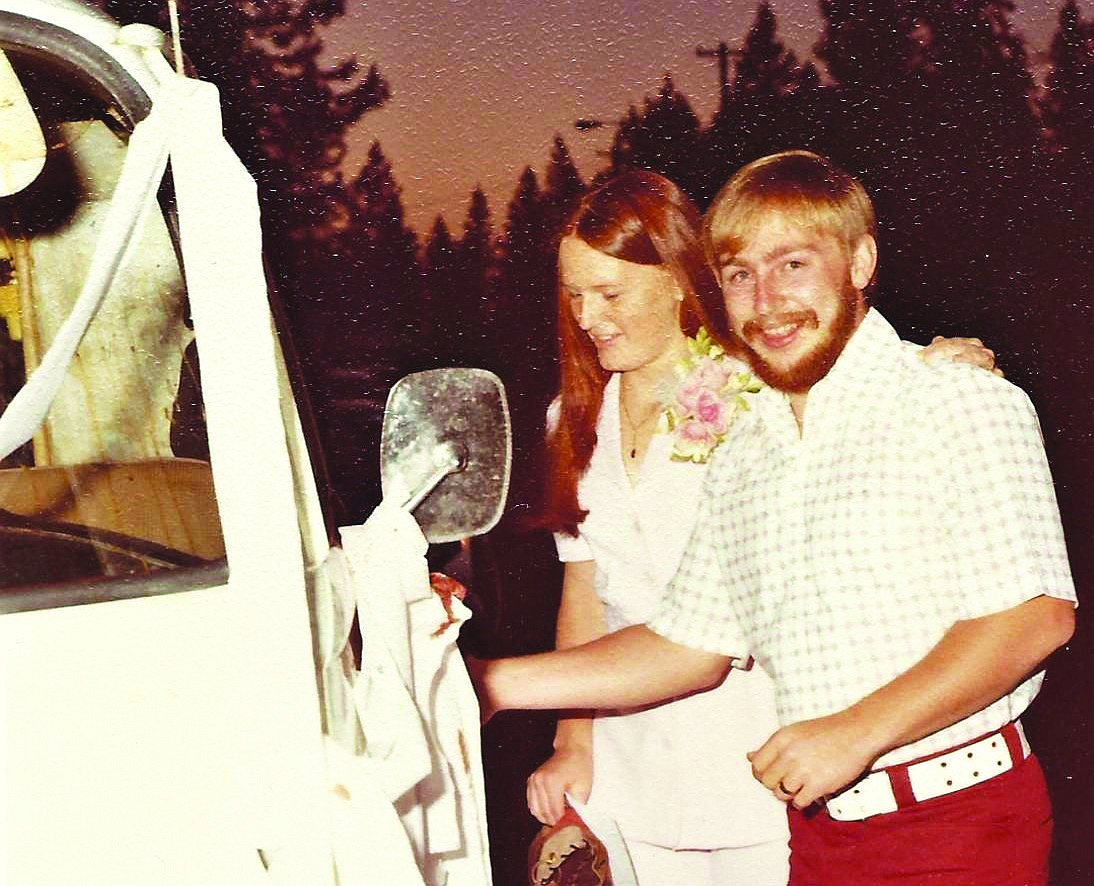 Dan and Cory English and their VW bus head off on honeymoon.
|
August 21, 2022 1:00 AM
Dan English, a third-generation Coeur d'Alene resident, has worn many hats in a long work career.
Sheriff's juvenile detective. Coeur d'Alene councilman (twice). Coeur d'Alene school trustee. And Kootenai County clerk (four-plus terms). Also, he has directed North Idaho Youth for Christ, Anchor House, CASA, Habitat for Humanity, and Area Agency on Aging.
But the Coeur d'Alene High grad has never been an ex-Californian – technically.
Oh, he did graduate from San Jose State in California with a degree in criminal justice administration, all right. And his future bride, Cory, did attend a small college in Santa Barbara. But they both graduated from CHS and met during the 1971 summer break at Bob's Big Boy Market on Sherman Avenue.
Dan's old VW bus burned a path between San Jose and Santa Barbara after that.
In fact, that old VW bus, with its California plates, is the focus of this Huckleberry.
In spring 1972, Dan and Cory were visiting home when children in the extended family began clamoring for snow. So, Dan and Cory hopped into the white VW bus and headed for Fernan Saddle, with a cooler in tow. They found the snow and packed the cooler. However, Dan got stuck trying to back up.
And that's where the young lovers remained as several vehicles drove by.
"Usually, people around here stop to help before your tires stop spinning," Dan told Huckleberries. "I was miffed that some of the other rigs with local plates wouldn't stop to push us out."
This was during the time that road signs in the Northwest declared: "Don't Californicate Idaho (or Oregon, or Montana, etc.)."
Dan and Cory concluded their license plate didn't help, nor did Dan's longish hair.
"They probably figured I was a Hippie guy," Dan said.
Dan finally worked his way out of the quagmire by rocking his VW back and forth. But he learned a lesson in local prejudice that day (which seems to exist more than ever today).
That's why he's amused when a Johnny- or Janie-Come-Lately in a snit over some City Council action tells him to "go back to California."
Book, Book, Book
Yes, there is such a thing as Library Humor – and Char Beach delivers it well. By day, Char directs outreach services at the Coeur d'Alene Library. By night, she and her husband, David, perform with the quartet, Arvid Lundin & Deep Roots. Char sings, plays several instruments, including the harp, and fills time between tunes with Library Humor. At an outdoor libary concert Monday, Char told a joke about a chicken who asked a librarian for a "book, book, book" and was handed one. But the chicken quickly returned it and requested another "book, book, book." The same thing happened again and again. Finally, the librarian followed the chicken to a pond, where the fowl showed the book to a frog who said, "Read-It." Then, there's the one about a patron who wanted to know where the paranormal section was. In an eerie voice, the librarian responded, "Riiiight behiiiind you." Char and Arvid Lundin & Deep Roots play the first and third Thursdays each month at the Crown and Thistle.
Keep your shirt on
In August 1962, a Press editorial writer had public morality – or lack thereof – on the brain when he wrote: "Out of Place." Seems two young men had sauntered along Sherman Avenue "stripped to the waist." Equally out of place – "masculine appreciation of the feminine form notwithstanding" -- the editorialist continued was "female over-exposure." The opinion piece recognized that informal summer dress puts tourists at ease "but it can be carried too far." Said the editorial: "Swim wear is fine at the beach, boating garb is great on the lake, but for Coeur d'Alene main business arterials, a little less nudity if you please." And that was 60 years before thong swimwear at City Beach migrated to Sherman Avenue.
Huckleberries
· Poet's Corner: Noble legume,/small and classy,/full of protein,/although gassy;/a boon for farms/from Sprague to Lind --/if I attend/I'll stay up wind – The Bard of Sherman Avenue ("The National Lentil Festival in Pullman").
· In Case You Wonder … Artist extraordinaire Terry Lee told Huckleberries he'd sculpt legendary boat captain Fred Murphy "in a heartbeat" IF he had a sponsor. Terry knows Fred's importance to CDA. With inflation, however, it would cost about $55,000-$60,000 to produce a sculpture, like Terry's five statues now gracing Front Avenue. Chuckling, Terry said, "Show me the money."
· Thirty-five years ago (Aug. 20, 1987), the late Duane Hagadone announced he had acquired a 120-day option on 60 acres of Riverbend Commerce Park in Post Falls and could begin construction on a dog track "before the snow flies." Live dog racing at Coeur d'Alene Greyhound Park would open in 1988 and operate until financial losses and sagging attendance prompted closure at the end of 1995.
· Bumpersticker (on a black Chevy Trailblazer with Washington plates parked near the Coeur d'Alene Carousel Sunday afternoon): "BACK UP! If you hit this car with my kids in it, IMA beat yo a— til the police come." So much for turning the other cheek.
· Has it really been five years (Aug. 17, 2017) since I retired from The Spokesman-Review? Indeed. With COVID haunting us since spring 2020, the time hasn't exactly flown by. Still, it took four-plus years to retire properly. And now I'm focused on making you smile on Sunday mornings.
· Oopsy: Former editor Mike Patrick spotted an error in Huckleberries Last. In August 2002 (not 1997), then EPA director Christine Todd Whitman visited CDA to drink lake water and declare it fit for man, beast, and fish. How did Mike know? Quoth he: "I was there and remember Whitman trying to put on a brave face as she took an exceedingly small sip of lake water."
Parting Shot
There's a backstory to the rotten banana Rose Backs pulled from her purse at the Night Under the Stars auction to benefit Safe Start Aug. 7. The banana had been in good shape when it entered the bag as a possible snack in Moses Lake. Rose had snagged it at her hotel before returning home. And then forgot about it. As she prepared to take the stage to conduct the fund-raising auction, Rose was ready. Her dress, makeup, and hair were all in place. Then, she caught a whiff of rotting banana. Afterward she was philosophical about the forgotten fruit: "At least it was still intact."
Recent Headlines
---