Rally promotes unity in North Idaho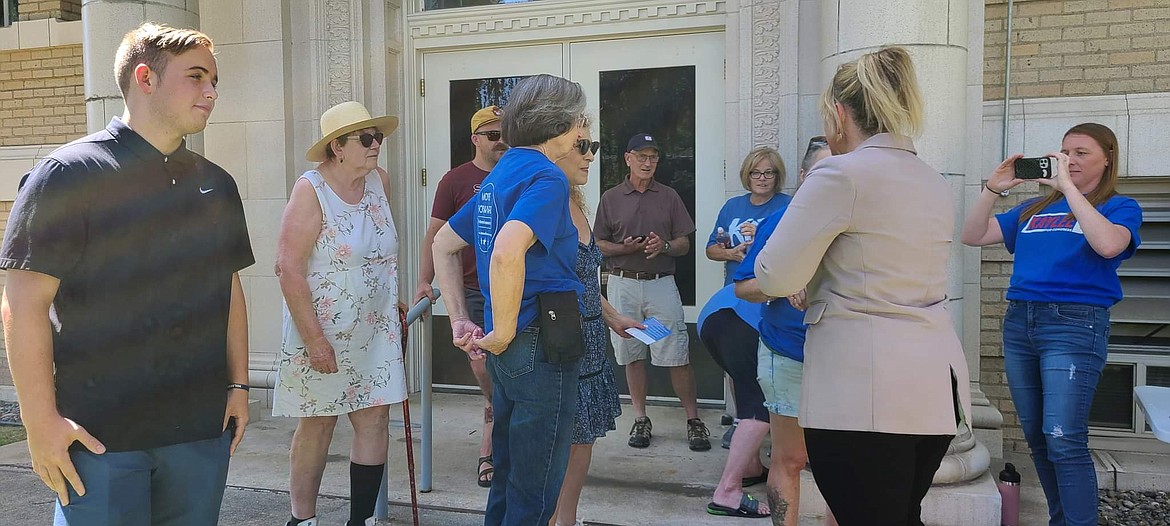 About two dozen people gathered Saturday on the steps of the Kootenai County courthouse for a political rally. KAYE THORNBRUGH/Press
by
KAYE THORNBRUGH
Staff Writer
|
August 15, 2022 1:05 AM
COEUR d'ALENE — About two dozen Kootenai County residents gathered on the steps of the courthouse Saturday to discuss political issues impacting Idahoans, as well as how to bring Idahoans together to find solutions.
Among them was Cayden Stone, an 18-year-old Boise State University student from Coeur d'Alene. Stone was the student body president at Lake City High School during his senior year and now studies political science.
He said he wants to be involved in local and state politics in part to give a voice to Idaho's youth.
"I've seen a lot of kids scared of gun violence," he said. "Some kids are scared to go to school."
Stone said it's important to engage at the local level.
"I hope more people take an interest in local politics, no matter what you believe," he said.
The gathering centered on a speech by Kaylee Peterson, who is running for Congress in the First District against Republican incumbent Idaho Rep. Russ Fulcher.
Peterson said she's focused on common sense solutions to real problems facing Idahoans, from infrastructure to inflation and beyond, rather than on divisive rhetoric that drives people apart.
Differences among Idahoans need not put them in conflict with one another, she said.
Coeur d'Alene resident Dan Kunz said he was glad to have the opportunity to discuss Kootenai County's many good qualities that are worth preserving, rather than focus on negatives or divisiveness.
"It's great to hear positive things about our community," he said.
Saturday's gathering was about unity, Kunz said. He believes North Idaho needs more of that.
"The fact that there are sides is disheartening," he said. "We all have to coexist together. Without our neighbors, we don't have anything."
Recent Headlines
---