Bringing the burgers
by
NILS ROSDAHL/Special To The Press
|
August 14, 2022 1:06 AM
With a décor theme that's modern rustic with nautical touches, the Sandpoint-based restaurant The Burger Dock will open a second location this summer in the revamped brick building at 200 N. Fourth St.
(Editor's note: The print edition of this column stated that The Burger Dock would open Friday. However, due to construction delays the opening has been postponed.)
Co-owners Claire Anderson and Savannah Pennington and general manager Jessica Teaford's burger joint will offer a variety of food and drink. Highlights include classic and creative burgers, fries from hand-cut Idaho potatoes, salads, shakes and rotating beers on tap.
The space features multiple TVs and has various seating options, including booths, bar seats and a dog-friendly patio. It also offers takeout and online ordering. Hours are 11 a.m. to 8 p.m. (closed Wednesdays) and until 9 p.m. Fridays and Saturdays. Check www.theburgerdock.com for more information.
Vantage Point Brewing on E. Coeur d'Alene Lake Drive
With indoor seating for 110 people and outdoor for 60, Vantage Point Brewing Co. is under construction at 208 E. Coeur d'Alene Lake Drive, on the east end of Sherman across from Michael D's.
The modern Northwest decor will have a fire lookout tower theme with a gathering place for the community and families with games, meeting spaces and live music, TVs and two outdoor gas firepits.
Parking is for 38 cars and many bikes with a complimentary bike repair station as it's on the North Idaho Centennial Trail. Menu details and key people will be listed in another item shortly before the place opens (aiming for December). Check www.vantagepointbrewing.com.
Club Pilates opens in Hayden Thursday
Low-impact full-body workouts with a variety of classes will be offered at Club Pilates opening Thursday at 9235 Government Way in Hayden.
Owners Jen and Rob Emerson, Regional Manager Sally Dutson and General Manager Anna Hammons offer workouts tailored for individual needs with seven class styles in four levels.
Hours are 6 a.m. to 7 p.m. weekdays with weekends a bit shorter. Phone 208-255-9308. Check www.clubpilates.com.
Now the Tidbits:
Uncorked With Friends will be at 9443 Government Way in Hayden.
Little Bear Tattoo will be at 403 N. Second St.
Cochinito Taqueria will be in Hayden.
Rooted Chiropractic Club will be at 9420 Government Way.
Gracie Barra Jiu-Jitsu Studio will be at 978 W. Hayden Ave.
Watch for Prime IV Hydration & Wellness to be in Ironwood Square.
A large building is under construction at 9046 W. Prairie Ave. (near Greensferry) for Mountain View Business Center. Contact Royce Johnston at 208-691-3054 for team rental information. The building should be complete at the end of August. For lease information contact Logan Rude at 208-651-8825.
Construction should start soon on a Class A professional office building in the northwest corner of the intersection of Prairie Avenue and Ramsey Road in Hayden.
A new Metro Express Car Wash will be built where the "Coming Soon" sign is at the intersection of Lancaster Road and U.S. 95 in Hayden.
Bottle Joy taphouse will be at 1208 E. Sherman.
Burke's Restoration is building a new place at 3801 W. Riverbend Ave. in Post Falls. Details soon.
The Thomas George building planned for the corner of Third Street and Front Avenue will be 18 stories mixed with commercial places on the first floor and 60 condominiums above.
Watch for details on new buildings under construction for corporate offices for Rogers Burgers on Government Way and Caliber Collision by Metro Car Wash in Post Falls.
St. Joseph's Ear, Nose, Throat & Allergy Clinic will have a new building at 849 N. Syringa, Post Falls.
Watch for commercial construction west of Highway 41 between 16th and Horsehaven in Post Falls.
Many of the 16 commercial lots are available in the planned Prairie Crossing Shopping Center on the northeast corner of Highway 41 and Prairie Avenue.
A new building for Etco Services is under construction off Huetter north of Seltice and I-90
The PACR office building is under construction at 1857 W. Hayden Ave.
Breaking Bread Bistro will be where Davis Donuts was at Fourth and Best.
A new Pizza Hut will be in Hayden.
The Mill will be a four-story mixed-use building at Government Way and Mill Avenue with businesses on the ground level and 43 apartments above.
An Express Exterior Carwash is being built in the 3400 block of Seltice in Post Falls.
Auto Paint Plus grand opening (with treats and special deals) is 10 a.m. to 1 p.m. Saturday at 3122 W. Seltice Way in Post Falls.
Cornerstone, a four-story commercial and residential building, is under construction in Riverstone.
Bruchi's quick service restaurant is planned for a new building north of the corner of Highway 41 and Mullan Avenue.
Gentlemen Sausages will soon be in the former Abi's Ice Cream location at 112 Fourth St.
TownePlace Suites by Marriott Hotel is being built where the Outback Steakhouse was in the southeast corner of I-90 and Northwest Boulevard.
Valvoline Instant Oil Change will be at 1830 N. Third St.
A new commercial and residential building, Midtown Centre, is being built at 821 N. Fourth St.
Watch for major changes with the Burger Bunker and Bunker Bar off Spokane Street in Post Falls.
The Den will be a new tavern at 761 N. Idaho St. in Post Falls.
Hmmm. We say "Oh, man!" and "Oh, boy!" and "Hey you guys!" But not "woman," "girl," etc.
Contact Nils Rosdahl at nrosdahl@cdapress.com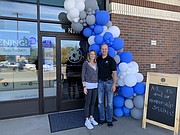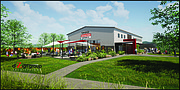 Recent Headlines
---