Movers & Shakers
|
August 12, 2022 1:00 AM
Mega Clean Carwash Grand Opening Event
Mega Clean Carwash will be holding a grand opening event on Aug. 19 and 20, to benefit the Post Falls Food Bank. Customers who bring in two nonperishable food items will receive a free car wash.
In addition to the food donation, all proceeds made from the washes during the grand opening event will be donated to the food bank. The fundraiser will run from 7 a.m. to 7 p.m., both days. Mega Clean is encouraging people to arrive early in the day.
The car wash opened in mid-July and is managed by Tim Mueller, a Post Falls native. Tim is happy to be supporting a local organization, stating "It will be a great way to kickstart our wash and support the community we love and grew up in."
Mega Clean Carwash is located at 3390 E Seltice Way in Post Falls.
Donald Morgan presents at LPL Financial conference
Rathdrum resident Donald F. Morgan, AIF® Independent Wealth Connections, recently had the opportunity to be a presenter at LPL Financials' Focus 2022 conference. The conference is one of the independent financial advice industry's premier events. Morgan joined a select group of advisors invited to present on two related subjects, which was held this year in Denver.
Throughout the four-day conference, financial professionals, institutional clients, sponsors and employees gained valuable insights and best practices from firm executives and thought leaders. The event showcases the latest resources, technology and capabilities to help LPL advisors and institutional partners deliver a better client experience.
"I was thrilled to be able to present at Focus this year," said Morgan. "Everything we do at Independent Wealth Connections is centered on enhancing the value we provide our clients, and this conference gives us access to the practices needed to do exactly that."
Morgan, with over four decades' experience in finance, leads an office that provides full-service financial planning, risk and portfolio management in a consultative, fiduciary-driven environment.
• • •
If you have a new, relocated or expanded business, or announcement of events, promotions or awards, The Press wants to let our readers know. Email the details to jtelford@cdapress.com.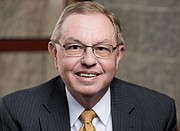 Recent Headlines
---