Healing the homeless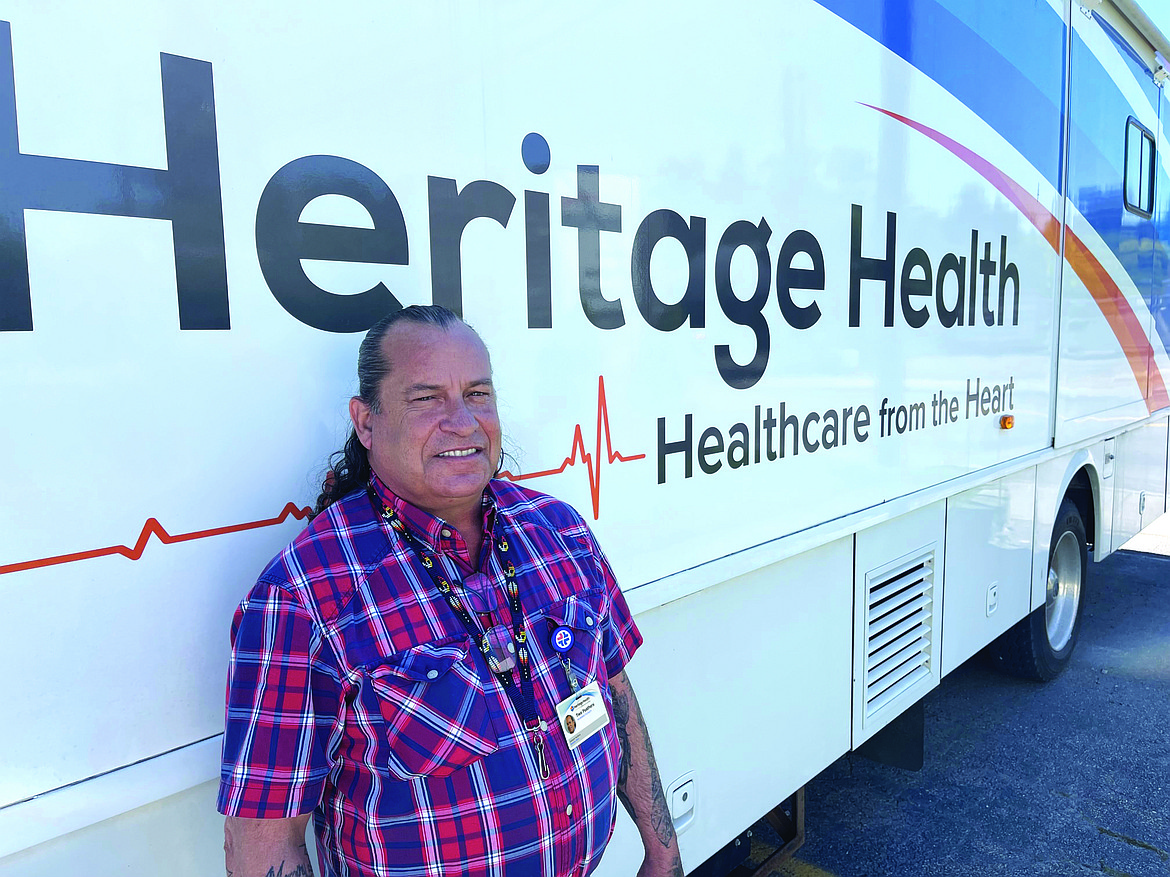 Two Feathers delivers a can of food to an at-risk patient at Heritage Health's Street Medicine Program.
by
Marc Stewart, Heritage Health
|
August 12, 2022 9:45 AM
Two Feathers wants to put right what once went wrong.
The Heritage Health Homeless Outreach worker is determined to help people living in desperate situations by connecting them to resources, including medical care and other essentials.
"I've been homeless," he says. "I know what it's like to be on the streets with nothing. I think that perspective helps me connect with people who need help. I treat everyone as an individual and I respect them, wherever they are at in life."
Two Feathers helped establish the Street Medicine program with TJ Byrne, a Physician Assistant in 2014. The Street Medicine team has grown, adding staff and providers for the community's most vulnerable population.
"TJ and I worked out of a car," says Two Feathers. "Later, we got a grant for a mobile clinic and then we outgrew that one and we got a bigger mobile clinic that we still use today."
If you've lived on the streets, there's an excellent chance you've encountered Two Feathers or you know that he's the man to talk to about homeless issues.
"A lot of times, people will call our office 'Two Feathers' office' because he is so well known in this community, but him being here is sometimes the biggest thing that draws people to us, to begin with," says Elise Cuentas, Street Medicine Clinic Director. "Two Feathers has a way with people."
Two Feathers' journey started in Phoenix. His childhood was rough and he was drinking at an early age. Eventually, he was adopted by a family in Post Falls. He battled alcohol addiction and finally hit rock bottom.
"I went to prison for multiple DUIs," says Two Feathers. "I chose to live a different way and I got help."
"Once I was sober, I wanted to give back. I wanted to help repay what was given to me. I am not sure I will ever be able to repay it, but it's why I come to work every day. I want to make things better for people. If I get a simple thank you, it's been a great day."
Two Feathers is quick to credit everyone on the Street Medicine team for impacting lives and helping people.
"It truly is a team effort," he says. "Each one of us brings something unique to the table. I couldn't do what I do without the support from everyone at Street Medicine and the entire Heritage Health organization."
Working with homeless populations presents different challenges.
"Most people have alarm clocks to make sure they don't miss a doctor's appointment," he says. "We're dealing with people who don't have an alarm clock, so we have had to find creative ways around it. Transportation is another big issue for the homeless. We're able to meet people where they're at with the mobile clinic and/or other vehicles."
Two Feathers works tirelessly to solve problems, said Cuentas.
"He goes above and beyond to make sure he is reducing barriers and getting people the help and resources that they need," she said. "His life experiences have led him to become such a kind, empathetic and compassionate person."
To make a donation to support the Street Medicine program, visit myheritagehealth.org/donate
Recent Headlines
---