That's 'Nunsense!'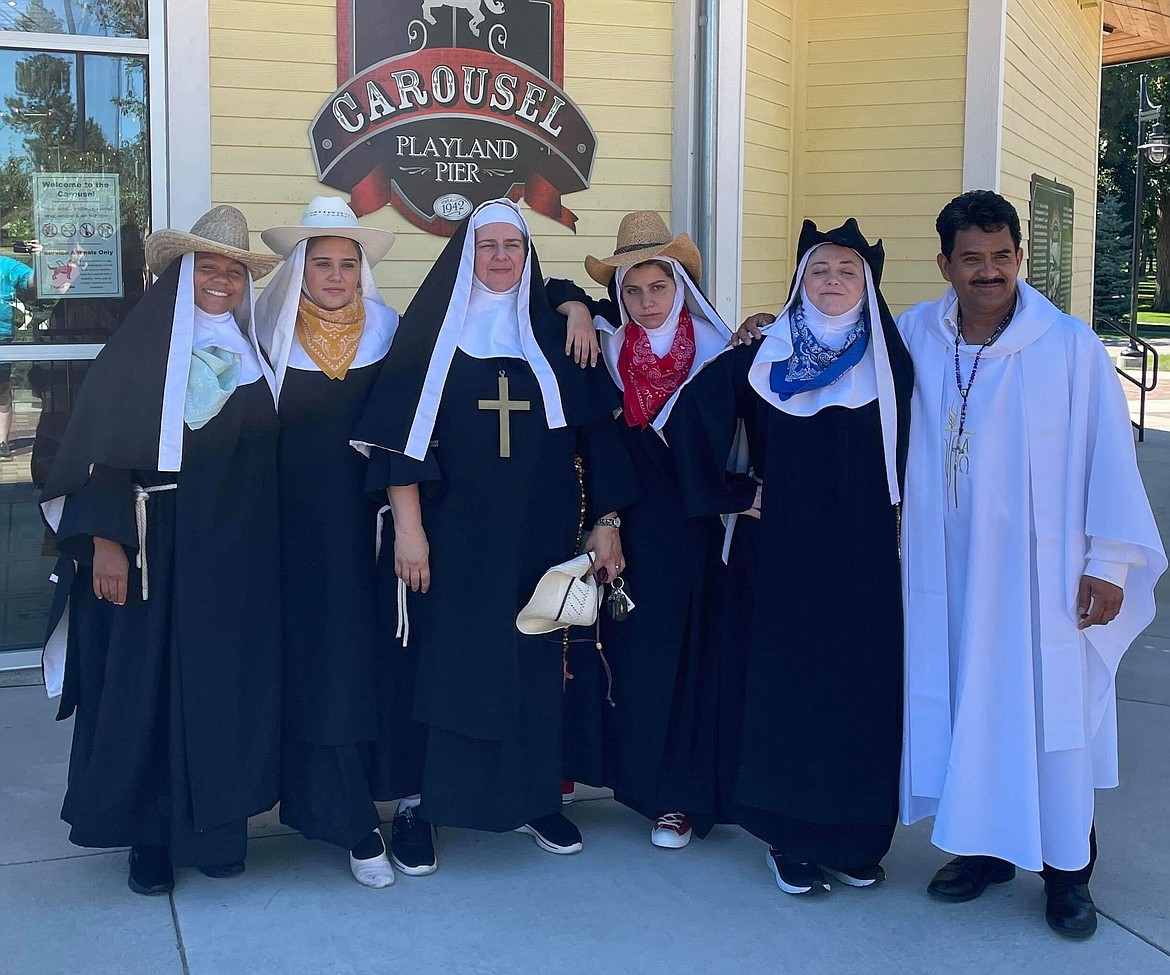 Coeur d'Alene Summer Theatre's production of the musical farce "Nunsense" opens tonight in Coeur d'Alene. From left: Rachae Vargas, Leilani Santiago, Ann Benson, Mia Goodman, Nicole Hamlin and Alejandro Vargas.
Courtesy photo
by
Press Staff
|
August 12, 2022 1:00 AM
Coeur d'Alene Summer Theatre's production of the musical farce "Nunsense" opens at 7:30 tonight in Coeur d'Alene.
Directed by Lorna Hamilton, "Nunsense" is the tale of a convent of nuns who stage a fundraiser to cover burial costs for four fellow nuns, dead of botulism after an unfortunate cooking accident.
Hamilton, a retired North Idaho College dance instructor, has directing and choreography credits for numerous local productions, including Coeur d'Alene Summer Theatre's "Beauty and the Beast" and "The Marvelous Wonderettes."
Ann Benson performs as Sister Mary Regina/Mother Superior. The Spokane actor, improv performer and opera singer is fresh off her role as Marmee in the theater's production of "Little Women." She's joined by Rachae Thomas as Sister Mary Hubert, Mia Goodman as Sister Robert Anne, Nicole Hamlin as Sister Mary Amnesia and Leilani Santiago as Sister Mary Leo.
Thomas has an extensive professional theater resume, plus several recent TV credits, including performances in "Hand of God," "Casual," "How to Get Away with Murder" and the "The Fosters." She was also featured with Cuba Gooding Jr. in the movie "Life of a King."
A musical theater student at the Boston Conservatory, Goodman has performed as Natalie in "Next to Normal," Anne Frank in "The Diary of Anne Frank," Kenny in "Fuddy Meers" and Alice Russell in "Lizzie: The Musical."
Hamlin has previously performed with Coeur d'Alene Summer Theater. She is an elementary music teacher in Washington's Kent School District.
Santiago appeared in the ensemble for season-opener "Mamma Mia!" She is a senior at Lewis and Clark High School in Spokane, where she held roles as Ariel in "The Little Mermaid," Pearl in "SpongeBob," Sandrine in "Almost Maine" and Joy in "Cinderella."
Local musician Alejandro Vargas made his Coeur d'Alene Summer Theatre debut in June as Father Alexandrios in "Mamma Mia!" and is playing the role of the visiting priest in "Nunsense."
"Nunsense" runs through Aug. 21 and will wrap the theater's first post-COVID summer season and first season in the theater's history that all productions were directed by women.
All performances will be held in Schuler Performing Arts Center at North Idaho College.
Tickets and info: www.cdasummertheatre.com
Recent Headlines
---