Community, sheriff's office rally for deputy
by
KAYE THORNBRUGH
Staff Writer
|
August 12, 2022 1:09 AM
COEUR d'ALENE ­— When Yvonne Cress woke up with a headache and vision loss in one eye, the 35-year-old deputy sheriff and new mom wrote off her symptoms as a migraine.
Then her speech became slurred and she lost her balance.
Yvonne's husband, Dan, rushed her to the hospital, where scans confirmed she'd had a stroke. The blood clot was inoperable and couldn't be treated with medication.
The stroke paralyzed the right side of Yvonne's body.
"It turned things upside down overnight," Dan said.
After 15 years of marriage, the high school sweethearts had just welcomed their first child, Maelyn. Now, their family's joy has been shattered by a debilitating medical event.
But Yvonne is a fighter. A U.S. Navy veteran, she's been with the Kootenai County Sheriff's Office for six years and is passionate about her job.
"She's determined," Dan said.
Each day in the hospital, she gained a little more feeling in her arm and leg. Just a few weeks after her stroke, she can get around with a walker and minimal help.
"We're praying and hoping for a full recovery," Dan said.
Yvonne is expected to spend another two weeks in a rehabilitation facility. After that, she'll go home and continue physical therapy on an outpatient basis.
The road ahead of Yvonne is a long one. It will take at least six months to a year for her to get back to where she was before the stroke.
For Yvonne and Dan, their faith has been a source of strength.
"We look at this as a trial we're going through," Dan said. "God gave it to us for a reason."
Yvonne used her fringe benefit time for the birth of her daughter and has minimal time off in reserve. That means she'll soon be without pay and benefits.
For now, her medical insurance premiums have been covered by donations to the Kootenai County Sheriff's Employee Association.
Dan said he's deeply grateful for the community's support. He's had to put his own logging business largely on hold in order to care for Maelyn and be with Yvonne, which adds to the family's financial burdens.
The Sheriff's Employee Association will host a dinner and auction to benefit the Cress family from 6-10 p.m. on Aug. 27 at the Cranberry Road Winery, 2380 Old Mill Loop.
Info: www.eventbrite.com/e/deputy-yvonne-cress-fundraiser-tickets-400219686857
To make a donation without attending the benefit, make a check out to the "Kootenai County Sheriff Employees Association" or "KCSEA" and enter "Deputy Cress" in the memo line.
Checks can be dropped off or mailed to the Sheriff's Office at 5500 N. Government Way in Coeur d'Alene.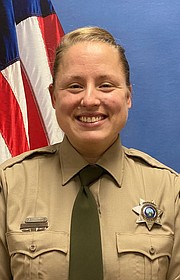 Recent Headlines
---