COVID cases on the rise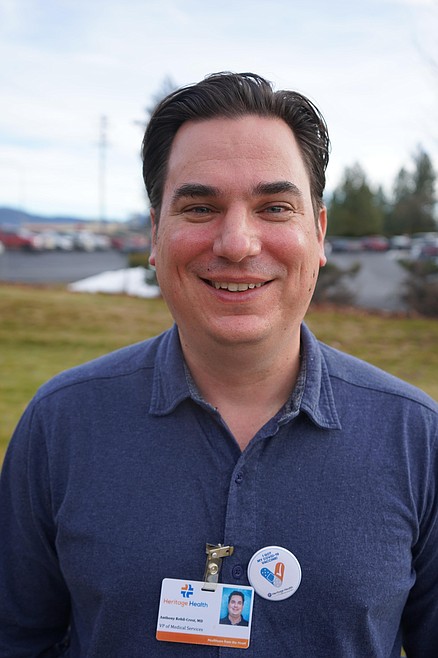 by
MARC STEWART/Guest contributor
|
August 12, 2022 1:07 AM
What COVID?
Contrary to popular opinions throughout North Idaho, COVID-19 is not a thing of the past. Cases are increasing in Kootenai County, said Jeff Weigel, an epidemiologist with the Panhandle Health District.
"The majority of the cases are now of the omicron BA.5 variant," said Weigel. "This variant is particularly virulent and is highly transmissible and contagious, but the severity of illness is much lower than what we saw during previous variants. Hospitalizations and deaths from the BA.5 strain are far less than what we saw a year ago."
The positivity rate in the Panhandle Health District was at 18.15% as of Saturday, Aug. 6. The health district has been reporting between 200-400 cases per week for over a month. As of Thursday, there were 7 people hospitalized with COVID-19 at Kootenai Health.
"We suspect the actual case numbers of infections are much higher than what's being reported," said Weigel. "Through wastewater surveillance, we're able to determine what's happening with the population. The state recently added the wastewater surveillance data to their website, so the public can track it now too."
The BA.5 symptoms include fever, upper respiratory infection, pulmonary congestion, muscle aches and malaise or lack of energy. According to the CDC, these symptoms can last between five to 10 days. If you do get infected, health officials recommend resting in isolation, hydrating and monitoring your symptoms. People should contact their physician if symptoms don't resolve, said Dr. Anthony Rehil-Crest, chief clinical officer for Heritage Health.
"We're seeing more patients with COVID," said Rehil-Crest. "COVID is not over and it can greatly affect people with pre-existing conditions, such as obesity and diabetes. It needs to be taken seriously. I recommend following the CDC vaccine recommendations. The good news is that there are some very good medicines for infected people. These medicines are very effective in treating the coronavirus."
People who have been previously infected by COVID-19 or who have been vaccinated can still get sick from the BA.5 variant. A new booster shot that targets the BA.5 variant is expected to be released this fall, health officials say. Existing vaccines still provide protection against the BA.5 variant.
"Unfortunately, we're going to be living with COVID for the foreseeable future and dealing with it similarly to how we prevent the spread of the flu," said Weigel. "This virus continues to change and mutate."
One of the issues facing the medical community is that people aren't getting tested, at-home tests that are not reportable are more common and available, or they aren't reporting results from their home tests when they become ill or they believe the coronavirus is nothing more than a cold. Others believe COVID can be prevented via diet and exercise.
It can't.
"If you stay healthy and do the right things, it may lessen your symptoms, but I can't guarantee that," said Rehil-Crest. "It also doesn't take into account other underlying medical conditions that can be affected by getting the coronavirus. It won't stop you from transmitting the infection to a loved one or close friend."
Panhandle Health District public information officer Katherine Hoyer said combating misinformation is an ongoing struggle.
"We're always available to answer questions and to provide guidance," she said. "Our staff are understanding and want to address questions to provide the best-possible recommendations to the public."
The best defense against the spread of COVID are vaccines and following CDC guidelines for social distancing and wearing appropriate face coverings.
"The vaccine protects you and helps lessen the symptoms," said Rehil-Crest. "We're still recommending people get vaccinated and boosted. People with compromised immune systems and other underlying health issues are at risk for getting sick."
• • •
Marc Stewart is employed as a content strategist with Heritage Health in Coeur d'Alene.
This story was edited to correct the number of COVID patients at Kootenai Health.
Recent Headlines
---