Brian Laude, 64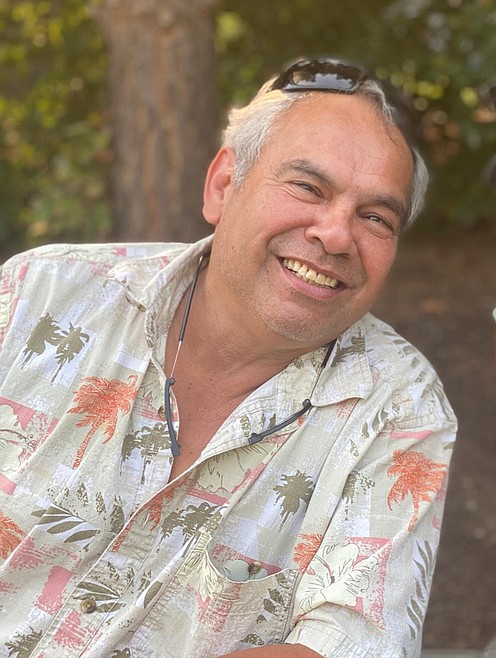 |
August 12, 2022 1:00 AM
The world changed when he entered May 12, 1958, and again when he left May 30, 2022. Born in Kensington, Pa., where men are men (and so are some of the women), Brian joined a large brood. A couple of years into his life, he moved with his family to Virginia. At about 8 years old, they all moved out west to Idaho.
Being near the top of the heap of seven children (even though he liked to tell people he was the baby) was a dubious task, but he was up for the challenge. He led and tortured his siblings through a childhood of obnoxious antics, often with his brother, Marcial, as his wingman (or perhaps it was the other way around).
In a squirrel-hunting accident, brother Denny received a BB to the forehead after Brian had erroneously concluded that all the ammo had been expended. After pointing the weapon to his brow, Brian squeezed the trigger and then realized there was a squib round. The lodged BB shot out of the barrel, creating an instant blood stream down Denny's face. In a panic and yelling, "Mom's gonna kill me!" Brian attempted to clean him up with his own white sweatshirt. Smearing it around only made it look like a crime scene. Minio recounts this event vividly. Step by step, moment by moment, they lived through another day.
The rest of his childhood was much of the same, far too many stories to detail. He moved through elementary school, middle school and high school within the timeframe allowed. Graduating from Worley High School in 1976, he had no clear direction. There is a two-year gap between the commencement ceremony and Naval Boot Camp that no one can seem to recount. Maybe that is for the best.
His Naval career is noteworthy. It was not until a review of his DD214, that I realized he knew his shit from Shinola! He was the recipient of several awards including
• "E" Ribbon (awarded for battle efficiency)
• Navy Expedition Medal (engaging in operations against armed opposition)
• Marksman M-16 Rifle (weapons qualification)
• Sea Service deployment (four times)
• Meritorious Unit Commendation (6 months or more of outstanding service against an armed enemy)
I can only conclude that his achievements would not have been possible had his childhood escapades not laid the groundwork. Brian extended his service twice at the request of the government. Records show he was a Seabee, SW2, leaving the Navy as a Steelworker Petty Officer 2nd Class. That may have been the end of his government involvement, or not. He did become a councilman in Rockford, Wash., in 2017. Was this an innocent effort to improve the city or an undercover mission? Only on Netflix, The Untold Story of Officer O' Malley.
Our brother was not a religious man, but on Sundays, when the Philadelphia Eagles played, you could hear him yell "Jesus Christ" at nearly every play. His Eagles jersey did not get to claim a Super Bowl win, literally ever, but it did come in handy when the vacuum stopped working. He just draped it over the handle, and it started sucking again.
Sobriety may not have been his strong suit, but he did excel at the following:
• Fishing — "Mine's So Big I Have to Use Two Hands"
• Dirty jokes — "No Muff Too Tuff, We Dive at Five"
• Rolling Joints — "I Just Had a Joint … Replacement in My Hip"
• Hard work — "Shit Show Supervisor" at the Coeur d'Alene Casino for 11 years
Dare I state that I was his favorite sister, the white one, the actual baby of the family, who writes light-hearted obituaries? I think I shall. A nondenominational celebration will be held at the City Park in Rockford, Wash., with lots of laughter, stories, and drinks — just as he would have wanted it. The family requests absolutely zero privacy, none whatsoever, and in fact, encourages you to spend some government money on one of his favorite machines, Game King or Wolf Run, in his honor. If you win, it's halfsies, family rule.
I, my siblings, his children, grandchildren, more friends than I could ever list, loved and will cherish him forever. Please think of the short, smart, funny Greek God, Dionysus, whose personality exceeded his height 10-fold, whenever you need your spirits lifted. Remember one of his jokes and LAUGH! To our parents, we did our best to take care of him and keep him out of your hair for as long as we could. Ball is in your court now.
It's hard to turn the page when you know someone will not be in the next chapter, but the story must go on. Love is how you stay alive even after you are gone. He has just moved to the neighboring room. He is who he is, we are who we are. That which we were to one another, we will always be. Call him by name. Speak to him like you have always done. Do not use a different tone, do not take that look; solemn or sad. Continue to laugh at that which made you laugh together. Pray, smile, think of him, pray for him. Let his name be pronounced at home, as it always was. Without pomposity or gloom. Life is still the same, it is what it always was. The string has not been cut. Why should he be away from your thoughts? Just because he is away from sight? He is not far, just on the other side of the road. You see, everything is fine. Wipe your tears and cry no more if you loved him.
Here is to the nights we will never remember with the man we will never forget. Rest well, until we meet again.
Brian Laude
A Celebration of Life will be held Sunday, Aug. 14, noon to 3 p.m. City Park — Rockford, Wash.
Recent Headlines
---