Robert "Bob" Nuttelman, 93
|
August 10, 2022 1:00 AM
Robert "Bob" Nuttelman, 93, passed away peacefully surrounded by family and stepped into Heaven on July 17, 2022. Robert was born to William and Alison Nuttelman and spent his early childhood in the Western Canadian Wilderness. In 1941, the family returned to their East Coast roots and settled in Virginia for a few years. The family moved to Coeur d' Alene in 1946. Robert attended North Idaho College and was employed at Dalton Supply and Ohio Match. He was proud of his military service in the United States Army Anti-Aircraft Division. Bob married Shirley Hinkle of Spokane, Wash., and enjoyed 62 wonderful years of marriage. Together they raised two children, Nancy and Bob.

His dedication to service and community led him to the Coeur d'Alene Police Department in 1959. He was a graduate of the Idaho Police Academy at Idaho State University and the Spokane Police Academy. He graduated from the FBI National Academy in Washington, D.C., which is known as the "West Point of Law Enforcement." Robert rose through the ranks of patrolman, Detective Sergeant, Assistant Chief and Chief of Police. He demonstrated his vision and leadership when he started the first School Resource Officer (SRO) Program for North Idaho in the 1970s and collaborated to bring the Idaho Police Officer Standards and Training (POST) to North Idaho College. Robert implemented an extensive training program for reserve officers prior to active duty. He instituted the first North Idaho task force training to address specific crime problems. Robert advocated for upgrades in equipment, uniforms, side arms and body armor and encouraged the formation of the Coeur d'Alene Police Officers Association. He assisted in developing the plans for the new City Hall and Police Department at 710 E. Mullan.
Robert's leadership also extended to local boards, commissions and advisory councils for North Idaho, the State of Idaho and the Northwest. Bob served as President and Board of Director of the Idaho Peace Officers Association and Vice President of the Idaho Traffic and Safety Commission. He was also a member of POST Advisory Council and the Northwest Criminalistic Consortium. Throughout Robert's tenure as Chief of Police, his accomplishments improved safety, service and education for the citizens and officers of Coeur d'Alene. After Robert's retirement from the City, he served as Idaho Law Enforcement Planning Commission Region 1 Director and completed his career in Security for the Sunshine Mine.
Robert was a member of the Kootenai Masonic Lodge No. 24 AF&AM and received service awards from the CdA Chamber of Commerce and Kiwanis.
Robert's passions were faith, family, friends and the outdoors. He was always available to lend a helping hand with his ingenuity, carpentry and creative solutions to even the most complex challenges. These were just a few of the many ways he served others. He was, along with Shirley, his children's and grandchildren's number-one fan; their school, sports, and musical activities brought him much joy. He also loved Gonzaga Basketball and his love of the outdoors provided a lifetime of gardening, camping, hiking and fishing. As the "fish whisperer" he read the rivers, casting his fly line, placing it in the riffle or by the rocky bank to catch a trout!

Bob's passion for helping and serving others is an example of how God uses ordinary people to share His extraordinary story of redemption. Bob's legacy lives on through his daughter Nancy (Mike); son Bob (Mary); grandsons Mark (Gracie) and Matthew, his sisters Beatrice and Laura May, numerous nieces, nephews and many beloved friends. His kindness, love, wisdom and service to others extended beyond his close circle of friends and family. His faith and commitment created a far-reaching influence like a ripple on the river; continually spreading to be seen, heard, and felt.
The memorial service will be 4 p.m. Tuesday, August 16, 2022, at the Hagadone Event Center, Coeur d' Alene Resort Golf Course, 900 S. Floating Green Drive, Coeur d' Alene.
In lieu of flowers, contributions may be made in memory of Chief Robert Nuttelman, CDA Police Foundation, 3818 N. Schreiber Way, Coeur d' Alene, ID 83815, cdapdfoundation.org or to the charity of the donor's choice.
Yates Funeral Home, Coeur d' Alene, is in care of the arrangements.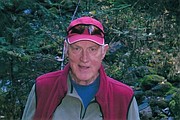 Recent Headlines
---