The little things make a big difference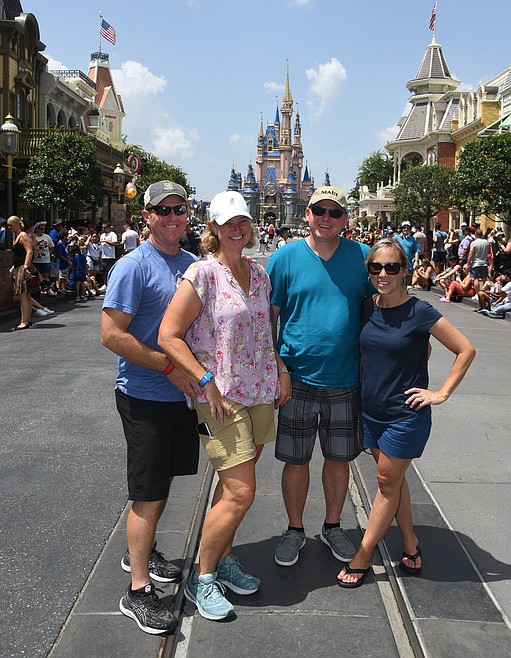 From left, Andy and Lisa Peterson and Scott and Tara Ovinek on Disneyworld's Main Street, USA.
Courtesy photo
|
August 10, 2022 1:00 AM
Ron McIntire has received many awards and much recognition for his public service and prolific philanthropy. He's known as much for his big smile and "uniform" of a white shirt and black bow tie. But at the end of the day, he's simply a good and decent man … husband, father, grandfather.
Ron was 33 years old when he opened his first grocery store in Hayden, and today, there are 15 Super 1 stores in Idaho and Montana. He signs the front of paychecks for hundreds of employees in small towns each month.
At 85 years young, Ron still works a regular shift six days a week. For over a half century, he's been teaching a master class in successful entrepreneurship, although not in a classroom. An example was made public last week when a customer spotted Ron walking into work at 8 a.m., stopping first to retrieve a shopping cart from the lot.
Impressed, Ryan Liesche took a photo and sent it to his mom, Ramona Easter, which is how I came to see it.

A simple act that speaks volumes about how successful leaders become successful. They lead by example that every job is important to the success of the business, including returning carts to the store and treating people with respect.
In a world that's been turned on its head as of late, we should all strive to be like Ron. It's the little things that make a big difference.
•••
Last month, when Lt. Col. Andy Peterson retired after 20 years in the Air Force and two years in the Space Force, there was a call for celebration. Andy remembered where he was when he received the momentous call that he'd been accepted into Officer Candidate School 22 years ago … the Tree of Life at Disneyworld.
So 18 members of his family gathered there again to celebrate retirement this time. Four generations of the Jeanne and Cliff Hayes family were on hand. Missing was Andy's late father-in-law, Cliff.
A big surprise for the man of the hour came when they were joined by high school friends Scott and Tara Ovinek (of Paul Bunyan fame). Andy and his wife, Lisa, and the Ovineks are all Post Falls High School alums.
Andy's tree of life has many strong branches. Thank you sincerely for serving!
•••
My love/hate relationship with August is even more pronounced this year. Temperatures that felt more like April back in June, and a really cold and wet Fourth of July delayed summer enjoyment. June felt like April and then July felt like May so I'm grateful August actually feels like August.
But we're in the home stretch of summer and there's a sense of urgency to cram it all in over the next few weeks. Lake time, river time, pool time, vacation time … the seasonal clock is ticking.
This time of year we seem to be evenly divided into two camps; those eagerly looking forward to cool, crisp evenings, the changing colors of the foliage and a fire in the fireplace and those who cling tightly to the beach towels, sunscreen, toes-in-the-sand, aroma of fresh-cut lawns lifestyle of summer. Count me among the latter.
•••
Happy Birthday today to Jeff Grundon, Caryl Johnston, Sydney Sales, Jeremy Morris, Chelsea Cordova, Bonita Koontz, Tim Symons and John Hammon. Tomorrow Jennifer Jaeger-Darakjy, Ann Seddon, Phyllis Berry, Erin Valente, Lisa Bell and Edith Uhl pop the cork to celebrate. On Friday Joe Paisley, Stacey Berger, Jennifer Pitts, Ed Collins, Claudia Hurt, Deena Krobath, Roger Saterfiel, Ronda Nash, Mariah Silva, Julie Hunt, Jennifer James and Nevaeh Witherspoon blow out the candles. George Gee, Mike Laverdure, Tery Garras, Michelle Coppess, Donna Flom and Bryan DeKeles are putting on their party hats on Saturday. Bob Sandau, Erin Elliott, Elaine Damschen, Lisa Hutcheson, Peter Faletto, Erin Reasor, Melinda Engel, Marla Lewis, Kevin Flaa, Melinda Frost and Gene Mann celebrate on Sunday. Marc Allert, Tracy Christopherson, Wayne Longo, Rick Currie (75!), Mary Richter, Anne Couser and Thomas Sorci take another trip around the sun on Monday. August 16 is the date of birth for Jeff Drew, Susan Selle, Brian Kirk, Jennifer Ross, Cindy Wagner, Andrea Fulks, Kim Brown, Serena Carlson, Sarah McCool, Paul Sullivan and Brandia Young.
•••
Kerri Rankin Thoreson is a member of the National Society of Newspaper Columnists and the former publisher of the Post Falls Tribune. Main Street appears every Wednesday in The Press and Kerri can be contacted on Facebook or via email mainstreet@cdapress.com. Follow her on Twitter @kerrithoreson.
Recent Headlines
---