Karen Larane Bennett, 74
|
August 10, 2022 1:00 AM
Karen Larane Bennett, 74, of Liberty Lake, Wash., passed away peacefully at home Aug. 1, 2022, with family and loved ones by her side. Born March 1, 1946, in Auburn, Wash., to Iva M. Rollins and Marlin R. Green, she was the middle child of seven.
Karen lived an exciting and eventful childhood, having three older brothers and three younger sisters. Splitting time in Washington and Montana, the siblings learned to be creative, crafty and borderline mischievous. The family moved to Lewistown, Mont., where Karen graduated high school in 1964. It was in Lewistown where she met the love of her life and future husband, Norm Bennett, an Air Force Airman stationed on a nearby radar base. Some of their fondest memories were cruising the local strip, going to movies and getting ice cream at the Tastee Freez. They married June 25, 1965, in Brownwood, Texas. Later they moved to Washington State, and then onto Idaho, where they lived 45 years raising their four children.
A longtime resident of Hayden, Idaho, Karen loved gardening, reading, swimming, cooking, painting and genealogy research for the community and The Church of Jesus Christ of Latter-Day Saints. She connected many lives through her passion for family history. She spent countless hours filling binders full of researched names and stories to connect families across time. On several occasions these binders were given as surprise gifts to people she had only met once.
Her innate ability to strike up a conversation with a complete stranger and seem like long-lost friends, was often the subject of teasing from her children, who accused her of flirting with perfect strangers, to which she would reply, "I'm not flirting, I'm just being friendly."
Karen's children, grandchildren and great-grandchildren were her heart and joy. She fostered many great adventures and comedic tales. Roller skating, moonlight swims, drive-in movies, outdoor slumber parties, campfire stories, road trips and the occasional 'innocent' prank.
She was known as Grandma Karen by all the children in the neighborhood, for her bottomless candy bowl and stocked soda fridge; and was loved by all the children in the neighborhood for her listening ear, comforting hugs and open heart.
Though she never accomplished her childhood dream of becoming a schoolteacher, she led a life that constantly taught and influenced others. She touched many lives with her constant generosity. A strong and loving woman who was the ultimate teacher of love, compassion and giving. It is impossible to count the number of people she sheltered, fed, clothed, hugged and loved over the years.
Karen was known for her ability to sense when people needed her help. Her life was guided by a closeness to the Holy Ghost, who often directed her to those in need. She always said the Holy Ghost had to say things three times — and increasing in volume.
In her own words, she told her children, "I love you each dearly. It has been a great privilege to be a daughter, mother and grandmother. This is what made life all worthwhile to me. I love my Heavenly Father and I know the Holy Ghost will watch over us, if we but listen to that small quiet voice."
Karen is survived by her husband, Norm Bennett; children Julie Hockett, Chad Bennett, Angie Bennett, Justin Bennett; 12 grandchildren and five great-grandchildren; siblings Phil Green, Judy Pafford, Marlene Lauritzen and Janet Christian. She was preceded in death by brothers Marlin K. Green and Charles Green.
Funeral services will be held at 1 p.m. Saturday, Aug. 13, 2022, at the Hayden LDS Chapel, 477 E Honeysuckle Ave., Hayden ID 83835.

Yates Funeral Home is entrusted with final care. Please visit Karen's online memorial and sign her guestbook at www.yatesfuneralhomes.com.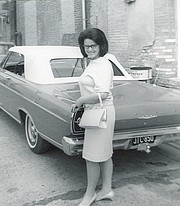 Recent Headlines
---