Slicing surgery by cutting calories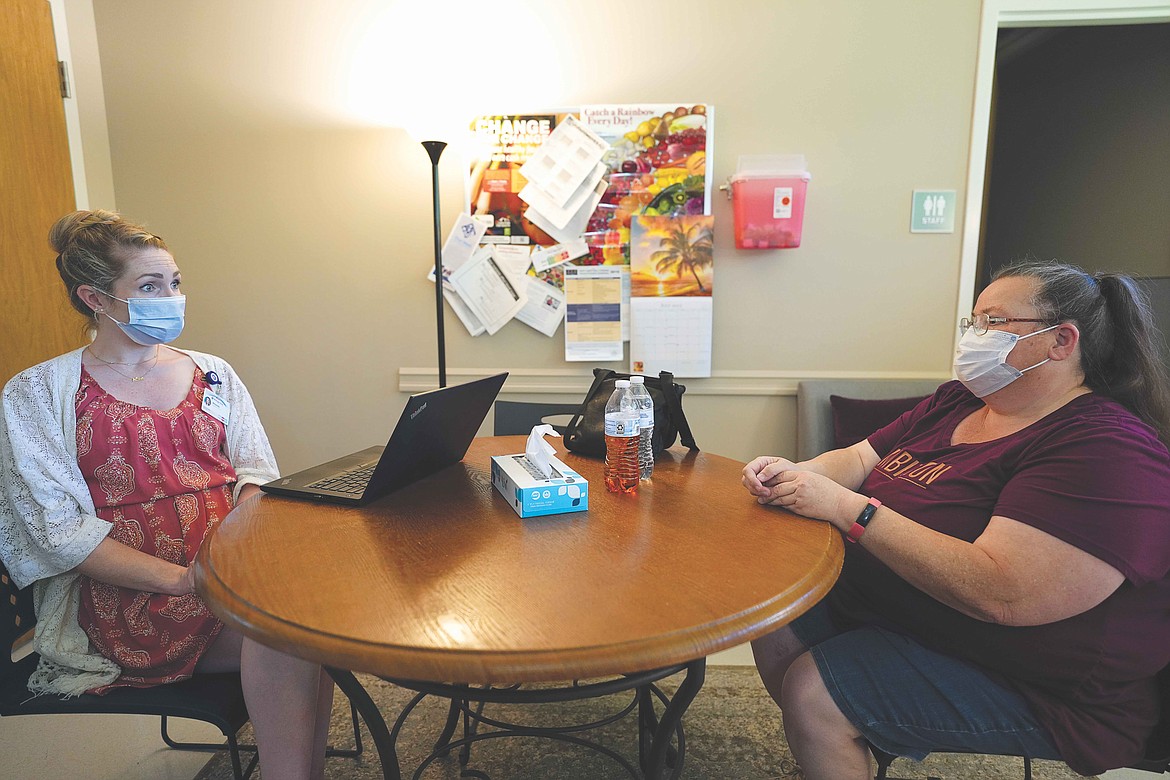 Amanda Ament, a registered dietitian, works with a Heritage Health patient to help change her eating habits.
by
Marc Stewart, Heritage Health
|
August 9, 2022 1:00 AM
Denise has struggled with being overweight for most of her adult life.
The Coeur d'Alene woman grew weary of never being able to lose weight and be healthy. A couple of years ago her back started hurting and she went to the doctor. Tests revealed she needed surgery, but for that to happen she was told she needed to lose a significant amount of weight.
"That's when my doctor said I should work with a dietitian to help me," says Denise. "I have lost 35 pounds in the last 12 months and I feel very good."
Amanda Ament, a registered dietitian with Heritage Health, began working with Denise regularly at the Coeur d'Alene Clinic.
"Denise and I have been working together since November 2020, and it's been exciting to see the progress she's made," says Amanda. "As new seasons in life bring new challenges, we've been able to discuss them and determine what nutrition interventions and goals would be most appropriate to tackle at those times, and what fall back on the priority list. Her setting these goals, in combination with the use of some helpful medications, have allowed her to lose the weight."
Many medical providers are recommending their patients work with registered dietitians to help them achieve healthy lifestyles, says Dr. Anthony Rehil-Crest, Chief Clinical Officer at Heritage Health.
"Dietitians can help in all sorts of issues in primary care," says Rehil-Crest. "Often we use them to help people with diabetes to help better control their blood sugars or their weight. There are a host of medical conditions that can improve by modifying your diet and seeing a dietitian."
Amanda says she sees a wide variety of patients every day.
"Whether it's working on diabetes control, hypertension, gastrointestinal issues, or even someone's psychological relationship with food, I like pulling in evidence-based information and combining it with realistic application to make it function in someone's life," she said. "For example, just because the recommendation for added sugar may be to stay under 10% of one's calories (average 50 grams), there may be days (such as a holiday or other celebrations) where someone goes quite a bit over; it's looking at the big picture of what is being done most of the time."
Denise is a believer and says her dietary changes have improved her overall health.
"Amanda has helped me a lot," Denise says. "I have struggled with weight my entire life. She showed me how to make changes to my diet. I enjoy going to the grocery store now and picking out healthy things with my grandson. Before, I had trouble bending over and moving. I feel great. I can keep up with my grandson now. I am not even sure the surgery is necessary anymore."
Talk with your provider about scheduling an appointment with a registered dietician (208) 620-5250.
Recent Headlines
---