Coming in for a pit stop
by
NILS ROSDAHL/Special To The Press
|
August 7, 2022 1:06 AM
Sebastian's Coffee and Pastries has opened in the former Medicine Man Pharmacy building at 1114 W. Ironwood Drive.
Owner Travis White, a former executive chef in Seattle, named the business after his favorite Formula One and four-time world champion driver Sebastian Vettle. His menu includes artisan-roasted coffee and a rotating assortment of scratch-made pastries. White recently returned from Ukraine where he helped feed refugees at the Lviv train station.
Hours at Sebastian's are 6 a.m. to 4 p.m. weekdays for walk-in customers. A drive-thru and website will be added soon.
Beacon Cancer Care expands on Ironwood
An oncology and hematology practice founded by Dr. David Bartels, Beacon Cancer Care has expanded its services at 980 W. Ironwood Drive, Suite 207 in the Chinook Medical Building. He and his staff provide patient-focused, compassionate care for cancer or blood disorders.
In-house treatments include immunotherapy, chemotherapy, targeted therapy, laboratory services, oral medication dispensing and innovative new treatments. Staff members include Dr. Danko Martincic, Noelle Beierle, Stephanie Hart, Grace Muliawan, Helo Hancock, Shayne Wood and Krista Bartels.
Hours are 8 a.m. to 5 p.m. weekdays. Phone 208-755-2804. Check www.beaconcancercare.com.
Burke's Restoration adds new facility
A large new mitigation facility is being constructed for Burke's Restoration at 3801 W. Riverbend Ave. in Post Falls.
With services for restoration of water, fire and storm damage and mold remediation, Burke's also provides training for insurance agents, adjusters, property managers and facility engineers in using the latest technology in water and sewer cleanup.
Gerry Burke is the owner, office hours are 8 a.m. to 5 p.m. weekdays. Phone 208-858-4342. Check www.callburkes.com.
Now the Tidbits:
Uncorked With Friends will be at 9443 Government Way in Hayden.
Little Bean Tattoo will be at 403 N. Second St.
Cochinito Taqueria will be in Hayden.
Rooted Chiropractic Club will be at 9420 Government Way.
Gracie Barra Jiu-Jitsu Studio will be at 978 W. Hayden Ave.
Watch for Prime IV Hydration & Wellness to be in Ironwood Square.
A large building is under construction at 9046 W. Prairie Ave., near Greensferry, for Mountain View Business Center. Contact Royce Johnston at 208-691-3054 for team rental information. The building should be complete at the end of August. For lease information contact Logan Rude at 208-651-8825.
Construction should start soon on a Class A professional office building in the northwest corner of the intersection of Prairie Avenue and Ramsey Road in Hayden.
A new Metro Express Car Wash will be built where the "Coming Soon" sign is at the intersection of Lancaster Road and U.S. 95 in Hayden.
Bottle Joy taphouse will be at 1208 E. Sherman.
Burke's Restoration is building a new place at 3801 W. Riverbend Ave. in Post Falls. Details soon.
The Thomas George building planned for the corner of Third Street and Front Avenue will be 18 stories mixed with commercial places on the first floor and 60 condominiums above.
Watch for details on new buildings under construction for corporate offices for Rogers Burgers on Government Way and Caliber Collision by Metro Car Wash in Post Falls.
St. Joseph's Ear, Nose, Throat & Allergy Clinic will have a new building at 849 N. Syringa, Post Falls.
Watch for commercial construction west of Highway 41 between 16th and Horsehaven in Post Falls.
Rooted Chiropractic Club will be at 9420 Government Way.
Many of 16 commercial lots are available in the planned Prairie Crossing Shopping Center in the northeast corner of Highway 41 and Prairie Avenue.
The Burger Dock will be in the new building at Fourth and Lakeside.
A new building for Etco Services is under construction off Huetter north of Seltice and I-90
The PACR office building is under construction at 1857 W. Hayden Ave.
Breaking Bread Bistro will be where Davis Donuts was at Fourth and Best.
A new Pizza Hut will be in Hayden.
The Mill will be a four-story mixed-use building at Government Way and Mill Avenue with businesses on the ground level and 43 apartments above.
Consign Furniture has a "coming soon" sign southwest of the U.S. 95-Lancaster Road intersection.
An Express Exterior Carwash is being built in the 3400 block of Seltice in Post Falls..
Club Pilates will be in Hayden Design Center at 9235 Government Way.
Cornerstone, a four-story commercial and residential building, is under construction in Riverstone.
Bruchi's quick service restaurant is planned for a new building north of the corner of Highway 41 and Mullan Avenue.
Watch for construction of Vantage Point Brewery across from Michael D's Eatery off Coeur d'Alene Lake Drive.
Gentlemen Sausages will soon be in the former Abi's Ice Cream location at 112 Fourth St.
TownePlace Suites by Marriott Hotel is being built where the Outback Steakhouse was in the southeast corner of I-90 and Northwest Boulevard.
Watch for an antique and collectibles mall coming to Post Falls.
A new commercial and residential building, Midtown Centre, is being built at 821 N. Fourth St.
Watch for major changes with the Burger Bunker and Bunker Bar off Spokane Street in Post Falls.
The Den will be a new tavern at 761 N. Idaho St. in Post Falls.
The Monarch Restaurant on Fourth Street has closed.
"The storm further to the west is coming towards us" should be "The storm farther to the west is coming toward us."
Contact Nils Rosdahl at nrosdahl@cdapress.com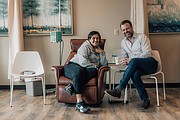 Recent Headlines
---