THE CHEAP SEATS with STEVE CAMERON: Recent Mariners moves a lot like those of 2015 World Series champions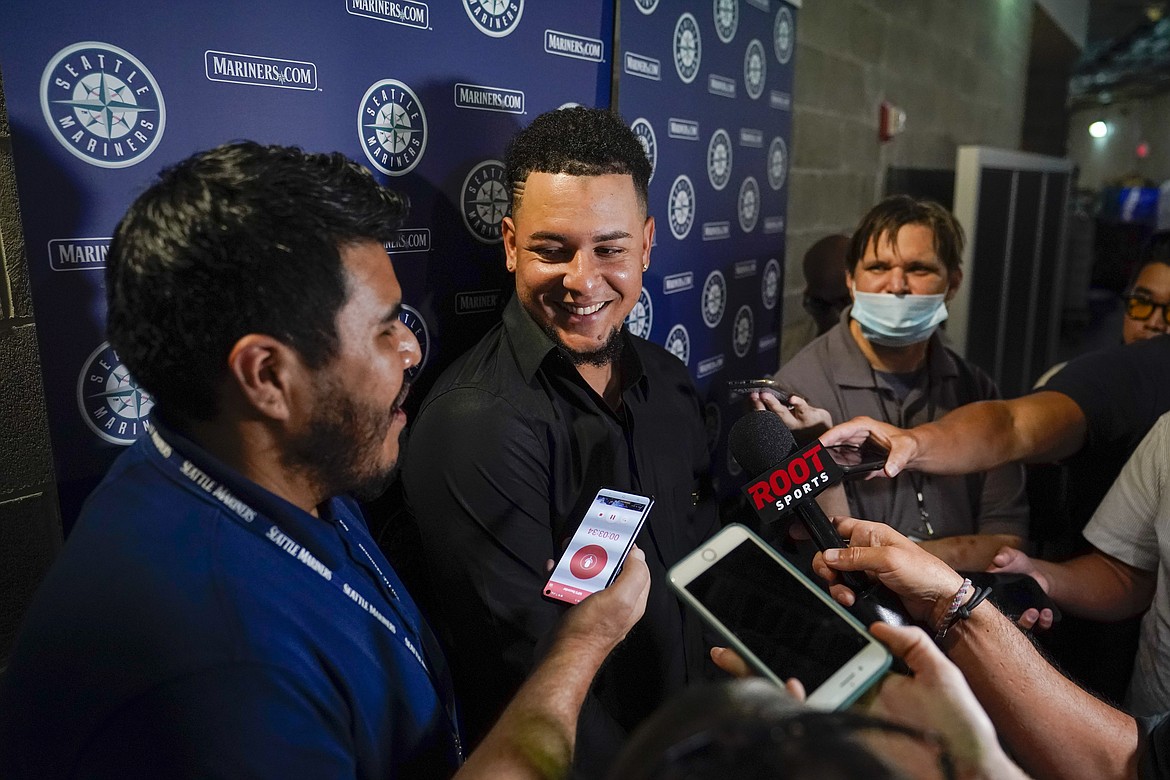 MARY ALTAFFER/Associated Press Seattle Mariners starting pitcher Luis Castillo speaks to reporters after Wednesday's game in New York.
Want some good news, Mariner fans?
I mean, besides the arrival of Luis Castillo, and the fact that your heroes are currently hanging on to a wild-card spot by the width of a toddler's fingernail?
OK, here's what you're gonna like …
I'm feeling a bit of déjà vu.
It's the sensation of 800,000 people wildly celebrating a World Series victory.
Actually, millions were cheering, but those 800,000 had all turned out in person — shoulder to shoulder in a giddy mob.
Trust me, being there was something special.
Now …
I'm going to explain why the Mariners are giving me the sense that I'm seeing the same thing — and that the entire Northwest may wind up going crazy — but first, I want to ask you a question.
When you think of Major League Baseball in general, what comes to mind about the Kansas City Royals?
Something like …
"Meh. Do they have anyone besides Salvador Perez?
"Just glad we get to play them three times in September when the Mariners' postseason is on the line."
That's the general impression here — and everywhere, even in Kansas City.
AND YET …
The delirious crowd that I mentioned, nearly a million people howling, laughing, and shouting with pure joy — that was in Kansas City, less than seven years ago.
True, the Royals have lost their way, and began wandering in the wilderness after that World Series triumph in 2015.
Everything has come apart, from ownership to the baseball administrators, to scouts and instructors, and naturally to fans — who no longer even bother to call radio talk shows in frustration.
However …
If we go back a decade or so, to the time from 2012 through 2014, you can see how a pennant winner was built.
What that means to us, right here and right now, is that the Mariners look SO much like that Royals team as it was coming together.
Do these things sound familiar?
Plenty of excellent draft choices. Sharp scouting around the country, and especially in Latin America. A dramatic trade that was criticized at first, but helped add to a homegrown core.
THE NEXT piece of the puzzle might have been an accident, to be honest, but the Royals of that time period — right through back-to-back appearances in the World Series — fundamentally changed baseball.
They built a pitching staff from back to front.
Three or four lockdown relievers allowed the Royals to give their starters the chance to throw all-out, knowing they only needed to go five innings, or six at most.
The Royals had the luxury of scratching out a couple of runs here and there, sneaking out to a slim lead — then slamming the door on another one — or two-run victory.
And so …
Watch how managers handle their pitchers in the playoffs this year.
"Give me five or six, big fella, and the 'pen will take it from there."
Game 5 of the 2015 Series — which the Royals won 7-2 over the Mets in 12 innings to wrap up their title — was perfectly instructive in understanding present-day baseball.
Kansas City starter Edinson Volquez pitched just six innings, even though he gave up a two-run homer in the first and not even another hit.
Kelvin Herrera and his high 90s fastball went three innings, Luke Hochevar pitched two and closer Wade Davis finished up by striking out the side in his one inning.
On the other side, Mets manager Terry Collins listened when Matt Harvey asked to pitch the ninth after he'd delivered eight scoreless innings — and thrown 104 pitches.
The Mets had a dominant closer, Jeurys Familia, who normally would have finished up with a 2-0 lead.
Instead …
Harvey walked Lorenzo Cain to open the ninth, while Collins amazingly still stayed in the dugout. Finally, after Eric Hosmer scorched a double to deep left to score Cain, Collins called for Familia.
Hosmer, though, scored the tying run on two ground outs, which ultimately sent the game on to the 12th — and the Royals had their Series title.
Kansas City's relievers, and Collins' belief in sticking with a tiring starter, decided the game.
Every manager since then has learned the lesson.
No one wants to imitate poor Terry Collins.
ALL THAT brings us to 2022 Mariners, who (much like the 2015 Royals) don't exactly blast bombs all over the stadium.
They're averaging just a tick over four runs per game, which ordinarily wouldn't get you into many postseasons.
But they can pitch, they play the best defense in baseball, and they are terrific baserunners.
They play the game.
The Mariners are constructed very much like those Royals, and the way Scott Servais uses his pitching staff reminds me so much of watching Kansas City in '15.
Oh, and instead of trying to add the infamous "impact bat" at the trading deadline that year, the Royals traded some top prospects for starter Johnny Cueto (from Cincinnati, of all places) and switch-hitting infielder Ben Zobrist.
Jerry Dipoto just did the same thing.
He increased the team's strength (Castillo) AND its areas of need (backup catcher Curt Casali and middle reliever Matt Boyd), along with finding situational bat (Jake Lamb).
I feel like I'm seeing those Royals all over again.
To make the comparison complete, the Mariners' bullpen could be at full strength – with Diego Castillo and Ken Giles both back and needed.
I'm just not sure if I'm seeing the Royals of 2014, a wild-card team who got hot against a weak field in the American League playoffs — but lost the Series to San Francisco in seven games, or … The World Series champion Royals of 2015, who made their basic lineup just a little bit stronger, won the Central Division and had all the tools to play current-day baseball.
Either way, it's deja vu.
Email: scameron@cdapress.com
Steve Cameron's "Cheap Seats" columns appear in The Press three times each week. He also writes the Zags Tracker, a commentary on Gonzaga basketball which is published during the off season, and weekly beginning in October.
Steve suggests you take his opinions in the spirit of a Jimmy Buffett song: "Breathe In, Breathe Out, Move On."
Recent Headlines
---