Lake City grad brings Cd'A values to navy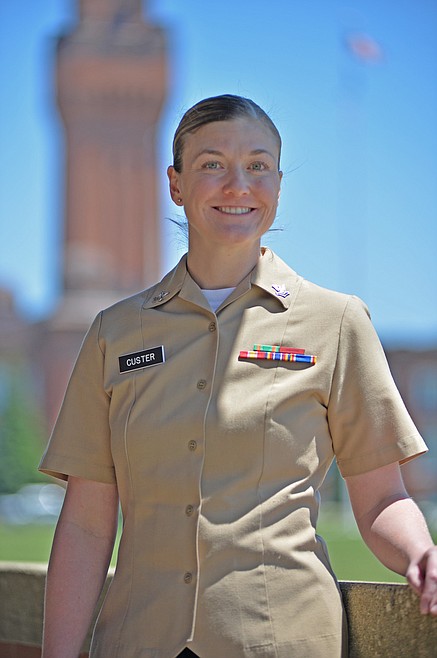 Petty Officer 2nd Class Nikita Custer
Photo by Lt. Cmdr. Jacob Joy, Navy Office of Community Outreach
by
Jerry Jimenez/U.S. Navy
|
August 5, 2022 1:00 AM
GREAT LAKES, Ill. — Sailors are some of the most highly-trained people on the planet, according to Navy officials, and this training requires highly dedicated instructors, staff and support.
At Naval Service Training Command (NSTC), staff oversee 98% of new Navy Accessions, including Recruit Training Command, Naval Reserve Officers Training Corps and Officer Training Command, ensuring officers and sailors enter the fleet tough, disciplined, courageous and trained in five warfighting competencies — firefighting, damage-control, seamanship, watchstanding and small-arms handling and marksmanship.
Petty Officer 2nd Class Nikita Custer, a native of Coeur d'Alene plays an important role at NSTC, supporting these sailors as a mass-communication specialist.
As a mass communication specialist, Custer is responsible for producing media content for her command, including photos, video, graphic design and print stories.
Custer, a 2011 Lake City High School graduate, joined the Navy four years ago.
"I needed a change and some direction," Custer said. "I didn't really know what I wanted to do and the Navy gave me a skill, a trade and experience."
Custer uses skills and values, similar to those found in Coeur d'Alene, to succeed in the Navy.
"Growing up, I was very comfortable with hands-on work and I think that helped me in the Navy," said Custer. "I'm able to do any job given, regardless of what it is or what I think I'm capable of."
NSTC's mission is to transform volunteers into naval service professionals by instilling and reinforcing enduring core values, knowledge and skills to prepare them for the fleet.
A key element of the Navy the nation needs is tied to the fact that America is a maritime nation, and that the nation's prosperity is tied to the ability to operate freely on the world's oceans. More than 70% of the Earth's surface is covered by water; 80% of the world's population lives close to a coast; and 90% of all global trade by volume travels by sea.
With more than 90% of all trade traveling by sea, and 95% of the world's international phone and internet traffic carried through fiber-optic cables lying on the ocean floor, Navy officials continue to emphasize that the prosperity and security of the United States is directly linked to a strong and ready Navy.
According to Chief of Naval Operations Adm. Mike Gilday, four priorities will focus efforts on sailors, readiness, capabilities, and capacity.
"For 245 years, in both calm and rough waters, our Navy has stood the watch to protect the homeland, preserve freedom of the seas, and defend our way of life," said Gilday. "The decisions and investments we make this decade will set the maritime balance of power for the rest of this century. We can accept nothing less than success."
Serving in the Navy means Custer is part of a team that is taking on new importance in America's focus on rebuilding military readiness, strengthening alliances and reforming business practices in support of the national defense strategy.
"The Navy is important to national defense because it assures that those trading networks and pathways in the ocean are free," Custer said.
Custer and the sailors she serves with have many opportunities to achieve accomplishments during their military service.
"I'm proud of earning Junior Sailor of the Year for Naval Service Training Command staff," said Custer.
As Custer and other sailors continue to train and perform the missions they are tasked with, they take pride in serving their country in the United States Navy.
"Serving in the Navy means that not only do I get to be a part of the community worldwide, but also where I am geographically," added Custer. "I can make a difference in both the big picture and little picture. It allows me to see different parts of the world and be part of that."
Jerry Jimenez is a Mass Communication Specialist 1st Class in the Navy Office of Community Outreach.
Recent Headlines
---