City Council leaves clenched fist out of public art program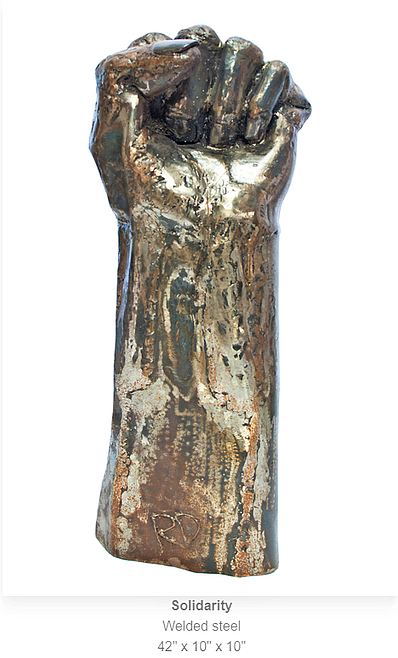 "Solidarity" by Rick Davis
by
BILL BULEY
Staff Writer
|
August 4, 2022 1:09 AM
COEUR d'ALENE — A piece of artwork titled "Solidarity" brought a vocal crowd, opposed to its public display, to Tuesday's Coeur d'Alene City Council meeting.
The clenched fist made of fabricated steel and created by artist Rick Davis was one of six art pieces recommended for ArtCurrents, the city's public art placement program.
But it was criticized in a heated and emotional meeting with police being called to remove one person, while one man raised his voice to the council and another cried. It was called a sign of communism, socialism, an insult to veterans, promoting violence against police and an effort to create division.
"We must not let their terrible symbol become part of our city," said Joe Alfieri of Coeur d'Alene.
Following about an hour's worth of public comments, the council agreed by a 5-1 vote that "Solidarity" was too divisive, could be offensive to veterans and left it out of the program.
Councilwoman Christie Wood said she did not believe citizens wanted their elected leaders to decide what books they could read, what music they could hear or what artwork they could look at, but she said this piece may negatively affect some.
"I think we have to be careful with messaging and how we make people feel," she said.
Councilman Woody McEvers agreed.
"That doesn't fit the model here," he said. "It just doesn't."
The council approved the other pieces recommended by the ArtCurrents subcommittee and Arts Commission: "Mi Paloma II (Dove)" by Lin McJunkin, "Reins" by Francis Fox, "O'Keefe 8 & 9" by Patrick Sullivan, and "Responding to a Rival" by Jason Paul.
The pieces will be displayed for a maximum of two years beginning in October.
The clenched fist with a price tag of $7,800 won't be among them.
It fell under fire for ties to Karl Marx, Black Lives Matter, aggression and a salute of communist parties everywhere.
Rep. Tony Wisniewski said that during World War II, his father in Poland fought for six years against the Nazis.
Wisniewski said he was against the clenched fist that was a symbol of all his father stood against.
"I urge you not to place that statue here in Coeur d'Alene," he said.
Laura Van Voorhees said the clenched fist was an insult to veterans, the country's Founding Fathers and Gold Star Mothers.
She said by recommending it for approval to the ArtCurrents program, the Arts Commission was being disrespectful.
Jennifer Drake, vice chair of the Arts Commission, said people were ignoring the artist's intent, which was to focus on solidarity of oppressed people.
In his description of his art, Davis wrote, in part: "I was inspired to create this piece because I find it to be a powerful contemporary and historic symbol of solidarity with those who struggle for human rights and stand with marginalized groups. The symbol has been used by movements for equality and civil rights around the world and is a global icon for those who fight against oppression and authoritarianism."
Eleven art pieces from nine artists were submitted for the ArtCurrents program. A subcommittee met and selected seven, then the commission recommended six to the council.
Drake said, "Art is often controversial."
"If you chose not to accept it, that's fine. I just really hope you're doing it for the right reasons," she told the City Council. "Not just because a group of vocal malcontents have arrived in town and are trying to impose their beliefs on a community that has been here far longer than they have."
The ArtCurrents program receives $20,000 over a two-year fiscal year budget. Funding comes from ignite cda, the city's urban renewal agency.
Arts Commission Chair Mary Lee Ryba said the clenched fist was selected by the subcommittee because they believed it was about inclusion and was a nice art piece.
She said it went through the proper steps of a call to artists and then reviews before the final selections went to the council.
She was not surprised that some people opposed "Solidarity" or that the council also rejected it for public display in the city.
"The process worked, Ryba said.
Mayor Jim Hammond, before the council voted, said he had close friends who served in the Vietnam War. He said he didn't want to do something that would show disrespect toward veterans and those who experienced the terrors of communism.
He encouraged the council to consider pulling "Solidarity," "primarily because of the feelings of disrespect toward veterans."
Councilman Dan English said he is respectful of veterans and police but voted against removing "Solidarity" from ArtCurrents. He said art stirs up feelings and the six proposed pieces showed great range.
"It's an appropriate piece to have as part of the package," he said.
Wood said while people see art differently, the clenched fist was "too much in your face" and "may come across as antagonistic."
Councilman Dan Gookin quoted Indira Gandhi, a man he said he admires: "You can't shake hands with a clenched fist."
Councilwoman Kiki Miller said that while good art spurs passionate discussions, her big question regarding "Solidarity" was, "Is it worth it?"
The answer was no.
Recent Headlines
---